Ann Rogers: Lifelong Activist with Chippewa Roots
Ann Rogers: Lifelong Activist with Chippewa Roots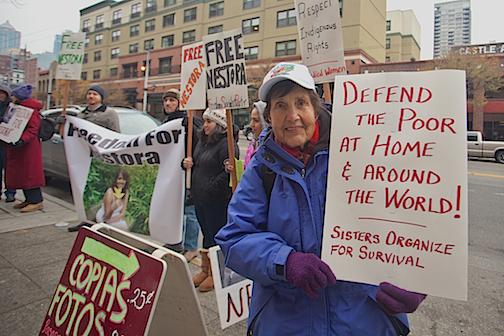 Photo by Kathleen Hunter
Mon, 12/23/2013
by Ann Kendall
Growing up on the Peninsula, it wasn't unusual for Ann's father to be ironing her dresses for school. During the lean Depression years, it was often easier for her mother to find work as a professional cook in Seattle where she would have to stay all week away from her children. Ann's parents didn't talk about politics at home, nor did they speak of self-sufficiency and its important lessons for their four daughters – they simply lived their ideals which meant doing what needed to be done for the family, regardless of gender. It wasn't until Ann was already away from home and married with children that she learned her father was a full Chippewa (Ojibway); it was then that some things from her youth started to make sense, the Native American dances her father taught all the girls, the folklore. Her dad's revealed identity, masked as Scottish since age 14, was a watershed of understanding – a way for the family to make sense of their collective yearning to know more about their own selves. In those times it was not unusual for Native Americans to mask their heritage publicly; it was easier to get work. Ann suspects her mother always knew her dad's secret, being from South Dakota, but secrets between parents weren't discussed out loud. She also believes that her mother's leanings towards socialism were a good blend with her father's Chippewa upbringing; a melding of culture and politics that focused on community and caring for each other where both men and women cared for their families equally.
Like many women in the 1950s, Ann faced workplace challenges including low wages and and a lack of jobs open to both sexes. Divorced with three children, Ann relied on her family's assistance to help care for her children, particularly her mother. Her upbringing was never far from her mind – the ideals of community, helping and making a good life despite hardships provided her with inspiration and drive to instill similar values in her children. The early lessons she learned – the collective attitude her parents had towards caring for the family – launched her, she believes, into her lifelong commitment to feminism and activism; to her, the roles of men and women have never been stagnant or staid but fluid as each day demands.

When she learned the plight of U.S. citizen Nestora Salgado, a resident of Renton, WA in the news, Ann jumped into the fight to garner her freedom from federal prison in Mexico. Ann says she feels the indigenous pull – that she understands Ms. Salgado's plight. Plunking away on her aging computer in her West Seattle home, she found Seattle University's International Human Rights Clinic which is now working on the case. Ann says that while Ms. Salgado may be criticized by some factions in Mexico for her overt feminism, Ms. Salgado is actually part of a proud Mayan tradition that promotes women to be self-sufficient and highlights their accomplishments much like Ann's own Chippewa roots; traditional cultures often provided women with more powerful roles than early historical interpretations revealed. Ann points to Ms. Salgado's commitment to helping her native people in Mexico fight crime as a prime motivating factor to continue and increase the fight for her release; the harming of native cultures is a painful past that Ann understands from her father's history.
Ann has lived in West Seattle since 1964 and her accomplishments are many – but what is most important to her is fighting for those that are in need of assistance. Teaching others that a loss of culture is not just a loss for indigenous people, it is a loss for us all each time diversity is not celebrated. She says she is not really a shy person, though she doesn't often speak of her life in public forums – she simply jumps in where she is needed. Ann worked at Boeing as a Rosie the Riveter, a contract negotiator three times during her tenure in the Sears warehouse as part of Teamster Local 130 and raised three children that all went on to work in human services and medical fields. Ann says "fight the good fight" because it is the right thing to do.