Space Needle New Year's looks to be spectacular; Most fireworks in history of show
Space Needle New Year's looks to be spectacular; Most fireworks in history of show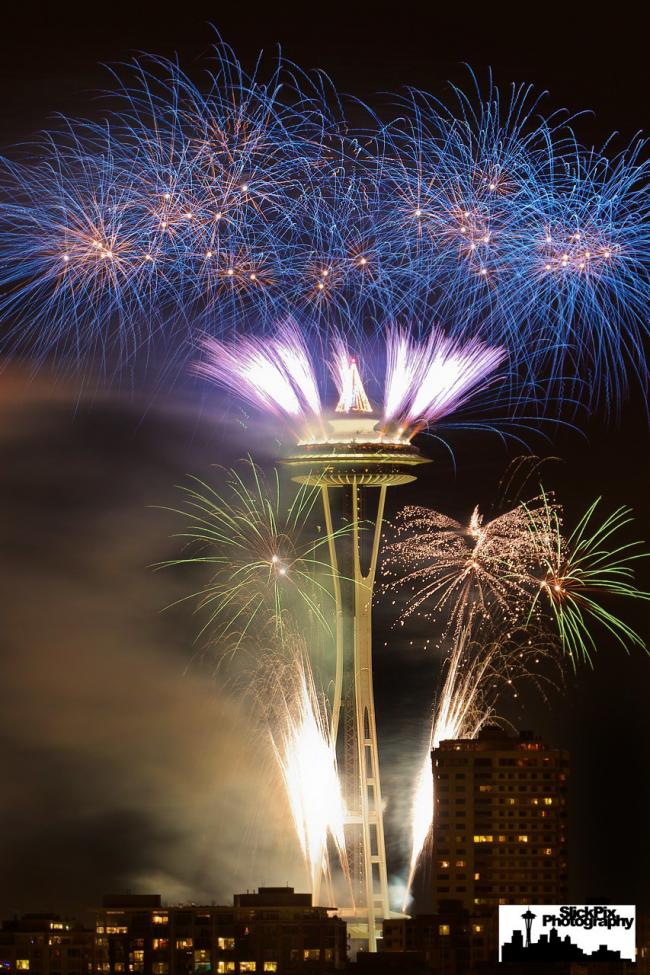 David Rosen
Tue, 12/31/2013
West Seattle will be the perfect spot to view one of the world's largest structure-launched fireworks displays as the Space Needle presents "New Year's at the Needle". Typically Harbor Ave. S.W. and east facing hills and view points including Hamilton Viewpoint and the Admiral Way viewpoint and neighborhoods are crowded with spectators.
KEXP 90.3 FM, will supply the broadcast music soundtrack for the event, its the first-time ever. The eight-minute fireworks display begins just before midnight on Tuesday, December 31, and will be seen exclusively on KING 5 Television.
The fireworks show will feature the most shots fired in the history of the show, with thousands of pyrotechnic effects being fired from 72 different locations on the structure's legs, 100′ SkyLine Level, 200′ platform, 520′ Halo, and 605′ rooftop of the Needle.

KEXP 90.3 FM's DJ Larry Rose has hand picked the music which will include:
The xx – "Intro"
The Ramones – "Blitzkrieg Bop"
Band of Horses – "No One's Gonna Love You"
Empire of the Sun – "Alive"
Jane's Addiction – "Stop"
Pearl Jam – "Mind Your Manners"
Macklemore & Ryan Lewis – "Can't Hold Us"
In excess of 20,000 people are expected to gather near but at a safe distance Space Needle and on the Seattle Center grounds while an estimated 400,000 will view the show from surrounding neighborhoods.
Pyro Spectaculars and pyrotechnics designer Alberto Navarro are in charge of the show itself. The KING-TV telecast runs from 11:35 p.m. to 12:15 a.m. KEXP 90.3 FM will feature the music via their live broadcast from 11:59 p.m. to 12:08 a.m. during the show Larry's Lounge.