Doris Feragen: Mind, Heart, Spirit
Doris Feragen: Mind, Heart, Spirit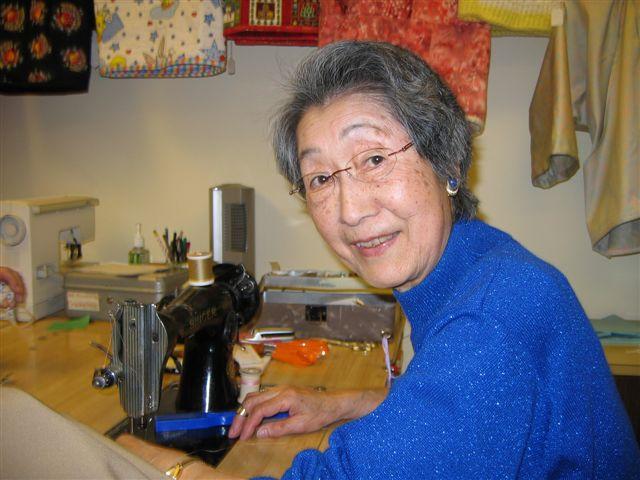 Photo by Ann Kendall
Mon, 01/27/2014
By Ann Kendall
If Doris Feragen's 92 years could be described in just one word it would be "kokoro," a Japanese word meaning heart. Not the physical heart but the living of heart through intention, intellect and emotion. From Doris' (born Hisa Tanaka) childhood in the fishing village of Furubira on the island of Hokkaido and the World War II years in Sapporo to coming to West Seattle as a young war bride in 1953, Doris tackled each challenge with resolve and dignity; this tenacity proved to be her greatest strength during times of trouble from the long absences of her often deployed U.S. Army husband to raising bi-cultural children in an interracial marriage in 1950s Seattle – her mere presence and circumstance were groundbreaking.
A 1952 article in the Saturday Evening Post, "They're Bringing Home Japanese Wives," by Janet Wentworth Smith and William Worden openly declared that the Japanese war brides would not likely fit in when they came to America. The article largely ignored racial tensions present in the United States the brides would face and focused instead on concerns about the socio-economic and educational backgrounds of the brides. The authors concluded, based on "expert" opinion and not through actual interviews and demographic data about the brides, that as a group, the brides would be a major source of disruption to American cultural order and not be able to keep up with the perceived economic boom taking place in the U.S. at the time.

It was this environment that Doris moved into when arriving in America; stereotypes, misinformation and skepticism.
Each day of her life in the United States, Doris believed that she was representing Japan and wanted those in her new surroundings to understand that she stood for compassion, care and excellence. While she wanted to feel acclimated in her new surroundings she also wanted to teach about her own culture with her new community. Tough times and tough talk were not just to be found in previously unintegrated neighborhoods – the treatment of Japanese-Americans during the war, and particularly those families that lost loved ones during the war were often unwelcoming to the new war brides that were allowed to immigrate; common culture did not always ease wartime hurt. Her daughter June remembers walking to school and having stones thrown at her as she passed through the neighborhood; Doris turned these incidents to teach her children the meaning of "gaman" – enduring the unbearable with patience and dignity.
Doris first met her husband-to-be Robert while he was stationed in Sapporo, Japan; at that time she was working in a bank to assist her family and it was there that she became known as "Doris." According to Doris' family, she noticed something different about Robert – right away she knew that they shared a similar value system of honor and respect. Her parents accepted Robert as he didn't seem like the average soldier they encountered; he was more understanding and seemed to be most interested in harmony. Robert's own experiences as a second generation Norwegian-American gave him an understanding of what would be required of his new bride in a new country and how they could face the challenge together.
When she and Robert married, she was unsure about a move to the States but she didn't shy away from the adventure, challenge or her responsibility to family. Doris was luckier than many war brides, Robert's family – while they lived a distance away from Seattle – was accepting and welcoming to her giving her a supportive extended family in her new country. Daughter June remembers that her mom faced different challenges than other young mothers – learning a new language made it difficult for Doris to express and understand matters of the heart that youngsters often entrust to their mothers. While Japanese and English were spoken interchangeably, Doris was most interested in her children learning and understanding Japanese culture. June also remembers another of her mother's most important lessons – that despite prejudice you might experience, you can always show compassion in return and that humble giving will win people over to understanding.
Doris's greatest gift to the West Seattle community is her 35 years of volunteer service at Mount Saint Vincent, helping residents and patients with her innovative and exacting sewing skills. When she first began it was simple mending, but her work evolved into a full-fledged sewing shop that allowed her to collaborate with other volunteers and staff. Doris in fact had her own "rounds," visiting with residents, asking what they needed and often creating solutions that the Mount's volunteer manager Storey Squires said would make Doris a "Fortune 500 CEO if she had simply been born in a different place and time." Doris took on whatever work she knew would be helpful and a grandmotherly role to younger volunteers and staff. She held herself to an exceptionally high standard, and she had no trouble holding the Mount's administrators to those same high standards. Ms. Squires also stated that, Doris truly embodied the core values of the Mount.
Doris was not all seriousness though, enjoying a good time and bringing joy to others through her fashion show productions for residents. Her own sense of glamour never faded and even as she aged she could still wear fashions she had created for herself many years before with a spring in her step well into her eighties. When Doris first came to the Mount, a staff member told her she didn't like Japanese as her husband had been a Japanese prisoner of war. Doris took this to heart and for all her days at the Mount she worked to turn hearts that experienced tragedies of all kinds with her creative and kind spirit. Doris worked up until a week before her passing this autumn, falling while putting together a sewing project with her volunteer ladies. While her passing marks an end of an era at the Mount, for her family and all those that worked with her – her "kokoro" lives on.
To learn more, a chapter in the book Japanese War Brides, An Oral History (2009: Crawford, Hayashi and Suenaga), profiles Doris' experience and that of other brides. Giving Voice: The Japanese War Brides, a 2013 documentary traces the history of 50,000 brides, information at www.japanesewarbrides.com. An Absent Presence: Japanese Americans in Postwar American Culture, 1945–1960 (2002: Simpson) details the trials of the immigration experience for the brides and their families including text and references to the Saturday Evening Post article by Smith and Worden from 1952, "They're Bringing Home Japanese Wives."
Special thanks to June Moore, Mayumi Kirk and Storey Squires for supplying extensive information about Doris Feragen's life as a mother, aunt and friend.