Morey Skaret, local icon and West Seattle original dead at 100
Morey Skaret, local icon and West Seattle original dead at 100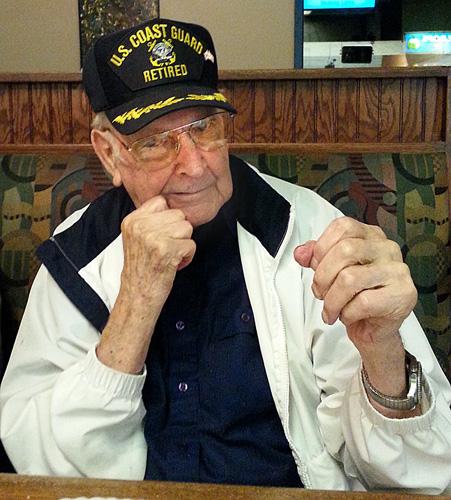 Jerry Robinson
Fri, 03/28/2014
Services for Morey are Monday, April 7, 2014, 10:00 a.m., at Forest Lawn Funeral Home.
Guestbook:
www.dignitymemorial.com/forest-lawn-funeral-home-seattle/
By Ken Robinson, Managing Editor
Morest "Morey" Skaret, long time West Seattle resident, died Thursday, March 27 at his home in Fauntleroy. Skaret was in the care of his neighbor Elsie Freeland. He had been in poor health in recent weeks.
Born in Alberta, Canada, Skaret's family moved to the Seattle area in the 20's when Morey was a young boy. Over time, Morey had many adventures and the stories to go along with them. He loved to share these stories with everyone.

By the age of 25, during the depression, Morey had already "rode the rods" hitching rides on passing trains.
Riding under the box car, on two-inch thick rods, was considered the most dangerous aspect of hobo life. By 1938 Morey's first real job was with the Seattle Police Department. His first assignment: standing in the middle of third and Union, directing traffic. Waving arms and standing as he did, for a few hours, Morey felt the need to use a nearby restroom in the alley near the old Embassy Theatre.
" I finished my business and headed back to my intersection," Morey explained. At this point he could not help but notice a fidgety man at the ticket window of the theatre. The perpetrator's hands and arms were in the pass through. " He had his back to me but I could see him holding a gun pointed at the pretty black-haired girl behind the glass," Morey said.
Morey moved with the stealth of a cat up right behind the would-be thief as he was scraping cash inside the window glass. " I cocked my Smith & Wesson revolver and put it to the back of his head." " Move and I'll blow your brains out!, you're under arrest," I said. The thief was shocked and embarrassed, conceding that he was desperate. The patrol cars rolled up within minutes. While the thief was tossed into the paddy wagon, Morey turned his attention to the girl behind the glass. Stunned but otherwise unharmed, pretty Elsie Pibbitts had found a hero.
WWII took Morey to the Pacific Theatre. He returned to the police department after the war, married and raised a family. Morey lost his wife in the early 90's. Long since retired from the U.S. Coast Guard and as captain with the Seattle Police, Morey settled in to his bachelor life.
Not long after losing his wife he got reacquainted with Elsie who had also lost her mate. They became close friends for the remainder of Morey's life.
For many years Morey "held court" at Roxy's bowling alley and lounge in White Center. He knew everyone and everyone knew Morey.
Morey is survived by brother Al Skaret of West Seattle. Morey was second in a family of six. Arthur, Harvey, Vivian and Doris preceded Morey in death.
No date has been set for a memorial service.
For more on Morey go to historylink.org/Moreyskaret
In 2010 the West Seattle Herald published a series written by Charles Ganong that consisted of a series of interviews with Skaret. The links are below: