Need a hug? Membership expanding in West Seattle's Cuddle Club
Need a hug? Membership expanding in West Seattle's Cuddle Club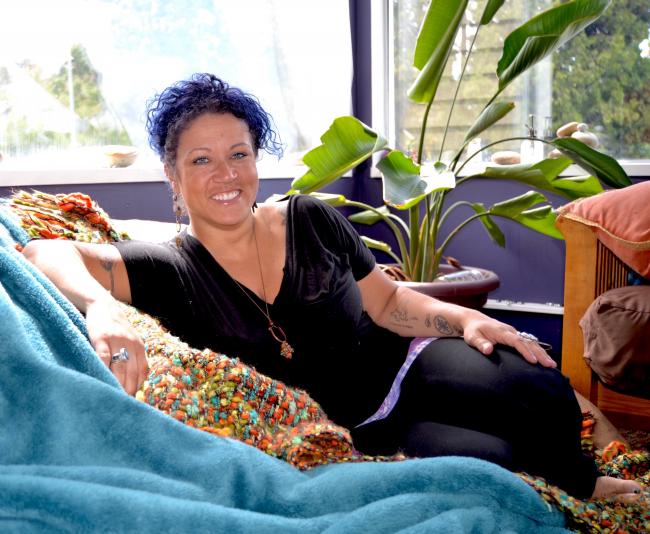 Lindsay Peyton
Mon, 06/20/2016
By Lindsay Peyton
Looking for a cuddle buddy?
There's a place to go in West Seattle for therapeutic touch.
The Cuddle Club, located at 6417 Fauntleroy, recently celebrated its first year in business.
Owner Lashanna Williams' original goal was to create a safe space for non-sexual touch – and she has since expanded her services to include massage therapy and energy work.

The Cuddle Club offers Swedish relaxation, treatment, intra-oral and blended massage, and facial cupping, as well as Reiki, meditation and crystal classes. The space also serves as a center for special events and even adult coloring nights.
 
Williams first discovered the idea of professional cuddling services while reading an article in 2014.
"For the next few months, I was thinking, 'How could I do this?'" she said. "I figured it all out."
She quit her job managing sales for a cement company – and took a giant leap of faith in a completely different venture.
"I knew I wanted to make touch available – and to take the shame away from wanting to be held," she said. "It's totally okay – and I wanted to get people talking about it."
Williams found an ideal space for the club in February 2015 – a light-filled getaway, which she filled with comfortable seating, blankets and pillows. She opened for business in May, after a few months painting, remodeling and decorating.
Next, Williams sent out a media advisory to spread the word. "It went global," she said. "I was getting letters from people in Australia and Asia telling me how cool it was. The story spread with speed – and kind comments were abundant."
Since Williams graduated from massage school in April, she has added an area for massage sessions as well.
Williams said she still has to explain the cuddling concept to most people.
She starts by checking out her clients – performing a background check and declining anyone with a history of violent or sexual crimes.
Clients agree to a code of conduct – and Williams interviews them over coffee. If clients pass the test, they may sign up for a membership.
Williams believes that a number of individuals could benefit from cuddling. "People are really surprised by how much they relax – and how much they need it," she said.
Williams added that for survivors of sexual assault, having a safe way to experience trust can be therapeutic.
"I work in a field that allows for healing, and I love that," she said. "With cuddling, anyone who recognizes that they feel a little distant or a little detached could benefit from it."
Williams envisions one day having an even larger space for the Cuddle Club – and making it part of a holistic health care center and art complex.
In the meantime, she hopes to use a small thing – a cuddle session – to improve her clients' well being. "The focus is changing lives," she said.
And her client list is growing. One member Bryan Summer said that the cuddling helped him through a trying time after the end of a relationship.
"My background is in massage, and I understood the power of touch," he said. "It's relaxing."
Summer has referred the service to friends. "Someone who is hurting just needs to know there's a safe place to go to put your guard down," he said. "This has totally put my mind at ease."
For more information, visit www.cuddleclubseattle.com.