'Hate-Free Delridge' event hopes to send a message opposing hate and celebrating diversity
'Hate-Free Delridge' event hopes to send a message opposing hate and celebrating diversity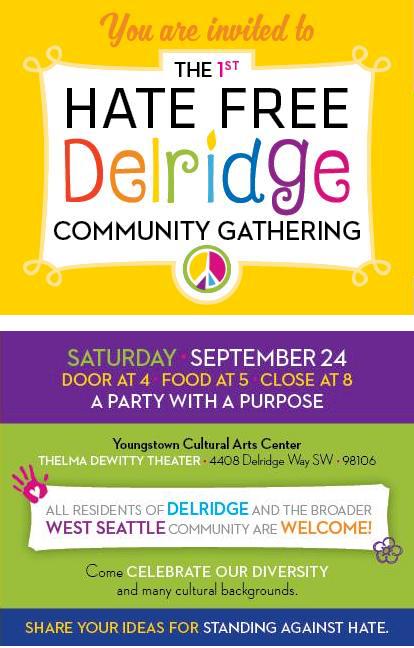 Sun, 09/18/2016
Stu Hennesey, owner of Alki Bike and Board and community activist, shared this announcement of a special event on Sept. 24, to oppose hate and celebrate community diversity.
Hennessy's announcement reads:
In a response to a local West Seattle hate crime (unresolved), and a growing community sense of rising tension, local and beyond, our neighbors are gathering to send a message of unity.

The neighborhoods of Pigeon Point, Puget Ridge and Highland Park in West Seattle will be celebrating their diversity and acceptance of one another with food and music. Also an open mic will be available to give people a chance to have their voices heard through song or words.
Saturday September 24th starting at 4 pm and going to 8 pm there will be food, music, children's activities and more to celebrate our diversity and opposition to hate
The event will be held at Youngstown Cultural and Arts Center , 4408 Delridge Way SW in the Thelma Dewitty Theater.
Attendees will include our neighbors, Seattle Mayoral representatives, Seattle City Council members and King County representatives who live in West Seattle.
The event location and food capacity is limited, therefore we would appreciate Day of Event only coverage of a positive community action against hate. At the event we will be announcing the next steps our group is prepared to take to calm the hatred in our community and our nation.
For more information please contact Stu Hennessey, 206 938 3322