Sifting through the ashes at Lam Bow Apartments on Delridge Way SW
Sifting through the ashes at Lam Bow Apartments on Delridge Way SW
Displaced residents head to community center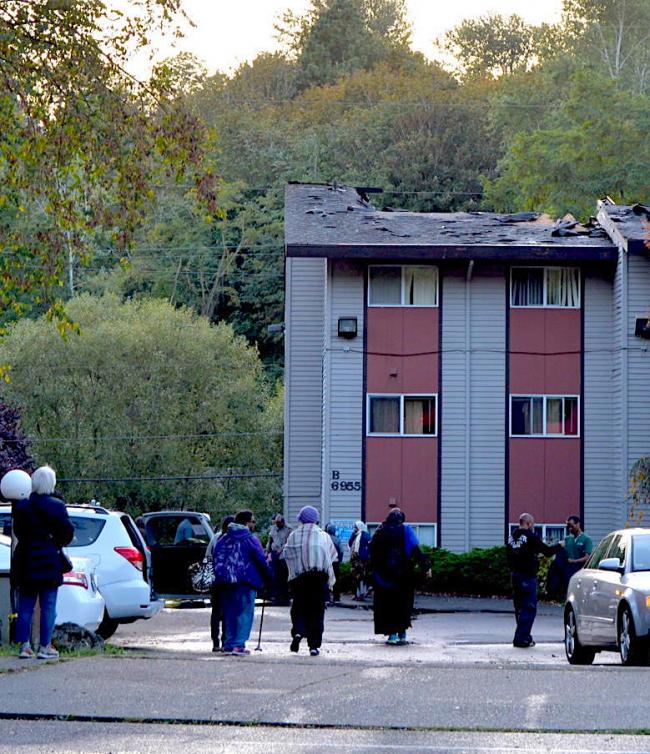 Lindsay Peyton
Tue, 09/27/2016
By Lindsay Peyton
As the sun started to set on Delridge Way SW this evening, a few last plumes of smoke arose from the Lam Bow Apartment complex. Exhausted firefighters loaded back into their engines, and police officers continued to guide traffic around the blocked off street.
Parked in the middle of the thoroughfare was a Metro bus – surrounded by Red Cross volunteers.

Families with suitcases were loading up inside. A few others waited nearby, planning their next moves.
The rooftops from the apartment building were missing in places, where earlier in the afternoon flames had licked their ways up and left destruction in their path.
Seattle Fire Department public information officer Lieutenant Harold Webb said calls started coming in around 2:30 p.m. today reporting the three-alarm fire.
Webb said that in total, 122 firefighters were on the scene. "It started on the back side of the building and climbed up to the attic space," he said. "There was significant damage."
He estimated that 22 to 25 units were affected. A fire watch crew will stay on the property overnight – and investigators will resume their search tomorrow.
"Our firefighters made a quick and aggressive attack," Webb said. "We fought the fire offensively. We had no injuries to fire fighters and as far as we know, no injuries to residents."
Battalion chief Paul Atwater said members of the Seattle Police Department's southwest precinct were on site first.
"They were inside the building evacuating people," he said. "They did a phenomenal job."
Officers on the scene refused to comment for this story.
Colin Downey, regional communications director for the Red Cross, was setting up an emergency shelter to serve about 35 displaced people.
"We'll have food and water tonight and tomorrow," he said. "Then we'll touch base with people to see how else we can help. We'll take it on a case-by-case basis, depending on the needs of each family."
He said King County Metro donated the use of a bus to move Lam Bow residents to the shelter for the night.