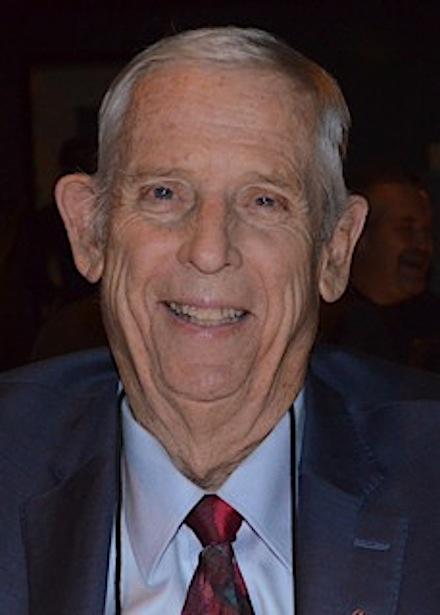 Richard Allen "Dick" Nyberg, loving father, devoted husband, loyal friend, passed away peacefully at his Normandy Park Memory Care residence on October 12, 2016. Dick lived a life full of love, laughter, music, travel, boating, fishing, golfing, gardening, wood and metal crafting, all things nautical, and fostered a deep love and appreciation for all of God's creation. Born November 8, 1935 to Scandinavian parents Amos and Aili, Nyberg, Dick grew up in the White Center neighborhood where he shared a lively childhood with his younger sister Jean Hamilton (deceased), and neighborhood buddies, which includes to this day, his best pal, who lived just across the alleyway, Richard "Rick" Hendrix.
Dick attended Highland Park Elementary from grades 1-8, and went on to West Seattle High School, where he developed his love of music by playing trombone in the WSHS Band, singing in the choir, and performing in an all-male male quartet. He was a member of the Youth Group at Westside United Presbyterian Church, and has remained an active participant of the WSHS Class of '54 Alumni Association.
While still in high school, Dick worked part-time for the Seattle School District, sweeping the halls of West Side High after school. And although his "dream job" was to join the Merchant Marine following high school, he landed a job with Foss Launch and Tug along Seattle's Ship Canal, working the docks, before continuing his custodial position with Seattle Schools where, as the youngest custodian ever hired by the district, was assigned to the newly built Chief Sealth High School from 1957-1961, then to Lafayette Elementary from 1960-1966, all the while studying to earn his steam engineering degree. During these early years, Dick and first wife, Florence Daniloff, gave birth to their two daughters, Bev and Julie.
After receiving his Third Class Steam Engineer License, Dick was promoted to Chief Engineer at Chief Sealth, in charge of the building's steam plant, the Sealth Stadium operations, and the entire custodial staff. At the time, Dick was the youngest Steam Engineer in King County, and over the years, taught many Steam Engineering classes using his own intricate, colorful drawings. During his tenure at Sealth, Dick met his wife of 48 years, Home Economics teacher Sandra Todd. Between 1974-76, Dick and Sandra gave birth to their two daughters, Aili Dee and Kristin Todd.
After several years at Sealth, Dick was assigned to assist in the opening of South Shore Middle School. From South Shore, Dick went on to run the plant at Mercer Junior High, Nathan Hale High School and, after overseeing a number of other school buildings, finished his career in the same place he first pushed a broom, his alma mater, West Seattle High. After 25 years, Dick retired from Seattle Schools.
Following his retirement, Dick worked another ten years for The Seattle Archdiocese and managed building operations for the Chancery, as well as the private residences of three Seattle Archbishops.
Dick's intrigue with metal working led him to a local machine shop where he worked as a machinist off and on for the past several years, while continuing to teach steam engineering.
Dick was quite an artist: his penmanship, sketchings, and drawings were exquisite. He was a master model ship-builder, a wood and metal crafter, and an expert on his metal lathe. Dick built and carved beautiful pieces of furniture, and crafted a whole series of brass, miniature canons.
Dick enjoyed an occasional game of golf and loved to garden, growing beautiful tomatoes, squash and zucchini. He was very active in the Navy League, cruised on several Navy vessels, and loved to watch big ships pass through the Puget Sound from his own deck.
Dick reveled in his Scandinavian heritage, loved to crack jokes, and would often tell them in an exaggerated Swedish accent. He was a huge fan of Stan Boreson, sang Swedish songs at the top of his lungs, played the guitar and harmonica, and wrote several funny song parodies. A favorite Swedish saying he coined and often said with a sigh was "Hem hem på fjorden" or "Home, Home on the Fjord!"
Dick was a man of good faith who loved the Lord, a notorious storyteller, a maritime fanatic, a hearty firewood chopper, an excellent cook, the proud owner of a mint-conditioned 1935 Chevy, and a true "fixer" of anything. Dick loved to explain, in great detail, how things "worked" and over the years, his four daughters would always get a good laugh every time they posed their favorite question: "Hey Dad, now tell us again: how do they get water up into the Space Needle?"
Richard Allen "Dick" Nyberg is survived by his four loving daughters: Beverly Jean Nyberg (Kris Vasquez), Julie Anne Nyberg (Don DeLano), Aili Dee Edgmon (Robert) and Kristin Todd Brayman (Jack).
A Celebration of Life will take place 1pm, Thursday, October 27, 2016 at Atonement Lutheran Church, 740 S. 128th Street, Seattle, WA 98168.
Published in the West Seattle Herald section of the Westside Weekly, October 28, 2016.