JuNO land use group to the city: "Affordable housing plans are too much, too fast, please put us last."
JuNO land use group to the city: "Affordable housing plans are too much, too fast, please put us last."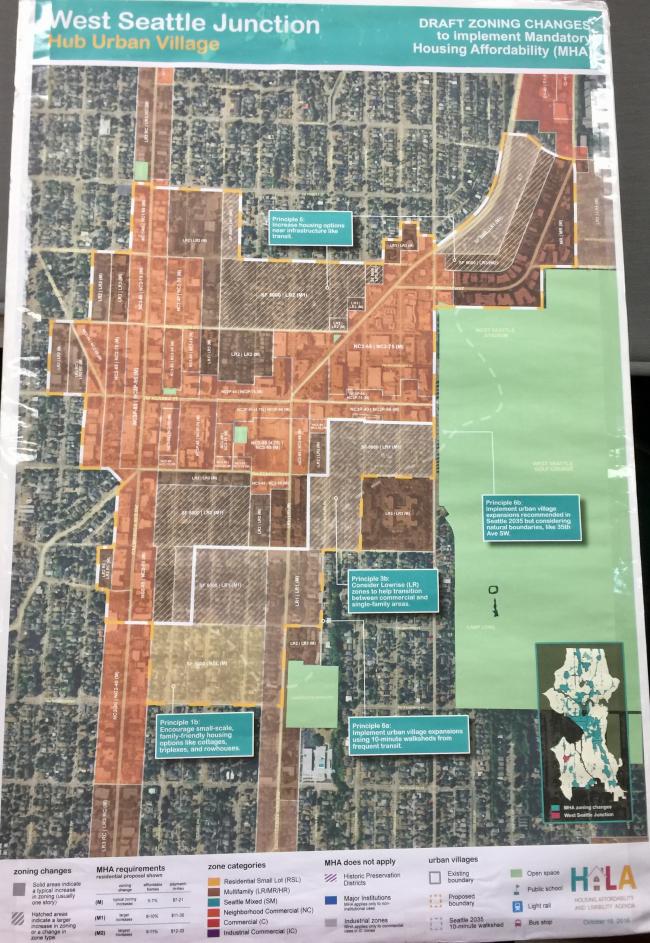 Gwen Davis
Thu, 01/19/2017
By Gwen Davis
The city's new affordable housing plans are coming and coming fast. Packaged into a program called HALA (Housing Affordability and Livability Agenda), the city is about to take a leap into changing zoning so that residential areas will become more dense, leading to capacity for more affordable housing. With tens of thousands of new families projected to move into Seattle within the next several years, city officials are determined to make Seattle an affordable place to live for everyone, no matter what one's income bracket.
However, many people in West Seattle are saying: "We agree there needs to be more affordable housing, but this is coming to us too fast! Give us time to understand the plans and provide feedback."

The new West Seattle Junction Neighborhood Organization (JuNO) is doing just that.
The latest JuNO meeting took place Thursday evening at the Senior Center.
"I want to welcome everyone for coming out on a dark, wet Thursday to talk about land use planning," Carl Guess, the vice chair of JuNO.
Guess first asked how many people knew about the land use changes.
"We're going to provide you information," he said. "We're going to try to keep the jargon down, but tell you why we are here today."
He also said that this meeting is a preview for the upcoming city meeting on Jan. 26.
"We're going to give you at least five points to make your voices heard, and give you points to discuss with the city," he said.
The audience would be provided with a flyer at break which would provide speaking statements for how they can make their voices heard.
"We became a committee about a week ago," he said. "While the ink is still drying on our charter, let me tell you what we are and what we are not."
The committee members are residents of West Seattle, and are volunteers.
"We are trying to understand the scale of this proposed up-zone so we can try to coordinate it."
However, he said committee members are not experts. They are learning and catching-up as they go.
But the committee is not going away, he said.
"Land use is going to become a very important part of your lives," he said. "As a land use committee, we are in it for the long-haul."
He provided attendees with a quick summary of what will be talked about: "Too much, too fast, please put us last."
"Some of you know that we have a neighborhood plan, we agreed to take on density," he said. "The current urban village boundary is over 300 percent of where the city expected it to be in 2024…" he said.
Livability, however is taking a hit because of the density.
"Yet, we have a city proposal that suggests we expand the boundaries and make the buildings taller."
"It's incredibly frustrating," he said.
"Through a lot of hard work we finally got meetings with the city and with the neighborhood. But the [public weren't the most conducive places to have a conversation... It's moving too fast we can't ask the city basic questions. How much affordable housing are we going to get in our neighborhood with this plan?" is one question that the committee wants to know.
The process is moving too fast to get answers on that question and on others.
"There are other neighborhoods who love the HALA plan, and we'd like the city to try it on the other neighborhoods first," he stated. "Because West Seattle doesn't receive light rail right now, it doesn't make sense to build more density in when there isn't transportation."
Rich Koehler, chair of the land use committee started the presentation.
"I only learned about HALA three weeks before you guys did," he started.
He told the participants about the history of the Junction in West Seattle.
"Density in our area is inevitable, however density can't impact livability," he said. "For example, I can't sit down on the bus anymore… it's too crowded. We used to be able to park on the streets on the village, now we can't. I used to be able to get downtown in 20 minutes, but that's pretty impractical now. Housing was pretty affordable. I remember when West Seattle used to be 10 percent less expensive than the rest of Seattle, but that's no longer the case. As things change, we remember density is inevitable, but we need to advocate for the livability side, as well," he said.
Koehler told attendees that the area needs to get together and organize, and that the Junction has to be on top of land use issues.
HALA and the the new round of Sound Transit Light Rail expansion are being implemented at the same time.
"We have an obligation to shape our neighborhood for 100 plus years," Koehler stated. "We need to make sure HALA and the light rail work together."
He gave some background regarding HALA:
"I have not talked to a single person who doesn't want affordable housing," he said.
HALA's core is zoning changes.
"Zoning describes what can be done on a parcel of land," he explained.
Read our previous coverage of how HALA will change zoning.

"As soon as HALA passes, there are a number of private developers who plan to sue it immediately," he said.
The city's choice to make zoning changes mandatory for developers is legally questionable, and might ultimately cause problems for the city.
Koehler went through several scenarios that would cause less affordable housing, if HALA is found to be illegal.
Additionally, according to City Councilmember Lisa Herbold, property taxes might go up once the parcels have higher zoning, but it's not decided yet.
"I asked myself, do we need to trade houses for apartments?" the presenter asked.
The zoning changes — called the Mandatory Housing (MHA) — will come to a vote in early 2018.
But Sound Transit 3 project also needs to be taken into consideration.
Part of the package, which was passed in Nov. will provide funding for the light rail to come to West Seattle.
"Where will the stations be?" he asked. The light rail stations are huge. "The city will push for up-zoning near the stations."
"We need to plan this together," he said. "We need to talk about where the best place is to put a station and have up-zoning."
The project is going too fast, he concluded.
Christy Tobin-Presser, also with JuNO, then discussed the neighborhood plan.
She presented the history of how the junctions in West Seattle work. Part of it the junction's mission included protecting the integrity of single-family residences. She also said there needs to be neighborhood involvement.
The city's attempts to involve neighbors when designing HALA were majorly insufficient.
"But don't feel like we don't have any power," she said. "One of our big tools is sharing information and partnering where we can."
There are many other neighborhoods who don't like the plans.
Participants thanked the presenters for the information.
"Is this a done deal?" one participant asked.
The city council already voted, and the mayor already signed to make this plan possible. It's law. However, the environmental impact studies (EIS) for the project are not complete, which will provide the opportunity to push boundaries and make adjustments.
However, the time to get involved is now.
"It's not very often that something gets killed or gets majorly transformed at city council," another participant said. "You lose the further you get into the process. Fight all your battles now. Make comments as new ideas come to you… This will be a tough battle."
One participant asked about Councilmember Herbold, and questioned if "she was on our side."
The general answer is 'No'.
"She voted for the plan," one presenter said. "But, we should not treat her as an enemy."
Herbold has already been sympathetic to West Seattleites who are against the plans, and provided a meeting for JuNO members. She can be of help.
Morgan Junction Neighborhood Association member, Cindi Barker then described how attendees can best use the city's upcoming meeting.
"The important thing for getting ready for this meeting on the 26th — this government office wants to hear from residents directly," she said, unlike the previous Department of Neighborhood meetings. "Go into this and expect to be heard and engaged. Wallingford had this same event and had 300 people show up. They expected 30. The city will give you a background of HALA, and then will deep-dive a little bit into zoning… and then there will be an opportunity to provide feedback."
"They will want to hear, 'did we get this right?'" Barker said.
Barker urged people to RSVP, which is on the HALA website.
"Be engaged and stay with it," Barker said. "The further we get into the process, the less effective our voices become."
What are we proposing, one attendee asked?
"We want more time," Guess said. "Say to them them: work with Sound Transit so we have an integrative plan — so we have a transit and housing plan at the same time. But most of all, give us a timeline that allows us to have a good working time. We are not saying 'no', we just want to do it the right way."
Additionally, single-family neighborhoods need to stay intact, and is a suggested thing to tell them.
The city meeting will take place on Jan. 26 at the West Seattle Senior Center.