Chef Mariah Kmitta creates art on a plate
Chef Mariah Kmitta creates art on a plate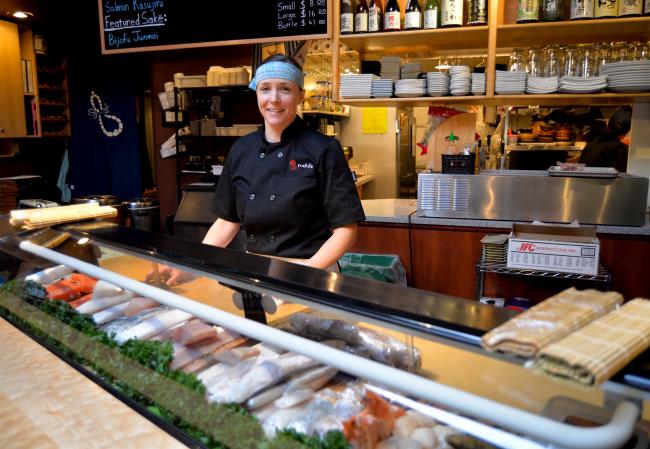 Lindsay Peyton
Mon, 02/20/2017
By Lindsay Peyton
White Center resident Mariah Kmitta never pictured herself working as a chef – even though she had been building a resume in restaurant kitchens since she was a teenager.
Still, she is pleased that her path led her to where she is today – standing in the kitchen alongside Hajime Sato, owner of West Seattle's famed sustainable sushi destination Mashiko.

Originally from California, Kmitta moved to Seattle with her family when she was 7 years old.
They settled in Burien and Kmitta's first job was in a neighborhood sandwich shop, followed by a pizza shop and another restaurant before she landed a gig at Salty's.
Kmitta pursued a degree in graphic design at Western Washington University – but she continued working seasonally at Salty's, even working as a pastry chef for a while at the waterfront bistro.
In 2000, soon after graduating college, Kmitta spoke to a friend who had recently been hired at Mashiko.
"She called and asked me to help out for a couple of weeks, and I thought it would be fun," Kmitta said.
Two weeks turned into 17 years – and Kmitta, who now resides in White Center, moved her way up from kitchen worker to sushi chef.
The restaurant, located at 4725 California SW, opened in 1994.
In producing its menu of Japanese cuisine and sushi, Kmitta found an ideal marriage of her culinary interests and eye for design.
"I could apply what I knew about composition on a page to sashimi and color, I could use that too," she said. "Japanese cuisine is all about presentation – and that just made me more passionate."
Kmitta is also interested in health – and she always felt the dishes she served at Mashiko were good for her customers.
When owner Hajime Sato decided to turn the restaurant into the first in the city to serve only sustainable seafood in 2009, Kmitta felt even more confident in the food they were providing.
"We knew we needed to do this – it went right along with wanting to feed people food that was good for them," she said. "Now it's just also about where it's from and how it's good for the planet."
Kmitta enjoyed the opportunity to learn more about sustainable fishing practices.
"We were under pressure to rethink everything," she said. "And there's always something new to learn about the fishing industry."
Another major change in the business was the expansion of its sake offerings.
"When I first started working here, we had 10 to 15 premium sakes," Kmitta said. "We started getting a lot more into sake and now we have more than 40 premium varieties."
She even completed a sake certification course.
The restaurant has been a constant challenge – and that's something that keeps Kmitta interested.
"We've had 17 years of ups and downs," she said. "It's definitely a business you have to love – and I do. I feel like Hajime and I are such a team. We have a really good working environment."
Where others might shy away from the extreme technical aspect of the cuisine, Kmitta's competitive spirit pushes her onward.
"I really like that I have to stay focused," she said. "And I get to meet a lot of cool people. That's one thing that keeps me going – all my regulars."
Kmitta admits that most of her cooking is beyond the parameters of a normal recipe. "A lot of it is more intuitive," she said. "We get to be creative."
Still, she selected a recipe to share for this article. Clams Sakamushi features local Manila clams, steamed and cooked with whatever mushrooms are in season.
"This is actually my mom's favorite dish," Kmitta said. "It's fun to make – and there aren't any difficult ingredients. You can get everything at the grocery store."
Recipe: Clams Sakamushi (serves two)
Ingredients:
½ cup yellow onions, julienned
½ cup maitake mushrooms
2 tablespoons rice bran oil
12 Manila clams
1.5 fluid ounces sake
2 tablespoons unsalted butter, cold and cubed
sea salt and white pepper to taste
one teaspoon Aonori
Heat oil in a 12-inch pan, cast iron or stainless, until it begins to simmer. Add onions and sauté for one minute, until translucent. Lower heat to medium and add mushrooms. Sauté briefly. Deglaze with sake (no need to splurge; cheap sake works fine). Add clams and butter. Cover with a lid or plate and let steam for about two minutes, stirring occasionally. Ensure that all of the clams have fully opened. Any that remain closed, discard. Lower heat, uncover pan and simmer for another minute or so to reduce the butter sauce. Add white pepper and Aonori. Taste sauce to know how much salt to add. Transfer to a large bowl and pour all of the sauce on top. Pair with a savory Kimoto sake and enjoy.