Star chef Cameron Hanin brings art and craft to the kitchen
Star chef Cameron Hanin brings art and craft to the kitchen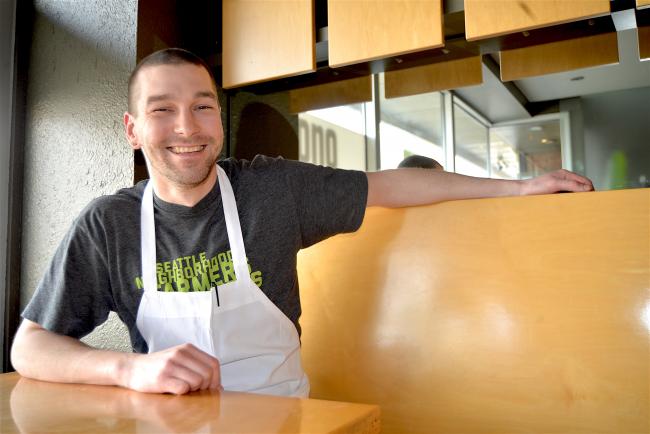 Photo by Lindsay Peyton
Sat, 06/10/2017
There's something surprisingly – and refreshingly – humble about chef Cameron Hanin.
Even though he was named Seattle Rising Star Chef in 2015 and has paid his dues in some of the top kitchens in the country, he still has an air of comfortable familiarity.
And when he takes a break from preparing for the dinner service at West Seattle's Ma'ono to plop down for an interview, it feels like talking to an old friend, one who will give you a hard time if you ask a dumb question or are dating the wrong guy, but one who would just as surely lend you a hand if you were ever in trouble.
That no-nonsense honesty comes through in Hanin's cooking.
"I like careful cooking," he said. "It could be three things on the plate with no modern techniques or it could be a real show-stopper, as long as it's cooked with care, cooked with love."
These days he's cooking Ma'ono owner and chef Mark Fuller's recipes, odes to a Hawaiian heritage.
But Hanin is no stranger to frying up a chicken just right or perfectly showcasing a fresh ingredient.
Originally from Fresno, California, Hanin has lived in the Pacific Northwest since he was 8 years old and in Seattle since he was 18.
Creativity has been one of his defining characteristics from a young age. He even attended a magnet program in the arts in middle and high school.
Hanin wanted to continue to pursue art in college but admitted that he dropped out and started washing dishes instead.
He worked his way up to prepping in the kitchen, making dishes and working in the pantry.
One day, Hanin was at a bus stop wearing chef pants and ran into a friend who was s sous chef at Tom Douglas' restaurant Lola. The friend ended up helping Hanin land a job in the kitchen – and Hanin stayed at Lola for more than three years.
Hanin explained that while art still was calling his name, he believed he had greater potential as a chef.
"There's a very small fraction of successful artists, artists who make it," he said. "I threw myself into cooking."
And he believes that what he learned in art would serve him as a chef.
"The love of your craft and taking care of your craft takes a certain mindset, whether it's cooking or art," he said. "There's a level of detail, care and creativity that you need to have to be good at this."
Hanin eventually decided to head to New York to test his chops.
"If you're a good cook here, you're a good cook there," he said. "If you know how to work hard, to listen and ask questions, I think you can excel in any kitchen in the world."
Hanin basically showed up in the city and went to work finding a job that would challenge him and help him grow.
"I was a 23-year old sous chef, and I just did it," he said. I didn't allow myself to be intimidated by it. I felt like it was something I needed to do to where I needed to go in my career. I just stayed up for like 48 hours and sent my resume to everyone in New York. "
He ended up working stints in Craft, Empellon Cocinca and Hearth – all staples in the Big Apple's food scene.
Then three years ago, Hanin returned to Seattle. He helped open Tom Douglas' TanakaSan, before moving on to the restaurant group behind Old Sage, Spur and Tavern Law.
When Mark Fuller approached him to become chef de cuisine at Ma'ono, Hanin jumped at the opportunity.
"I'm part of a small but growing restaurant company," Hanin said. "I love the owners. We have a good time here, and we do good food. We do things the right way. We don't take shortcuts."
It's casual dining – with high end products, he explained.
"There's a level of effort here that sets us apart," he said.
The success of the restaurant in West Seattle has paved the way for Ma'ono to collaborate with Rachel's Ginger Beer for a new project in University Village.
And back in the kitchen at Ma'ono in West Seattle, Hanin takes pride in taking good care of his guests.
"I look at it like how I cook food at the house," he said. "I want to share a meal with you. I like to see craft and have it be delicious and nourishing."
For more information about Ma'ono, visit http://maonoseattle.com.