Summit to open new college preparatory school this fall in West Seattle
Summit to open new college preparatory school this fall in West Seattle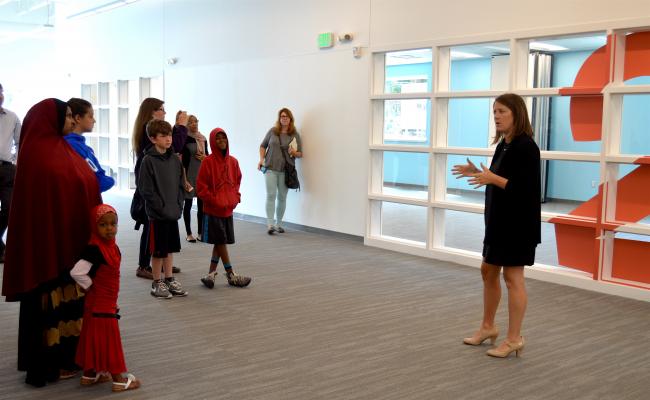 Lindsay Peyton
Mon, 07/31/2017
By Lindsay Peyton
Summit Atlas, a tuition-free public charter school, is now enrolling 6th and 9th grade students.
Construction is currently wrapping up on the campus, located at 9601 35 Ave SW, on the border of West Seattle and White Center.
The school will open in Aug. to serve the two founding grade levels – and will eventually expand to accommodate 6th through 12th grades.
Principal Katie Bubalo took area families on a tour of school on Friday, July 28.
She explained how the building was custom designed with the Summit mission in mind.
Summit Public Schools, a nonprofit organization that started in the Bay Area in 2003, has two main goals – college readiness and creating students with character.
Bubalo said the school's open floor plan was designed to encourage collaboration.
The classrooms all open to a large central space via a glass garage door. Large glass windows on the walls let in natural light.
"I actually think sunshine is pretty important," Bubalo said.
The central space will also be a gathering place for the school's Friday morning assemblies and celebrations. "It's a forum where we can talk about important issues in our community," Bubalo said.
There are also quiet rooms for individualized learning.
A courtyard and a basketball court are also in the works on the campus for this school year.
Bubalo said the school has hired a full staff of 15 teachers, who will lead students through a rigorous college preparatory curriculum.
The school provides free laptops for personalized learning, one-on-one weekly meetings with a dedicated mentor, daily individualized math and reading instruction and service opportunities with community partners.
There are also electives like art, physical fitness, Spanish and storytelling.
Bubalo said Summit's mentoring program sets it apart. "This is a school where you can guarantee that every single adult will know your child," she said.
Jill Riemer, Summit Washington's director of partnerships, said that having a diverse student population is important to the nonprofit.
"Our job is to open the door to everyone," she said. "All children not only can succeed but will succeed here."
Riemer said the school is an ideal fit for students who may be struggling at other public schools or who need a more intimate educational environment.
She explained that the nonprofit has 11 schools in operation – with three in Washington. About 99 percent of the students who have graduated the schools have been accepted into a four-year college.
"Whether they go to college or not is their deal, but our job is to prepare them and to give them that choice," Riemer said.
By giving students personalized learning platforms, they become self-motivated in the classroom, she added.
"We focus on the learning journey, not just the test score," Riemer said. "They come out of here with habits for success. They're positioned well to thrive."
James Heugas, regional director of Washington Charter School Development, said the second phase of construction for Summit Atlas will begin soon.
Crews will be adding a two-story, 2300 sq. ft. building to the campus – and the space will become the high school and will connect to the middle school through a couple of corridors.
"We had originally envisioned building everything together at the same time," Heugas said. "We were able to move forward faster with this phase than the other, so we split it into two parts."
Now, Washington Charter School Development will be able to move forward on the second half.
Heugas said special attention will be paid to keeping the construction project separate from the school environment.
"We will make sure as much as possible that the noisy events happen after school hours or during holidays," he said. "We're in constant contact with Katie and her team about the school schedule."
Construction on phase two is expected to be complete by May 2018.
Heugas explained that Washington Charter School Development is a nonprofit that builds schools in underserved communities – in a way that saves funding for education instead of construction.
"Charter Schools don't have the same funding opportunities," he said. "We fill that gap."
Heugas said the job is rewarding – especially when the children start to fill the classrooms.
"It's amazing how much more dynamic it is when the students are here," he said. "Now it's like a body without a soul. When the kids get here, it gets a soul."
For more information about Washington Charter School Development, visit www.washingtoncharter.org.
For more information about Summit Atlas, visit www.summitps.org/schools/washington/summit-atlas.