Celebration of Traditional Culture at Seattle Chinese Garden set for Sept. 16
Celebration of Traditional Culture at Seattle Chinese Garden set for Sept. 16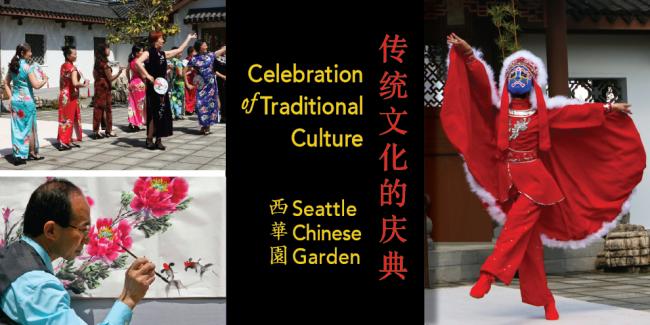 Seattle Chinese Garden
Sat, 09/09/2017
Coming up on Saturday, September 16 -- an afternoon Celebration of Traditional Culture with performances of dance, music, song, painting, etc. at the Seattle Chinese Garden located just north of the South Seattle College campus.
In addition to the main cosponsors, collaborators from 12 Chinese community cultural groups will take part.
Program
Noon to 1 pm – Demonstration of traditional Chinese painting by Yiqiao (George) Jiang
(some paintings will be available for purchase)
1 to 2:15 pm – Performances by Chinese dancers, musicians, and singers, plus the amazing Sichuan opera face changing dance by Long Yu.  
2:30 to 3:30 – Children's dance class and demonstration led by Long Yu (with translator). Children of all ages are encouraged to participate and learn dance steps. Parents and others are welcome to watch.
Cosponsors:
Seattle Chinese Garden – seattlechinesegarden.org
US China Peony Culture Association
America Long Yu Traditional Opera and Face Changing Art Academy
Tickets:  $16 for adults, $8 for children ages 3 to 17
Advance Purchase Recommended: eventbrite.com 
Link to SCG Eventbrite :  https://www.eventbrite.com/e/celebration-of-traditional-culture-tickets-37574577573?aff=es2
To check availability of day of event tickets at the gate: seattlechinesegarden.org
Seattle Chinese Garden Celebration of Traditional Culture
Event Date
Sat, 09/16/2017  – Noon to 3:30 pm
Address
Seattle Chinese Garden, North Entrance at South Seattle College
6000 16th Avenue SW, 98106   
This new, family-friendly event for all ages highlights traditional Chinese culture through an afternoon of dance, music, and song in the garden courtyard. Also enjoy Chinese dishes and snacks at the food booth of Liana Café House.