Chef Aaron Tekulve takes over Duos in West Seattle for fall pop-up dinner
Chef Aaron Tekulve takes over Duos in West Seattle for fall pop-up dinner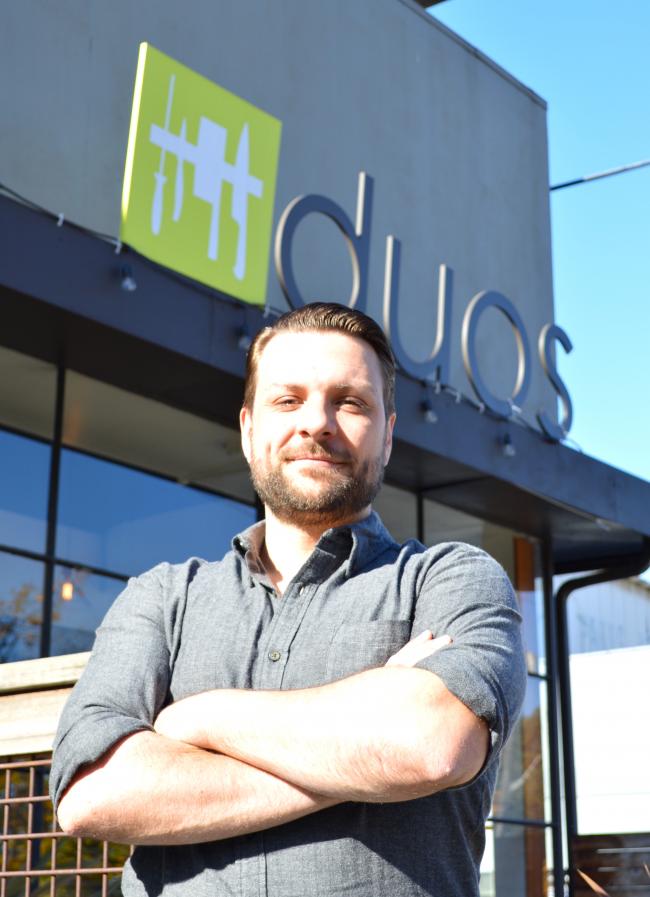 Photo by Lindsay Peyton
Thu, 11/02/2017
Chef Aaron Tekulve will be popping up in West Seattle soon – offering a seven-course tasting menu in celebration of fall.
He'll be serving up maitake mushroom tempura with roasted apple, sour dough and smoked butter, alongside ember-roasted carrots served with black garlic, corianger, aioli and lime.
Then, he'll bring out slowly poached egg yolk with wild mushroom ragu, roasted squash espuma with blue cheese and balsamic and short ribs with popcorn polenta.
The vegetarians attending the dinner will enjoy brown butter roasted king oyster mushrooms with polenta, horseradish and dill.
Next on the menu is Tekulve's smoked rosemary granita and garlic cream – and for dessert, spiced caramel apple sorbet with dark chocolate, brown butter, smoked meringue and basil.
Each dish will be paired with an Australian wine. The menu will highlight local produce and products.
The event will be held at 7 p.m. on Thursday, Nov. 9 at Duos, 2940 SW Avalon Way.
Tekulve said the event is a testing ground for a dream. He hopes to one day open a restaurant in West Seattle. He moved to the neighborhood recently and has fallen in love with the area.
"A pop up is a great way to test the waters somewhere," he said. "If you're well-received, you may be able to start a business."
Tekulve, who was a drummer before becoming a chef, likened hosting pop-ups to touring with a band. It's his way of building a fan base and honing his skills.
"And opening a restaurant is like releasing an album," he said.
Tekulve originally went to school as a music major at the University of Montana in his home state.
He was a professional musician from the age of 17 – and toured with a band for four years. When the lead singer broke his back, the band came to a halt.
"We were all in our late 20s, and we were just tired," Tekulve said.
He decided to return to another, earlier passion.
"I grew up in a family that just loved to cook," he said. "My mother was an amazing cook and worked as a chef and waitress."
His mother and father met in a restaurant. "It was very Disney romantic," Tekulve said. "He tasted her cooking and had to meet the chef. I was born a year later."
Tekulve's first jobs were in the kitchen. He started as a dishwasher and then became a prep cook. He worked as a line chef in high school.
Even while in the band, he was always cooking and watching Food Network shows.
He decided to attend Seattle Art Institute. "I wanted to jump back in – but at a higher level," he said.
Tekulve then started cooking at Lark. "I was off to the races – going to school full time and working," he said. "I don't think I could have started at a better restaurant."
Mitchell Mayers, chef de cuisine at Lark, said Tekulve developed skills at the restaurant that are still evident in his cooking.
"I think it's become a foundation of his cuisine today," Mayers said. "His commitment to local, his dedication to vendors and farmers and high quality ingredients wis evident."
Mayers said Tekulve has always had a passion for local produce and products. "He takes wonderful ingredients and shows them off," Mayers said.
Tekulve became a private chef – and then started his own business, Surrell, focused was on private dining and pop-up experiences.
In the kitchen, Tekulve has hit his stride.
"I now feel that I can write a symphony through food," he said. "It's very rewarding for me in a way that music never was."
For tickets, visit www.surrellseattle.com/popuptickets/nov9
For more information about Tekulve and Surrell, visit www.surrellseattle.com