Delridge neighborhood becomes outdoor art gallery
Delridge neighborhood becomes outdoor art gallery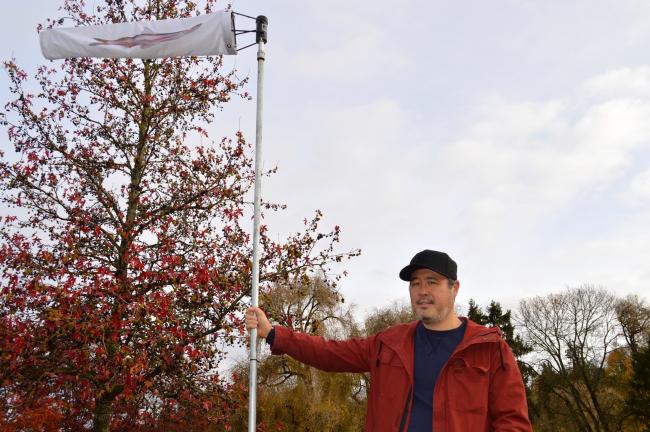 Lindsay Peyton
Mon, 11/20/2017
By Lindsay Peyton
Art has blossomed in the Delridge neighborhood this fall – popping up on roadways, in parks and at homes. 
Akira Ohiso's piece "Smelting" features delicately drawn fish on white windsock kites, an homage to the smelt that once lived in Longfellow Creek before the Industrial Revolution. 
Nestled among the bamboo forest in a home on 26th Ave SW is Shawn Park's "Orange you glad for green? Yes, I pink so." The artist creates colorful lines, drawing contrast to the nearby greenery. 
Tia Matthies created a small herd of brightly painted goats for her "Goats of Many Colors" – and Maria Jost made a surreal undersea-scape for her "Sea Creature Scavenger Hunt." 
For his piece "Hinernacula: Batcall," Ryan Burns placed a delicately carved bat box in a neighborhood park. Susan Brown created theatrical collage characters that were placed on poles throughout the neighborhood for "Wild and Creative Wonders."
Jasmine Brown's work "Black Teen Wearing Hoodie" was made to commemorate the fifth anniversary of Trayvon Martin's death. 
She created life-size decals of her son wearing a black hoodie and participating in his day-to-day activities, from reading a book to playing music. 
Brown said her son is 14-years old – and a hoodie is part of his school uniform. 
"I wonder how many of our white neighbors would be afraid if they saw him going to school wearing his hoodie?" she said. "Every time my son leaves the house, I worry. Does he have a target on his back?"
She said the piece is her way of making a strong statement. "What I use is my art, my camera, my paintbrush, my work as a way to protest and make a mark," she said. 
For Brown, the location of her work is also meaningful. The photos are installed across the street from the Cooper School Artist Lofts, where she first lived with her son after moving to Seattle. 
"I still feel a connection to the neighborhood," she said. "It was my entrance to Seattle. It's cool to see my work on the landscape there."
Artists featured in this outdoor exhibit participated in the Seattle Office of Arts & Culture Public Art Boot Camp. 
"They explain how to seek big commissions, how to start out, how to adapt your work," Brown said. 
Marcia Iwasaki, project manager for Seattle Office of Arts & Culture Public Art Program, explained that the boot camp is intense. The free program is held each spring and offers insight into every aspect of public art -- from how to maintain outdoor work to the ins and outs of contracts. 
Participating artists are encouraged to apply for the Art Interruptions program – offered through a collaboration of the Seattle Office of Arts & Culture and the Seattle Department of Transportation.
"Right away, they get their first opportunity," Iwasaki said. "And they have enough background to understand what goes into it."
Summer Jawson, senior civil engineer in project development for the Department of Transportation, explained that Art Interruptions follows on the heels of the department's Neighborhood Greenway program.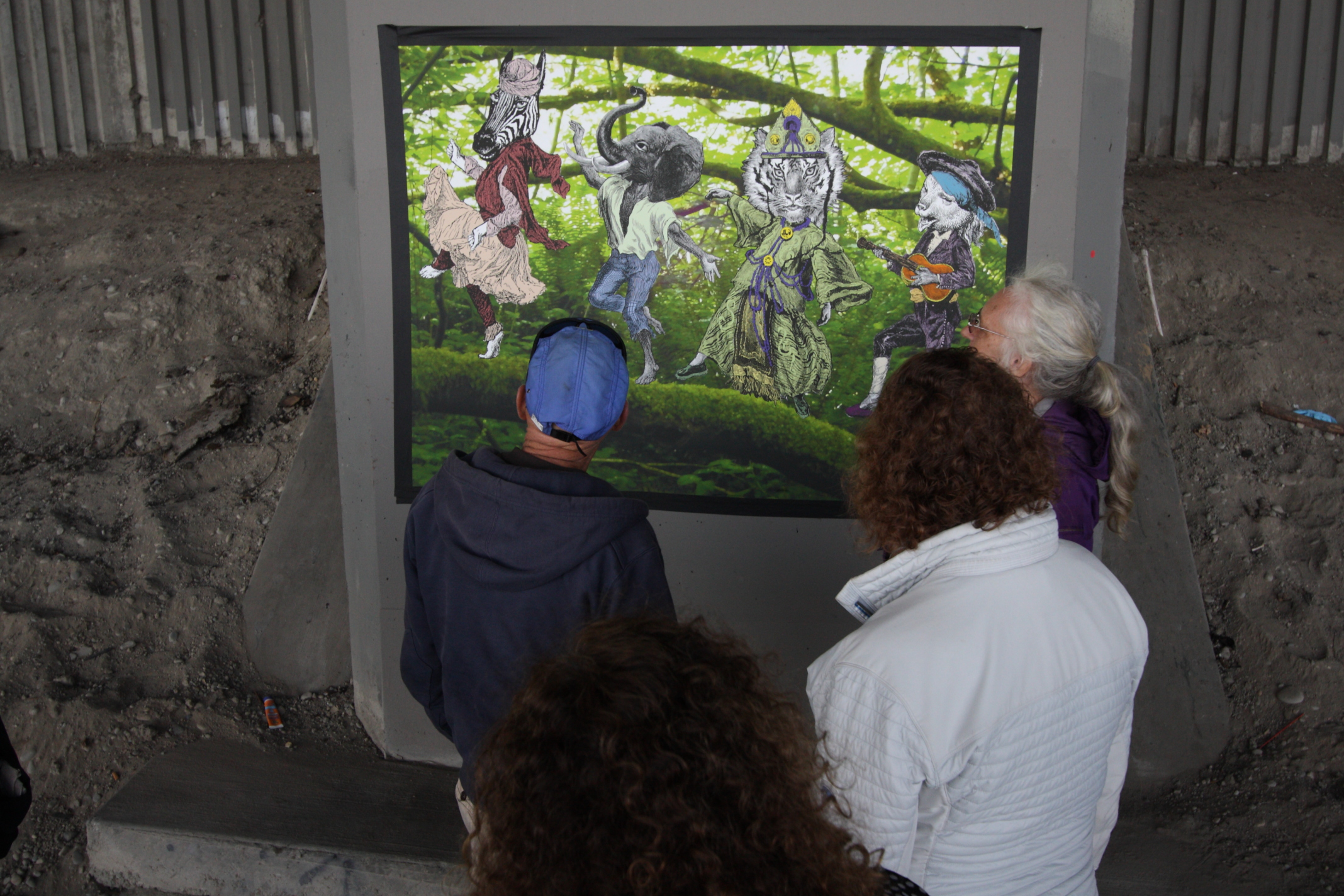 In the program, the city selects an area in need of improvement – and establishes slower speeds and stop signs to calm traffic around the greenway. Crews also create safer crossings at busy streets and speed humps to slow motorists and reduce cut-through traffic. Then the department works to promote and activate public spaces on the greenway, installing signs and repairing sidewalks for pedestrians and cyclists, as well as wheelchairs and strollers.
Art Interruptions serves almost as a temporary celebration of the completed greenway project. "It's an opportunity for us to feature the streets where we've made improvements," Jawson said. "It's been a really fantastic program."
She explained that the greenways provide calm and quiet places for individuals and families to walk and bike – and spend time outdoors. 
The art installed along the way is an added bonus. "They're just supposed to offer moments of inspiration and surprise," Jawson said. 
Artists were allowed to select where they wanted to install their works. A few reached out to private homeowners – and a couple worked with the Parks department.  
Jawson hopes that the project will inspire neighbors to chat with each other and spend more time together outdoors. "When you meet your neighbors, it builds community," she said. "And that makes our whole city stronger."
Iwasaki said the artists researched the area and made art that was inspired by the neighborhood. She explained that public art is created with the community in mind. 
The exhibition will be up until early January. "If there's a lot of community support, we could extend that," Iwasaki said. 
In the meantime, she hopes the art will brighten residents' day. "It's something you just happen upon, a little interruption in your day," she said. 
Brown said one of her favorite parts about participating in Art Interruptions is how accessible the work is. 
"People don't have to go to a gallery to see it," she said. "It's a chance to reach out to the community – to the people who I really want to see my work."
For more information, visit www.seattle.gov/arts/art-interruptions-2017