The Escape Artist offers something uniquely fun in West Seattle for couples and companies
The Escape Artist offers something uniquely fun in West Seattle for couples and companies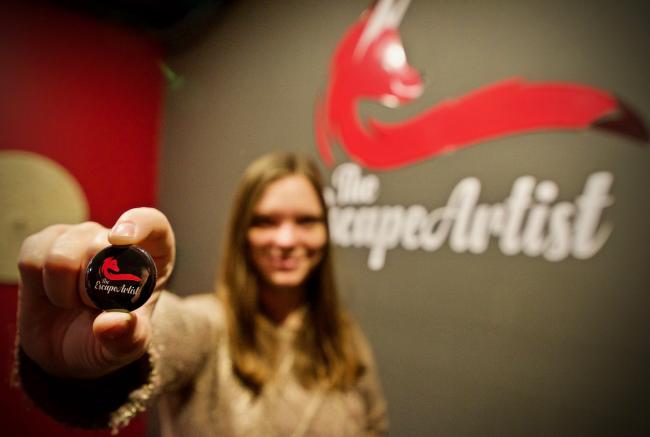 Thu, 11/30/2017
Imagine you are in deep space in the year 2100 and long range scans reveal a spacecraft that has apparently been abandoned. Thinking you can salvage it, you and your crew dock with the craft and enter it, only to find yourself suddenly trapped with a limited time to make it out alive. You must work together to solve the puzzles that surround you. 
That's only one of the themes behind the new business in the West Seattle Junction, The Escape Artist a group of detailed, and themed escape rooms.
The company is located in the hallway space at 4517 California Ave SW, Suite B, Seattle, WA 98116
It's owned by Kristine Atri and she herself is a veteran having visited more than 35. She admits she has only been successful about "42 percent of the time."
She describes it as  "An interactive puzzle room where you search for clues, solve puzzles and you escape." An Air Force veteran, originally from Buffalo, New York, Atri realized that West Seattle was an ideal place to build this kind of business since it appeals to both groups of friends as well as to companies who have found it to be an ideal way to accomplish "team building" among co-workers.
"We cater to "friends & family, team-building, date nights, and special occasions", said Atri.
With more than 1800 escape rooms now in the U.S. the business is part of a hot trend,
The Escape Artist offers three themed rooms. Trapped in Space as well as The 13th Floor, the only full motion interactive escape room experience in the U.S. Both are 60 minute experiences. The third, called Secret Agent 22 is a 15 minute experience. Each of the experiences features puzzles, locks, and elements of surprise that require brainpower and often cooperation to solve. 
Participants are not truly locked in (that's not legal) but the illusion is convincing enough and of course part of the fun. The Trapped in Space theme includes orange jump suits, and video screens, dials buttons and questions enough to challenge almost any puzzle lover. The 13th Floor is literally an elevator that simulates a falling elevator car (it never actually leaves the ground) through hydraulics. 
All rooms are monitored via camera and participants must sign a waiver though any risk is relatively small. No cell phones or purses are allowed in the rooms (they have secure lockers) so no photos of the rooms are allowed, "It's part of the mystery," said Atri. They advise that no one drunk or under the influence of other substances is allowed in the rooms. 
The age minimum is twelve, and you must have at least two people. Up to seven people can take part in Trapped in Space and six for The Thirteenth Floor. By the way, for people's safety the door must be secured but a quick release button inside stops the experience and opens the door.
More themes are planned for the future including The Serial Killer's Cabin which will be built upstairs to open in the Spring. They plan on making changes every 18 months to two years. 
Right now The Escape Artist offers a 20 person party room upstairs and while they don't serve food catering can be brought in and relationships with local restaurants are being worked out. 
The cost is $30 per person (or under 18 $25) and includes the room experience and photo areas where you are encouraged to take photos, celebrate success or ask for clues as to what you missed. Room rates are available too for longer or repeat uses of the facility. The party room can be booked separately.
While escape rooms are aimed at fun for couples or small groups, corporations are increasingly using them as team building experiences, finding that the cooperative nature of problem solving helps people bond and teaches them how to work together.
You can reach them via email at info@goescapeartist.com call them at  206-582-1286 and follow them on Facebook at http://www.goescapeartist.com