West Seattle girls crush Lakeside 57-35; Fiso leads team with 17 points
West Seattle girls crush Lakeside 57-35; Fiso leads team with 17 points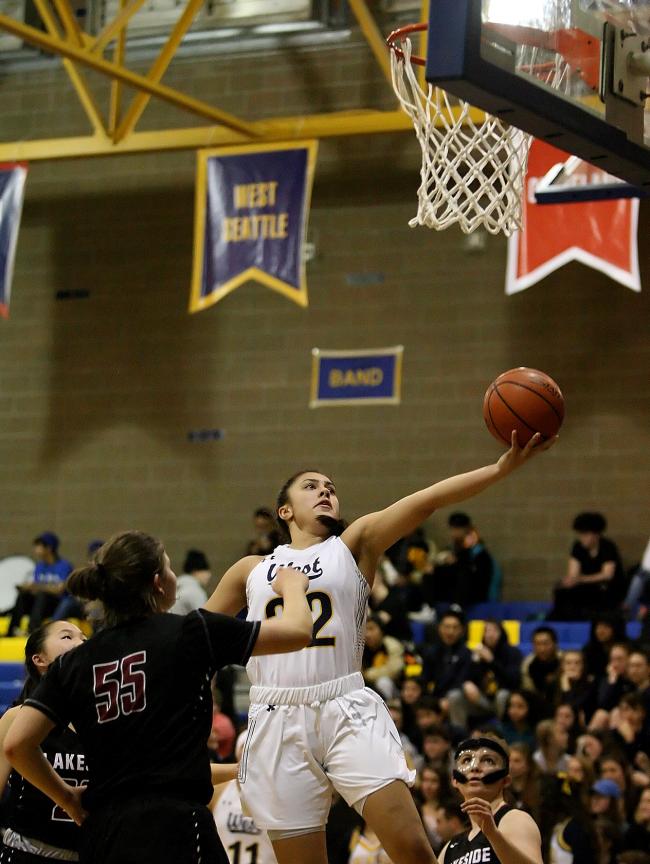 Kurt Howard

Sat, 01/13/2018
BY GERARDO BOLONG
Contributing Writer
Ever advancing West Seattle disrupted visiting Lakeside early before posting a 57-35 Metro League 3A girls basketball win on Fri., Jan. 12.
The Wildcats (11-3, 9-0 Metro Sound) are still making adjustments while only losing to a trio of out of state powerhouse teams from CA., GA, and AZ, respectively. West Seattle holds a 67-58 win against Perry High School of Arizona.
Lakeside fell to 4-8, Metro Mountain 1-8.
"We're still growing," West  Seattle head coach Darnell Taylor said about his junior-dominated squad."They're still some big challenges. The tournament games helped us learn. We're solid in our top five and are working to develop our deep bench. Since we're not tall, we really have to play fast."
Illustrating a quick passing and unselfishness for the ball, the lightning like Wildcats swept passes from and through all angles to clear out for close-in shots and accurate 3-point goals midway through the first quarter as Grace Sarver, Kelsey Lenzie and Meghan Fiso fired home 3-pointers to key a nine point scoring run that cleared West Seattle to a 17-8 lead late in the first quarter.
Despite missing some excellent short range shots, the running Wildcats continued their speedy travel through Lion territory to lead 30-14 at the half.
Like continually advancing hordes of invaders, West Seattle continually overran its foes to lead 49-21 midway through the third quarter. Part of the WS repertoire was quick positioning and hustle for rebounds in a constant, swarming action on both ends of the court.
With reserves seeing considerably high court time, the Wildcats kept their lead in high double-digits the rest of the way.
Fiso scored 17 points to lead three players in double figures for West Seattle. Sarver and Lenzie each added 11 points. Jasmine Gayles chipped in nine points.
Grace Harrington posted 11 points for Lakeside.