West Seattle racks up another win with fourth quarter surge over Lakeside
West Seattle racks up another win with fourth quarter surge over Lakeside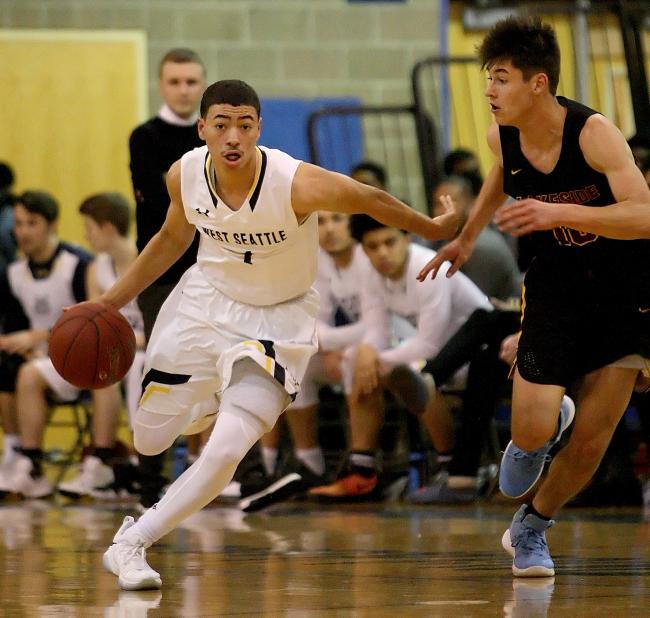 Kurt Howard

Sat, 01/13/2018
BY GERARDO BOLONG
Contributing Writer
West Seattle claimed a 50-42 3A Metro League boys basketball win against visiting Lakeside after clutch defense and rebounding in an 8-0 fourth quarter surge that finally shook off its persistent challengers.
"They (the Lions) didn't shoot well in the second half and that let us escape with a win," said West Seattle head coach Keffrey Fazio. "If they shot better in the fourth quarter, it would have been a different story."
Tied at 40-40 with just more than five minutes remaining in the fourth quarter, the Wildcats took advantage of a drop off in shooting accuracy by Lakeside and also overcame foul problems.
Six-foot, eight inch Abdullahi Mohammed had just drawn his fourth foul and was replaced by six-foot, six-inch junior Maar Rambang.
Clearing for an excellent access to the basket pass, Rambang immediately converted a lay up. Then, Rambang  blocked a Lion shot and Elijah Nnanabu found Rambang for a lay up. West Seattle's Warriors stole the ball, leading up to a Nnanabu crowd pleasing stuff shot to have WS ahead 46-40 as 3:47 showed on the game clock.
Wildcat rebounding of missed Lion shots and a Lakeside player controlled foul led to an Anthony Giomi lay up after a Lion defensive overplay attempt.
In command at 48-40, the home standing Wildcats held off the Lakeside Lions for the victory.
West Seattle established an eight point control at 24-16 on Mohammed's two free throws with 4:28 left in the first half, but Lakeside rallied to trail only 24-23 before Jackson Golgart's runner sent the Wildcats into halftime with a 26-23 margin.
In the third quarter, West Seattle established six-point leads twice, but could not completely shake off its opponent.
Foul problems began to cool off the West Seattle Wildcat effort.
The Lions scored six consecutive points to tie the game at 33-all on a Max Knight 3-pointer with 46 seconds before the fourth quarter, but WS led 35-34 heading into final quarter action.
Nnanabu's short range basket coupled with a Simon Harris inside pass for a Nnanabu reverse lay up mushroomed the Wildcat lead to 39-35.
Outscoring West Seattle 5-1, the Lions forged the 40-40 tie as the prelude to the deciding moments.
Giomi was the Wildcat leading scorer with 14 points. Nnanabu was close behind at 13. Roman Barnet came off the bench for seven points and Rambang closed at six after his crucial fourth quarter contributions.
Max Knight was deadly for Lakeside with 19 points, including four 3-point goals. Omahre Gratton scored 13 points, but did not score in the fourth quarter.
West Seattle (5-4 Metro Sound division, 9-5 overall) hosts Seattle Prep at 7:30 p.m. on Tues., Jan. 16.