Fauntleroy Boulevard Project gets put on hold; Potential conflicts with ST 3 cited
Fauntleroy Boulevard Project gets put on hold; Potential conflicts with ST 3 cited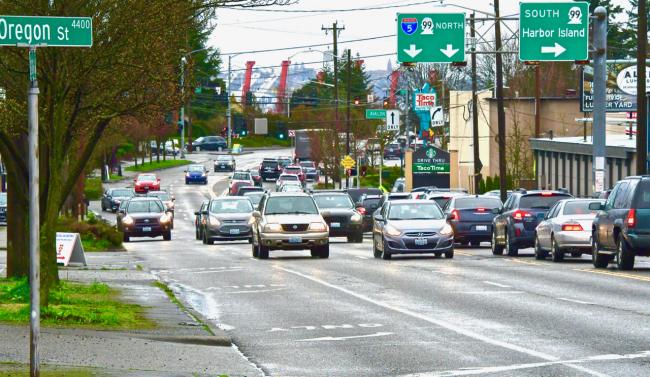 file photo by Patrick Robinson
Wed, 01/31/2018
The Fauntleroy Boulevard Project which would have created a major traffic issue for a minimum of 18 months in even the best case scenario has been put on hold by the Seattle Department of Transportation. Citing potential conflicts with the planning for light rail coming from Sound Transit the agency released the news in a statement on Wednesday, Jan 30.
"Based on community input and continued coordination with Sound Transit, we are putting construction of the Fauntleroy Boulevard Project on hold. This decision responds to community concerns about prolonged construction and effective use of taxpayer dollars.

Sound Transit's current proposed route for the voter-approved light rail extension to West Seattle includes an elevated rail line on Fauntleroy Way. If built after the Fauntleroy Boulevard Project, there is the possibility that Fauntleroy improvements would need to be removed and potentially rebuilt.

During our recent design outreach, we heard community concerns about dealing with major construction twice in such a short amount of time. The community also asked whether constructing the Fauntleroy Boulevard Project now, and potentially having elements of the project removed later, would be an effective use of public dollars. Our decision to put construction on hold will help to ensure that SDOT's and Sound Transit's plans for this stretch of Fauntleroy Way don't conflict. We recognize West Seattle has multiple paving and transit priorities, and we will reallocate Fauntleroy Boulevard Project funds to address the community's needs.

Sound Transit is still in the early stages of their design for light rail to West Seattle, and they anticipate choosing a preferred alignment by mid-2019. Last month, the City announced plans to work closely with Sound Transit over the next 18 months to identify a preferred route for the light rail tracks and stations to the West Seattle Junction.

If you have any questions or concerns, please email us at fauntleroyblvd@seattle.gov or call our project phone number at (206) 727-3994.