West Seattle Nursery wins Founder's Cup and other awards at NW Flower and Garden Festival
West Seattle Nursery wins Founder's Cup and other awards at NW Flower and Garden Festival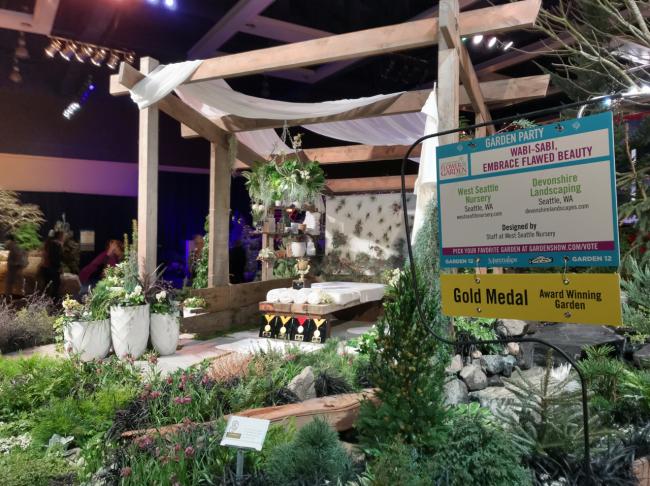 Patrick Robinson
Thu, 02/08/2018
"It was a team effort" everyone at West Seattle Nursery says.
But winning the 2018 Founder's Cup award plus gold medals at the Northwest Flower and Garden Festival is no small feat.
Led by Nursery Manager Marcia Tobin the team did some assembly in advance but because design is often a feeling, it had to come together in the time and space alotted. Many meetings about which plants to choose, what the theme should be and how it would be put together were held, and Devonshire Landscapes built the overhead trellis. The theme is an outdoor Japanese Spa called Wabi Sabi meaning to embrace flawed beauty. The garden has two water features, one a stream coming down the right side the other bubbling up out of a large striped rock. 
The center has a bench over a stone floor and off to the side a shower. The back wall is lined with plants, and even behind the display from the other side a Japanese maple, sans leaves sits in front of a wall decorated with tiny bamboo pots attached horizontally on the wall for visual interest. The entire display is rimmed in an array of plants that are a mix of shade and sun, a lot specimen plants, conifers, including some house plants.
Nursery owner Mark Smith said, "I asked Marcia if she was the designer and she said 'No the group came up with the ideas. I just put them on paper.' But the reason it won is that you can imagine this being in your own yard."
The nursery also won the People's Choice award (voted by attendees) and the Palmer Award (voted by the other garden designers). Below is a complete recap of the awards won by West Seattle Nursery
Founder's Cup (Best in Show)

Gold Medal

Fred Palmer Exhibitor Award – The silver cup
From the Garden Show website: The Fred Palmer Exhibitor Award is a very meaningful award to all the hard-working garden creators. It goes to the garden voted the most accomplished by fellow garden creators. Since these people have been working tirelessly for over six months, and then exhausting themselves working side-by-side in the cacophony of noise and chaos to build their show gardens, receiving this award from their peers is a gratifying achievement.
People's Choice Award

Garden Design Magazine Award

Best Use of Horticulture Award

Best Use of Color Award
The Festival says of the Founder's Cup 
"Founder's Cup Award – Garden that is deemed "Best in Show" and a majority favorite of the Main Show Judges and the 20 judges for the other awards listed below. Recipient receives a rotating sterling silver trophy which is passed on at the following year's show. The award is bestowed during the NWFGS Garden Creators' Celebration."