West Seattle Police Blotter week of 2-19-18
West Seattle Police Blotter week of 2-19-18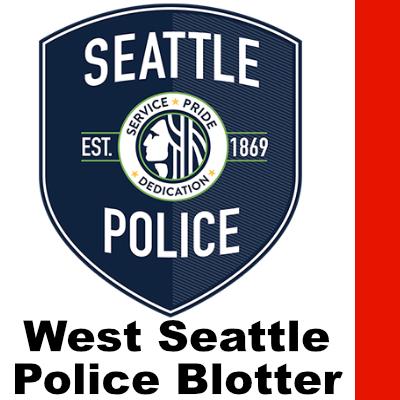 Mon, 02/19/2018
Burglar discovered inside home for sale
Officers arrested a burglar Tuesday evening, Feb. 13, after locating him inside a vacant home located in the 6300 block of 36 Ave SW. The home was listed for sale, and the homeowner had stopped by the property to check on it around 6 p.m. He said that, while the house was unoccupied, it was staged. He was surprised to discover drug paraphernalia inside. He immediately called 911. Officers arrived and searched the home. They found a 36-year-old man inside and arrested him. The suspect was in possession of a number of identification cards, personal checks, a laptop and other stolen property. Some of the items located inside the house were taken in recent vehicle prowls in West Seattle. Officers were able to return those items to their rightful owners. The suspect was interviewed by Major Crimes Task Force detectives before he was booked into the King County Jail for investigation of burglary and possession of stolen property.
Suspect arrested for assault on SW Admiral Way
Officers received a report of an assault around 8:30 p.m. on Monday, Feb. 12. They arrived on the scene of the crime in the 4100 block of SW Admiral Way. The victim said that the suspect ran east after making threats to assault him. The suspect threw a can at his head. Officers found a man matching the suspect's description a couple blocks away. They arrested the suspect, who became verbally abusive and started thrashing around. He was transported to the SW Precinct. Officers reviewed surveillance footage and charged the suspect with assault and harassment. 
Burglar takes keys, then car on 45th Ave SW
Around 8:40 a.m. on Sunday, Feb. 11, officers were informed of a burglary in the 4000 block of 45 Ave SW. The victim's residence was entered through an unlocked door. The suspect took two sets of keys from a ceramic bowl in the hallway. Then, the suspect took the vehicle parked in the driveway. Officers took the bowl to analyze for fingerprints. 
Home under construction burglarized
A man who owns a home under construction in the 7300 block of 44 Ave SW called police around noon on Saturday, Feb. 10. He told officers that he arrived earlier in the day, after a neighbor told him that his garage door was open. The door to the interior of the home had been forced open and a couple of tools that did not belong to any contractors were on the scene. Two industrial space heaters were stolen, as well as an industrial fan. A steam shower system was also taken from the bathroom area. A power cord was stolen. Officers contacted the neighbor, who reported that he had not seen any suspects nor their vehicles. The victim said that the door was secured with a bolt.