White Center resident Carmel Aronson asks others to have a heart, sign up as organ donor
White Center resident Carmel Aronson asks others to have a heart, sign up as organ donor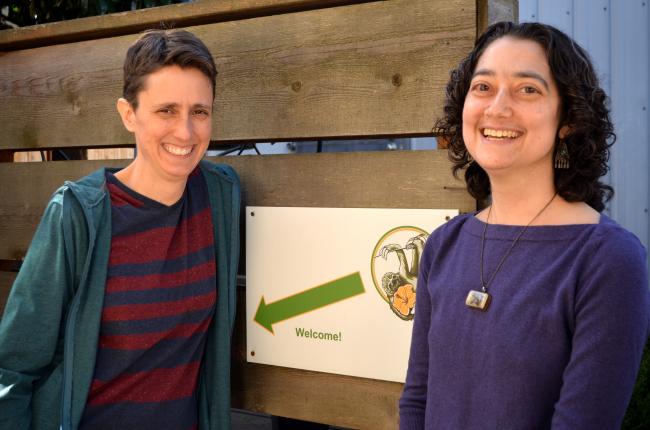 Photo by Lindsay Peyton
Mon, 03/26/2018
By Lindsay Peyton
White Center resident Carmel Aronson is making a case for organ donation. Every year, as April rolls around, she shares her experience receiving a transplant in honor of National Donate Life Month.
"Without the organ donor, there is no story," she said. "My organ donor is what allows me to be here today."
Aronson received a double lung transplant, which saved her life. She developed a lung disease in her 30s.
The symptoms started in 2012, when Aronson was recovering from the flu and pneumonia. "Everyone told me it takes a long time," she said.
Still, she was surprised about how labored her breathing had become. When she walked to the bus, she had to stop three times to catch her breath in what used to be an easy six block walk.
A friend insisted that Aronson seek medical attention right away. "She calmly explained to me that what I was experiencing was a medical emergency, that I should skip primary care and go straight to a specialist."
After a lung biopsy, Aronson woke up on oxygen. Her doctor diagnosed her with pulmonary arterial hypertension, a rare disease.
Aronson said that only about 15 people in a million share the diagnosis. "At the time, I didn't really understand what it meant and how serious and significant it was," she said.
She was an active person, road her bicycle around town and did yoga. She did not smoke, drink or do drugs. Having a rare lung disease did not make sense.
Her doctor explained that the condition is "idiopathic," or arising from an unknown cause.
"It was going to happen," Aronson said. "There was nothing I did to cause it."
She did not let the diagnosis stop her. She returned to her job in social work, pulling behind an oxygen tank wherever she went.
Aronson learned that the average life expectancy after discovering the rapidly progressing terminal disease was only a couple of years. She tried all of the conventional treatments, but her health only deteriorated.
Eventually, a port was placed in her chest so she could administer the medicine she needed herself. She lived under the stress of making a mistake, which could have major consequences.
In the meantime, Aronson needed more and more oxygen. She was constantly calculating her mind how much to bring with her.
"You have to do math all the time," she said. "When you leave the house, you have to know exactly how many breaths you're going to take before you get home."
Aronson resisted surgery until her condition got so bad that she no longer had a choice. "There was really no other option for me if I wanted to stay alive," she said. "And I did. I loved being alive."
In addition, Aronson had met and fallen in love with Lynn Bondi, even in the midst of her hospitalizations. The couple met in 2014 and married a year later.
"I learned what love can do in the process of health and healing," Aronson said.
In a way, love kept her going. She also credits a strong, supportive community, made up of friends and even strangers who learned of her struggle through social media.
In addition, Bondi has a master's in Chinese medicine and has been practicing since 2002. Aronson benefitted from her partner's skill at acupuncture.
Three months after her marriage, Aronson was approved for a transplant, which she explained was a difficult process. "There's such a shortage of organs in the U.S.," she said.
In addition, recipients must meet a number of criteria and pass various tests to become approved. Aronson also had to be physically close to a transplant center. Luckily, the University of Washington Medical Center was in her backyard.
"It took about three months to pass all the tests and get everyone to sign off," Aronson said.
In the meantime, Aronson's need only increased. "If there were any questions that I needed a lung transplant, there were more signs," she said.
She was diagnosed with another idiopathic lung disease and had three pulmonary aneurisms. "I had three separate life-threatening conditions all at once," she said. "Once I got listed, it was just an issue of trying to stay alive."
Every breath was a struggle. Even with an oxygen tank, her blood would not fully oxygenate. "Everything I did, every single second, was focused on staying alive and staying healthy," Aronson said.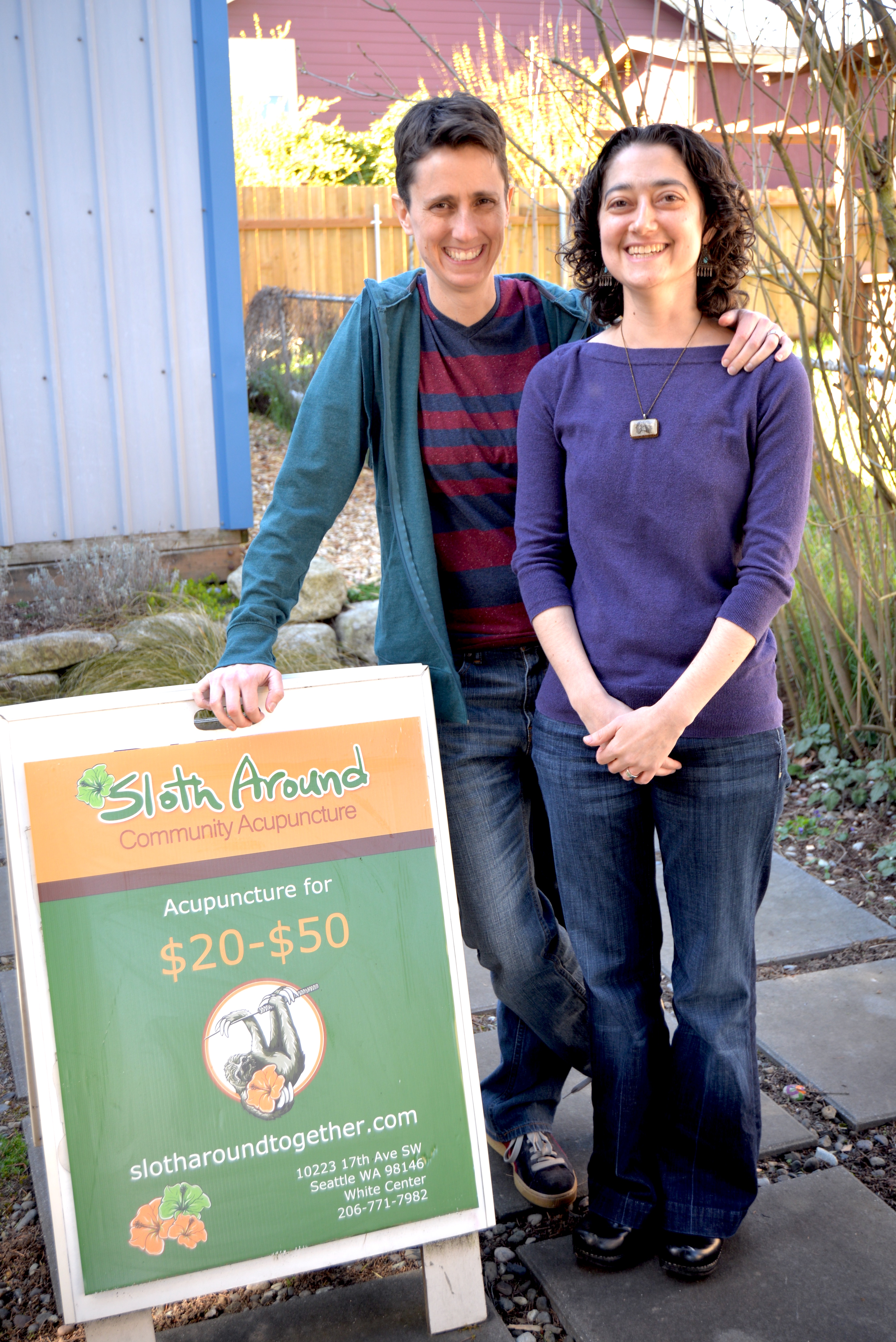 She waited 19 days and then got the call.
"Total shock would be the best way to explain it," Bondi said.
Two lungs were available from an anonymous donor and Aronson needed both.
Aronson asked her wife and family to create a collage while she was in surgery, depicting what her life would be like after the transplant. Bondi distributed letters that Aronson had written to everyone the night before, while they waited.
It took a month to recover from the surgery in the hospital. By the end of 2015, Aronson was discharged. While there have been setbacks and complications along the way, she is grateful to no longer have to plan for every single breath.
"I know I would not be alive without my transplant," she said.
Aronson made a decision during her time at the hospital: "I would engage in the community and make is possible for other people going through health problems or challenges to know that I would be there for them, just like people were there for me."
She and Bondi, who is an acupuncture and herbal health specialist, started dreaming up a business plan. A few months later, they opened Sloth Around Community Acupuncture, where they provide health care services on a sliding scale.
"It's in an open setting, so you're treated with other people," Bondi said. "That's part of the whole deal. It's intentional healing."
She explained that sharing the experience of healing can help connect people in the community and bring the neighborhood together.
"We want to be here for everyone who lives here," Bondi said.
Sloth Around Community Acupuncture will be open two years in August and has already served 600 clients.
"The great thing about acupuncture is that it works," Aronson said. "Acupuncture has been a large part of my story of how I maintain my health and wellness. Acupuncture is good at controlling pain and anxiety."
Aronson considers it a gift to help others feel better. She said that her organ donor made everything possible.
Aronson encourages others to become donors. She said that one donor can save the lives of eight people, plus improve the lives of 50 others through tissue donation.
"When else will you get a chance to help so many other people," she asks. "At the same time, in the U.S., 20 people die each day while waiting for an organ. Every 10 minutes, someone new is added to the waiting list."
Individuals can become registered organ donors online at www.lcnw.org.
For more information about Sloth Around, visit www.slotharoundtogether.com.
Comments
We're so proud of our daughter! Please sign up to be an organ donor.
Add new comment