Chef profile: Case Justham, making the case for bold flavor at Brass Knuckle Bistro
Chef profile: Case Justham, making the case for bold flavor at Brass Knuckle Bistro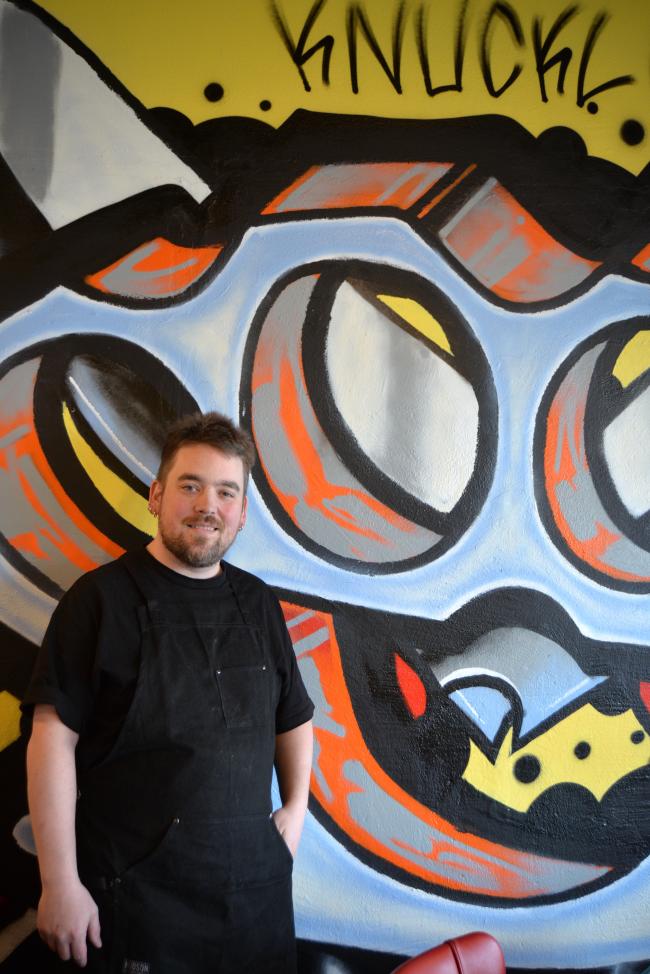 Photo by Lindsay Peyton
Thu, 04/12/2018
Chef Case Justham simply prefers bold flavors.
"I always liked stronger, spicier, saltier stuff," he said. "No one made it how I liked it, so I realized I better figure out how to make it myself."
He taught himself to cook at a young age and would prepare meals for his family and friends. He then went on to jobs in restaurants, working his way up from pizza delivery to sous chef and butcher at a West Seattle favorite, the Swinery.
"I was hired as grill cook; it was just the bottom of the barrel," Justham said. "I slowly took over the kitchen and worked my way up."
Now, he's head of his own kitchen at the restaurant he opened with his family, Brass Knuckle Bistro, located at 9602 16th Ave SWin White Center.
Think of food so tasty it hits you right where it counts, a brass knuckle to the mouth.
Signature sandwiches include the Pittsburg Phil, with seared steak, charred onions and peppers and house made cheese sauce and the Midnight Rose, a house-cured and smoke pastrami topped with Swiss cheese, coleslaw and jalapeno mustard sauce.
There are even vegan options like the Soy Cowboy, which features ginger-garlic marinated and fried tofu, pickled carrots and daikon with a chile shallot aioli.
Everything is homemade except the bread. "I had been making bacon and sausage at home, before I went to the Swinery, but I honed my skills there," Justham said.
Now, he can apply his butchering brilliance to his sandwiches.
All items in the restaurant are either compostable or recyclable. "It just makes business sense, as well as being virtuous," Justham said.
He said he was up to the challenge of opening a restaurant and learning the best way to run operations. "I'm one of those people who cannot do a job without thinking of how to do it better," he said.
His mother and business partner Linda Justham said Case is a chip off the old block. "His father and I are serial entrepreneurs," she said. "He had a lawn-mowing business when he was 10 years old. It's just in our blood."
Linda formerly own a toy store in Madison Park, and when Case was old enough, he worked there at her side.
Similarly, Brass Knuckle is completely a family affair. Case's brother Drew Justham is actively involved in the business and his sister Piper Carscadden can be found behind the cash register.
Linda is a realtor and used her skills to find the location for Brass Knuckle Bistro. "I would drive up and down the streets, trying to get the lay of the land," she said. "I could see things were starting to take off in White Center."
When the 3.14 Bakery closed and the spot became available for lease, Case and Linda jumped at the opportunity.
"We honed in on sandwiches," Case said. "It seemed like a good fit for the neighborhood. And I wanted to keep the price point reasonable."
"We also wanted a limited menu, something that's casual for families, office workers," Linda added.
She was in charge of the décor and created a colorful, modern day diner, complete with graffiti mural.
Linda said that soups and grab-and-go sandwiches will be added to the menu soon. In the meantime, she encourages people to come in and try her son's culinary creations.
"It's delicious," she said. "These are different sandwiches that you don't see everyday. And Case has so much in his head you never know what will pop up as limited edition specials."
It's all about being fresh and favorable, Case added. "Whatever else can be said about my cooking, it's not subtle," he said.
For more information, visit https://brassknucklebistro.com.