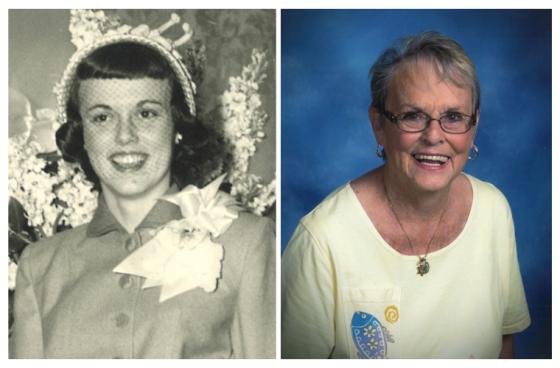 March 10, 1933-May 30, 2018
Janet (Jan) passed away after several years of battling dementia. Her husband, Jack passed away three years ago and at that time she moved from Birch Bay to Seattle to be closer to family and friends.
Jan and Jack were married in Seattle on March 17, 1951.  Soon after, Jack enlisted in the Coast Guard and they moved to Astoria, Oregon where they began their family.  After the Coast Guard, they moved to West Seattle, where they lived and raised their kids until they both retired and moved to Birch Bay, Washington, where the family had vacationed over the years.  Mom and Dad loved being up at "the Bay" and so many incredible memories come from the many trips made there over the years.  They were always surrounded by friends and family wherever they were.
Jan's main job in life was raising their 6 children, while running the household and cooking for not only their kids, but also for the never-ending groups of friends and family that continually graced their home and dinner table.
In addition to running the Capeloto household (which was no easy task!) she also worked at the Repertory Theater and the Opera House in Seattle for years, before joining her group of friends at DAS, where she worked as a surveyor for imported cars.  Many of the employees there were either friends of her children or relatives, so she was a force to reckon with as an employee.  She was either protecting her "kids" or they were protecting her!
She was an incredible Wife, Mother, Grandmother, Great-Grandmother, Sister, Aunt, and Friend to all those that had the privilege of knowing her.  Her warm smile, laughter, great hugs, incredible cooking, love of gardening and devotion to family and friends are things that will be missed terribly, but never forgotten.
Janet leaves behind an incredible number of family and friends, including her children Mike (Claudia), Rick, Bruce (Kimberly), Kim (Lisa), Jack Jr. (Julie) and Jannie (Vinnie).  She was "Mimi"" to 11 Grandchildren and 3 Great-Grandchildren.  She also is survived by her beloved Sister, JoAnne (Toby) Tobin and many, many Nieces and Nephews.  Her Birch Bay Best Friend, Jerre, also was a loving and caring part of Mom's later years.
Jan's family would like to thank the staff at El Dorado West and Providence Foundation Hospice for their love and support. Their compassion was felt by not only Mom, but by her entire family.
She insisted on a positive and uplifting gathering when the time came, so to honor her wishes there will be a celebration of her life in West Seattle on Sunday, July 1, 2018, from 2:00-5:00 pm at the Hall at Fauntleroy--Emerald Room, located at 9131 California Ave. SW, Seattle, WA  98136.  We would be honored to see as many of you as possible, as we celebrate the life of an incredible role model to so many of us.
In lieu of flowers, Jan would prefer a donation to support causes that positively impacted her life.  We suggest either CDM Dementia Caregiving Services at www.cdmcaregiving.org or Providence Foundation Hospice at https://washington.providence.org/donate/hospice-of-seattle-foundation/