Notes from a native son
Mon, 07/09/2018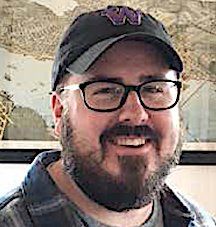 Editor's note: This is a first column from Jayson Boyd, a local man who has things to say about his beloved West Seattle
By Jayson Boyd
You probably don't recognize my name. I'm just a fairly average guy from West Seattle. But I'm an average guy who spends a good amount of time lost in thought, and sometimes I like to write these thoughts down and share them with others.
I grew up in the Gatewood area, near the late Kenyon Street Market. It was during the days of school busing, and I went to elementary on Beacon Hill, middle school at Denny and high school at Garfield. If you're like me, knowing these things provides all sorts of context. I began working in hotels downtown when I was 18 and had worked my way into management before being laid off in 2009, which began a period of professional struggles. I went back to school in 2012, earned a certificate in paralegal studies and now I'm working in the King County Prosecutor's Office. I'm also studying for my bachelor's in Integrated Social Sciences at the UW.  My wife and I have two daughters, one that will be attending Wazzu in August, while the other will be beginning middle school in September. 
In popular parlance, I grew up in West Seattle, sure, but I prefer to think that West Seattle actually raised me like a mother. There's no doubt in my mind that I'd have a completely different outlook on life if I had been raised anywhere else. Others may not place such an emphasis, but when I meet someone else who was raised here, I feel a sense of kinship, like they're my brother or sister. For me, there are just too many commonalities to deny the familial relations. We may not always get along, but there remains an understanding – and perhaps a love – because the ties that really bond us together are the tough times, and I can recall when West Seattle looked and felt much different. There was a time when if you told someone that you lived here they'd flash a quick expression of pity upon you. 
But I've always loved this neighborhood for better or worse. Somehow, when you crossed that bridge and saw that wooden sign, you felt like you could finally breathe easy. West Seattle, for its size and population, was a community, and it was familiar. You knew that anyone you might come across likely lived here too, because there really wasn't much reason to be here otherwise. People didn't turn left onto Alaska from California, because it was understood that one just doesn't do that. I love an unwritten rule. 
I don't receive the looks of pity anymore – in fact, people seem excited when you say you live here. Our hidden gem has been discovered, and it's become trendy to live here. Even White Center is hot right now. I'm resisting the urge to say it's white hot, but it's certainly whiter than it was in my youth. While there's a sense of pride that so many newcomers have come and now enjoy this place like I always have, but I must admit that I'm not loving everything about it. Obviously, it's more crowded. Traveling from one end of the neighborhood to the other never used to seem like a particularly long haul, but now it seems there are no quick trips. I'm also very concerned with what appears to be a creeping classism. I would agree that 35thhas always been a bit of a dividing line, but Highland Park and Westwood are every bit as much a part of West Seattle as is Admiral and "Upper Alki", whatever that is. Frankly, it angers me to see maps that split the peninsula into two entirely separate neighborhoods (north and west vs. south and east). It smacks of an attempt to other-ize the residents in the lower rent areas. 
You could guess from my major in school that I'm interested in societies and how we interact with each other, and I have a particular interest in issues of inequality. This is the center-point of my view of the world. To borrow from author James Baldwin, I hope that this column becomes my own "Notes of a Native Son," and that you enjoy reading these thoughts.     
You can email me at westseattlejayson@gmail.com. My brief bio: Father, husband, dog person, sports fanatic and West Seattle native. I prefer a simple life, and yet, one filled with good questions to ponder.