West Seattle Police Blotter week of 7-16-18
West Seattle Police Blotter week of 7-16-18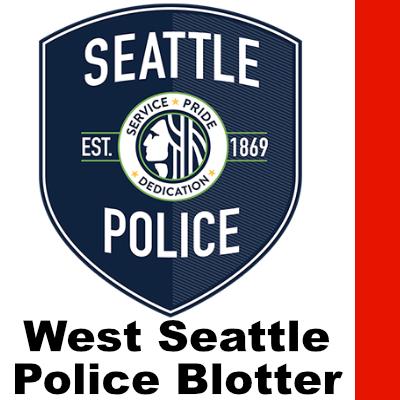 Mon, 07/16/2018
Officers arrest man for arson
Seattle police responded to the 4700 block of 42 Ave SW at 1 a.m. on Sunday, July 8 to assist the Seattle Fire Department with a blaze at an apartment building. Firefighters were able to get the situation under control, and the Fire Marshal began attempting to determine the cause of the flames. A resident of the apartment returned to the scene and advised the Fire Marshal that he had intentionally set the fire. Officers took the man into custody and booked him into King County Jail for investigation of arson. Arson detectives will now work with the prosecutor's office as this case moves forward.
Man shot while returning home from work
Shortly before 1 a.m. on Tuesday, July 3, officers headed to the intersection of 35th Ave and SW Roxbury to investigate an assault. The victim met them there and showed officers where he was shot in his right thigh. He explained that he got off work at 11 p.m. and a sedan with four men inside pulled up, before shots were fired. The man started to run home and another person at a bus stop started shooting at him. Seattle Fire Department responded and transported the man to a hospital to treat his injury. Officers found 10 casings nearby, which were submitted into evidence. Bullets were also found in nearby garbage cans and parked cars. A witness saw the shooting and two cars associated with the crime. The victim's sister told police that her family has been receiving threats, ever since her younger brother was shot and killed. She believes the shooting was related.
Thief takes tools
Around 5:50 a.m. on Thursday, July 5, officers were dispatched to investigate an unoccupied commercial burglary in the 7100 block of W Marginal Way SW. An alarm was tripped at 2 a.m. but employees did not notify police as they had false alarms in the past. A chain link fence topped with razor wire surrounds the property, but a portion had been cut. Inside, a door was broken open. Several tools were stolen from the sales floor. Officers searched for fingerprints but were unable to locate any.
Officers stop burglar from making his move on West Seattle business
Just after midnight on Thursday, July 5, officers were in the 4500 block of Fauntleroy Way SW and saw a suspicious person looking into the window of a secured garage of a business that was closed for the night. The store had recently been burglarized. Officers investigated the suspect and found that he had a felony warrant and was considered dangerous. Officers tried to take the suspect into custody but he fled. Eventually, he got into a getaway vehicle, driven by a woman. Two police officers sustained injuries while trying to control the suspect. Officers searched the area but were unable to find the car. A backpack and cap were recovered at the scene. The bag was full of drills, pry bars and other tools commonly used for burglaries.