Seafair Fleet Week puts on a show in Eiliott Bay
Seafair Fleet Week puts on a show in Eiliott Bay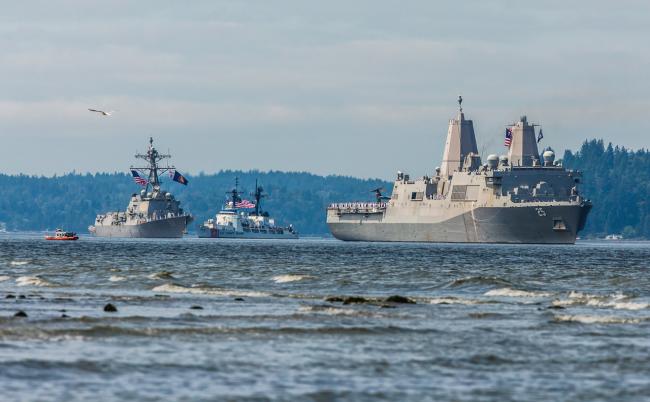 Tue, 07/31/2018
Navy, Royal Canadian Navy (for the first time), Coast Guard and Seattle Fire Department vessels took part in the annual Parade of Ships in Puget Sound and Elliott Bay on Tuesday.
The Fleet Week event has been taking place since 1950 and the ships typically tour the bay then head to piers where they are open for public tours during the week of Aug. 1 through 5.
The tours are free and open to the public. They are available on first come first served basis.
| | |
| --- | --- |
| PIER 69: Royal Canadian Navy | PIER 90: US Navy |
| Wednesday, August 1 - 9:00 am – 3:00 pm | Wednesday, August 1 - 9:00am – 3:00pm |
| Thursday, August 2 - 9:00 am – 3:00 pm | Thursday, August 2 - 9:00am – 3:00pm |
| Friday, August 3 - 9:00 am – 3:00 pm | Friday, August 3 - 2:00 pm – 7:00 pm |
| Saturday, August 4 - 9:00 am – 12:00 pm | Saturday, August 4 - 9:00am – 12:00pm |
| Sunday, August 5 - 9:00 am – 3:00 pm | Sunday, August 5 - 9:00am – 3:00pm |