West Seattle girls earn regional berth
West Seattle girls earn regional berth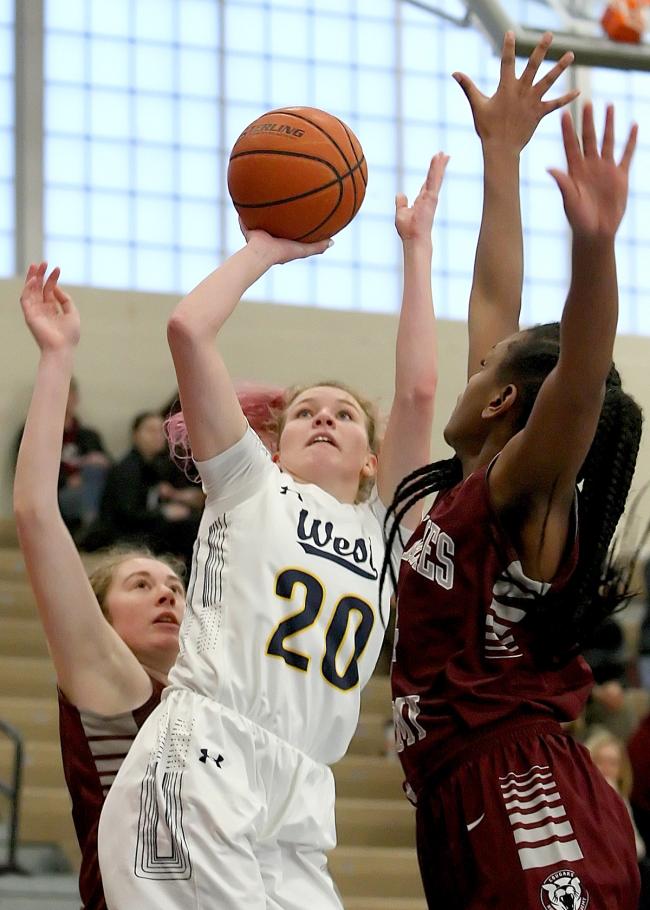 Kurt Howard
Sat, 02/16/2019
By Gerardo Bolong
CONTRIBUTING WRITER
Following the snowmaggedon weather debacle that canceled the 3A Metro tournament and delayed the start of the SeaKing District tournament, the West Seattle girls basketball team hit the court for the first time since Feb. 1 on the same Chief Sealth International High School gym it had visited on the previously mentioned date.
The girls worked out the muscles and responded with a 55-49 district victory against the Holy Names Academy Cougars on Fri., Feb. 15, in a second round district tournament match up to gather in a state regional berth.
The Wildcats (16-4) still have an opportunity to improve their RPI ranking by winning on in the tournament.
If West Seattle can earn a top eight RPI, it would avoid a loser-out state regional scenario on the Feb. 22-23 weekend as part of the 2019 Hardwood Classic that concludes at the Tacoma Dome.
Saturday!s event began with the Wildcats showing little time rust from the layoff, building double-digit leads that reached a high of 15 points three minutes into the second half.
With 2:54 remaining in the fourth quarter, Holy Names had tightened the score to 46-43.
Sometimes it takes fire to dispel a cold spell and Grace Sarver emerged to stoke a furious flame for West Seattle 47 seconds later by using her charateristic inside spin move for a Wildcat lay up. HNA turned the ball over to result in a Jasmine Gayles nicely angled 3-pointer at the 1:50 mark as the Westsiders pulled away at 51-43.
The Cougars refused to fold and pulled within 51-46.
Just more than one minute showed when Sarver cleared herself for another spinning lay up.
Holy Names was reduced to firing away with quick shots and fouling.
With just less than two seconds left, Julia Causbie nailed a three-ball for Holy Names, but Gayles cleaned up a pair of free throws with 8.8 seconds left in regulation.
"We lost our focus," said Sarver. "It was time to just hunker down."
Steady Sarver hunkered down for a gritty 15 points.
A Gayles steal off a defensive double and her leading pass to Meghan Fiso for the first score of the game foreshadowed the aggressiveness that transferred to quick passing, spread the ball evenly offense that answered a Holy Names free throw with 10 consecutive Wildcat points and produced a 12-1 lead.
Continung the good ball distribution, West Seattle grew the margin to 21-9 by the end of the first quarter.
Led by Kelsey Lenzie and Sarver, WS upped the differential to 15 points at 27-12 with 3:32 until halftime and held a 28-17 control at the break.
Two consecutive baskets from Gayles ahead of a Fiso steal and basket upped the lead to 35-20.
Holt Names refused to be put away, finding some chinks in the Wildcat defense, finding room to set up deadly 3-point baskets, some of which were college range, frozen rope shots.
By the end of the third quarter, the undaunted Cougars has closed within 42-35.
Gayles angled home a 3-point goal ahead of a Sarver free throw.
Again, HNA refused to pack it in.
Hannah Martin's basket from beyond the 3-point arc capped an eight-point Cougar prowl that set up the final epiphany.
"We always have our offense," recalled Gayles who powered for 14 second half points to accumulate a team high 18. "It's necessary to focus on defense and lock down on their main players. We just had third quarter disconnect (on defense)."
Before moving on to a S0at., Feb. 16, game against No. 1 Garfield at Sammamish High School, Wildcat head coach Darnell Taylor had some observations.
"Sometimes, because we're so talented, a girl looks for the girl next to her to make the play," he said. "We just have to remember to play together as a team all the time."
Fiso notched 13 points and Lenzie knocked down nine.
For Holy Names, Martin fired away for six 3-pointers as part of her game high 24 points. Causbie was also in double figures at 12.
In other Friday action, the Foster girls stayed alive with a 59-43 win over Orting while the Bulldog boys season ended with a 71-68 loss to Steilacoom.
Mount Rainier lost its West Central District semifinal to Curtis, 77-65. The Rams are still assured of the No. 3 or No. 4 berth to regionals.