Chief Sealth pounds West Seattle in Huling Bowl
Chief Sealth pounds West Seattle in Huling Bowl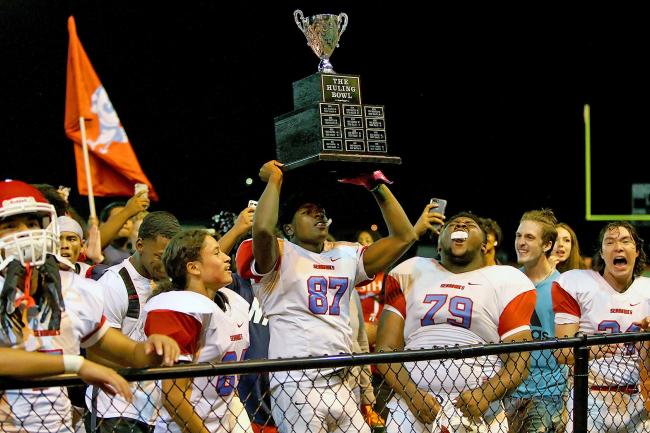 Kurt Howard
Mon, 09/23/2019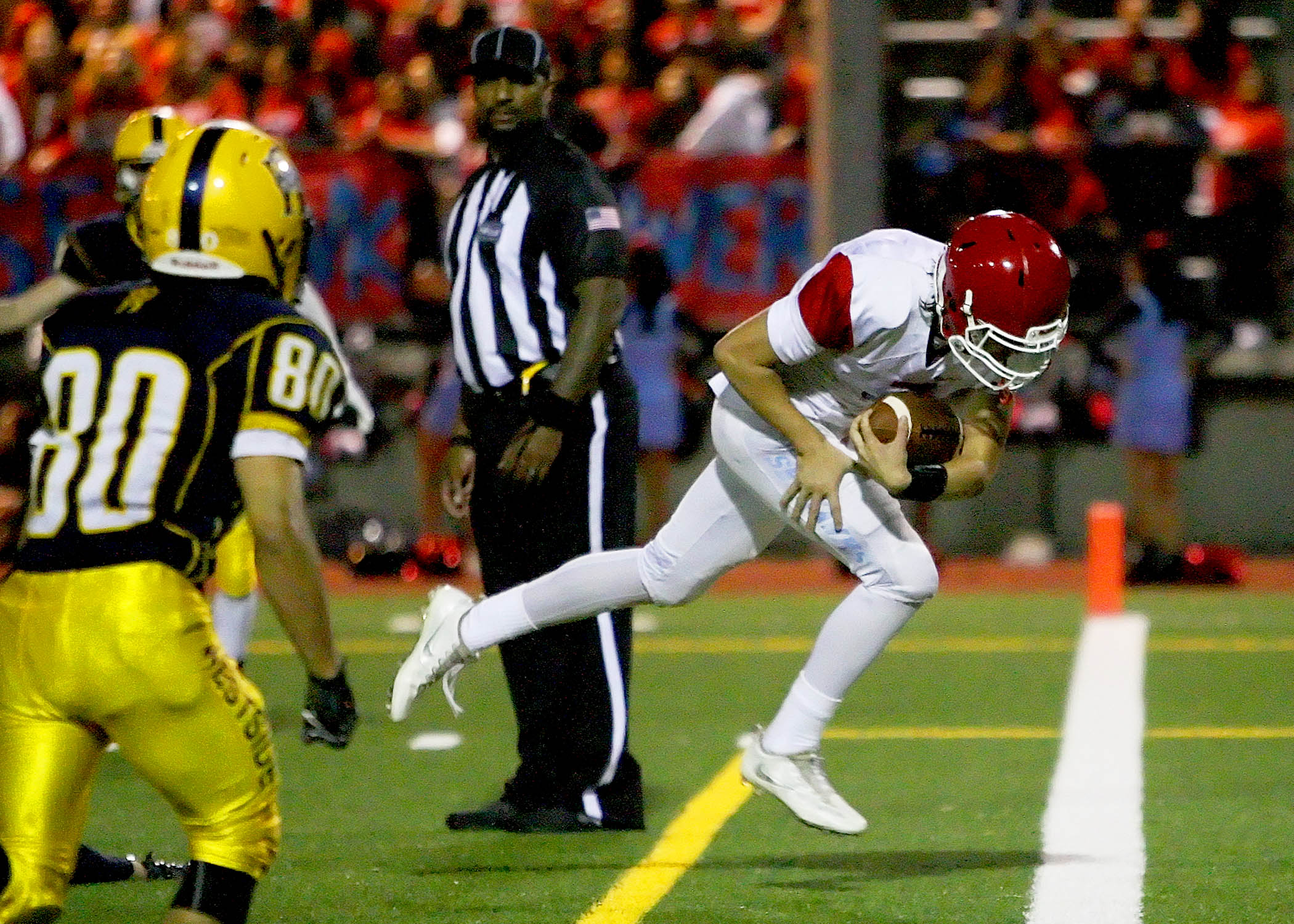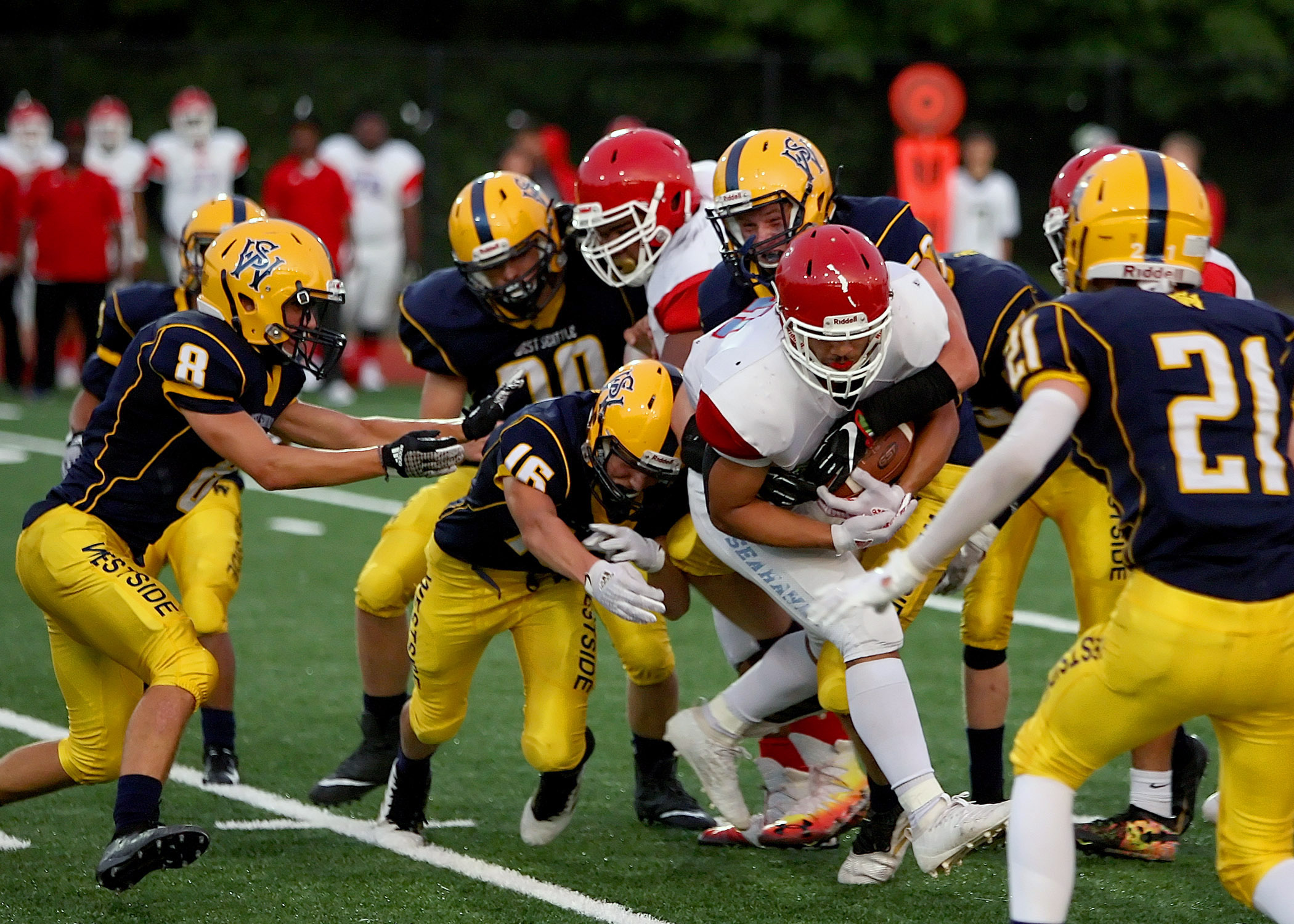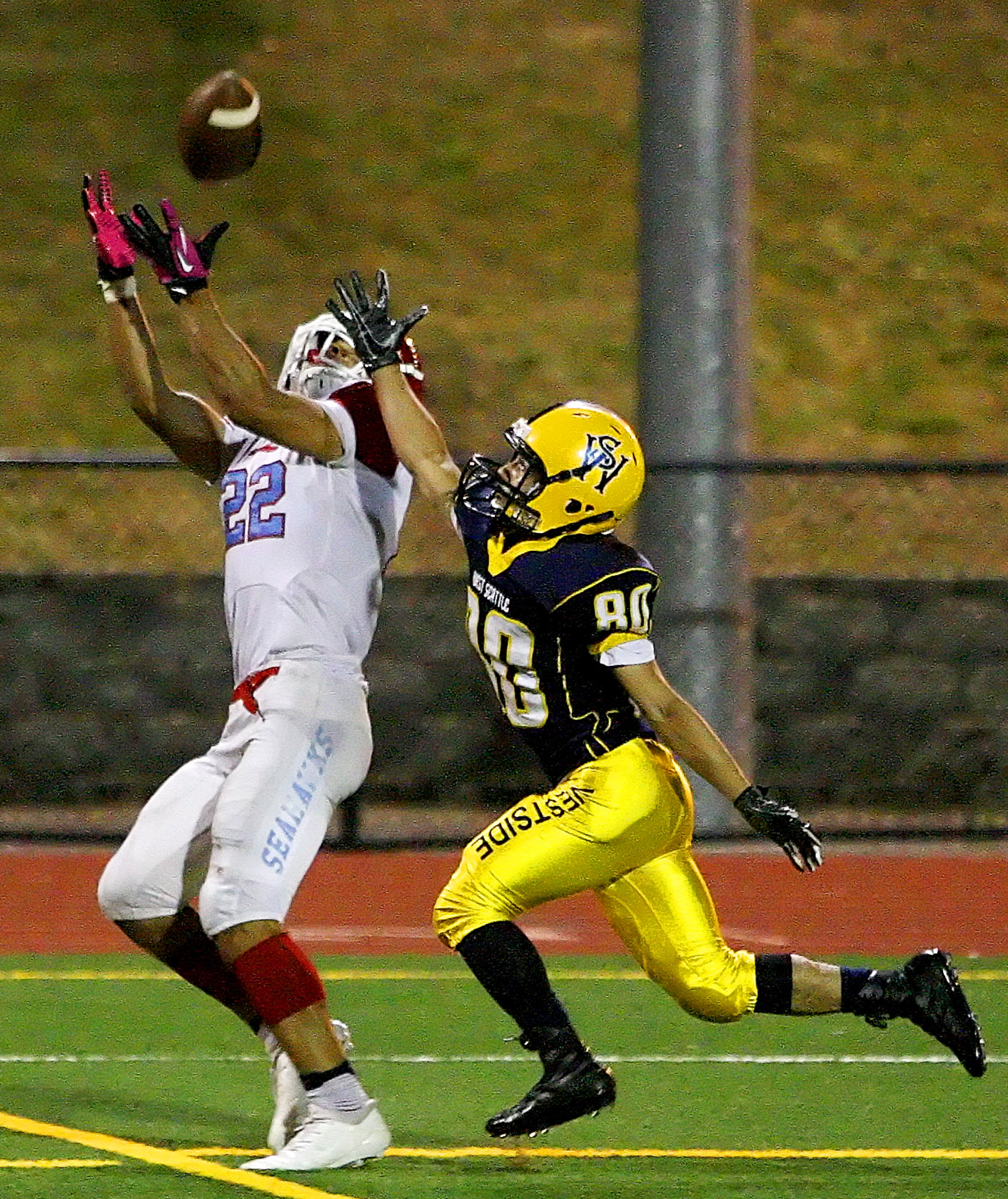 by Chuck Mingori
It was a beautiful night for football at the Southwest Athletic Complex as the West Seattle Wildcats and the Chief Sealth Seahawks clashed in their annual crosstown rivalry.   
It was a fierce battle on the field.  But it didn't take long for Chief Sealth to take command as the Seahawks would roll to a 42-0 victory and take home their third straight Huling Bowl Trophy.
Despite the lopsided and hard-hitting win, Chief Sealth coach Ted Rodriguez explained that many of the players from both sides have known each other for years.  
"We look forward to this game.  They are friends.  They grew up together.  They played little league together." said Rodriguez.  "In the beginning, they are mouthing.  They are talking.  There's chirping back and forth, but in the end we hug each other.  We love each other.  We live next door to each other.  That's what I try to teach them anyway."
After stopping Chief Sealth on its first possession of the game, the West Seattle Wildcats presented a gift on the one yard line following a mishap on the snap to the punter which led to a touchdown run by Bishop Jackson.
West Seattle followed with a 43-yard punt by Svet Nikolov that pinned Chief Sealth at its own 7 yard line.
Quickly the Seahawks answered when quarterback Teagan Gaither found receiver Sean Brown on a long pass  near midfield.  The 6-2 185lbs receiver broke a tackle and was finally dragged down at the 4-yard line on a monster 85-yard gain. On the next play, Elias Orbino ran it in for a touchdown and a 14-0 lead.
An interception return of 30 yards for a score by Talen Thomas of Chief Sealth was nullified due to a penalty.  The Seahawks maintained possession, however, and capped off the short scoring drive on a run from Bishop Jackson for a 21-0 lead.
Turnovers hurt West Seattle throughout the game and the Wildcats quickly turned the ball back over to Chief Sealth on a fumble at the Wildcats' 30.  On que, Gaither went to the air and found Jesse Brown open in the corner for another touchdown pushing the lead to 28-0 with 6:36 left in the first half.
West Seattle was stymied while trying to advance the ball, but finally connected on a 18-yard pass play for a first down from quarterback Kenny Nguyen to wide receiver Khalel Kelley. West Seattle managed to move the ball to the Chief Sealth 40.  The first half ended with an unsportsmanlike conduct penalty against Chief Sealth that was assessed on the second-half kickoff.
A second-half play by Chief Sealth had West Seattle fooled with a fake punt and run for a first down.   West Seattle's defense then stopped the Hawks at 4 and 1. But Gaither would break free up the middle on a quarterback sneak for a 9-yard touchdown.  Jesse Brown's fifth of his six perfect PATs that brought the score to 35-0.
West Seattle's best offense throughout the night seemed to be its return game with Christian Halter's run backs that gave the Wildcats good field position.  But that proved to be of little use against Chief Sealth stout defense.  
A cross field run by Zach Cunningham netted 58 yards for Chief Sealth when he switched directions and avoided tackles.  Facing first-and-goal at the 16-yard line, Gaither and Jesse Brown teamed up one more time on a fade route in the right corner for a touchdown.  Jesse Brown was quite pleased with his final score and summed up the victory by saying, "this is more of a pride game, to be honest, to see who is the best in the west".
The best in the west rivalry seemed to extend to both schools' bands and cheerleaders who played and entertained the crowd throughout the game.
Both teams resume play Friday, September 27.  Chief Sealth (2-1) is host to Ingraham.  West Seattle (0-3) travels to Nathan Hale for a Metro League match up.