Chief Sealth sinks West Seattle
Chief Sealth sinks West Seattle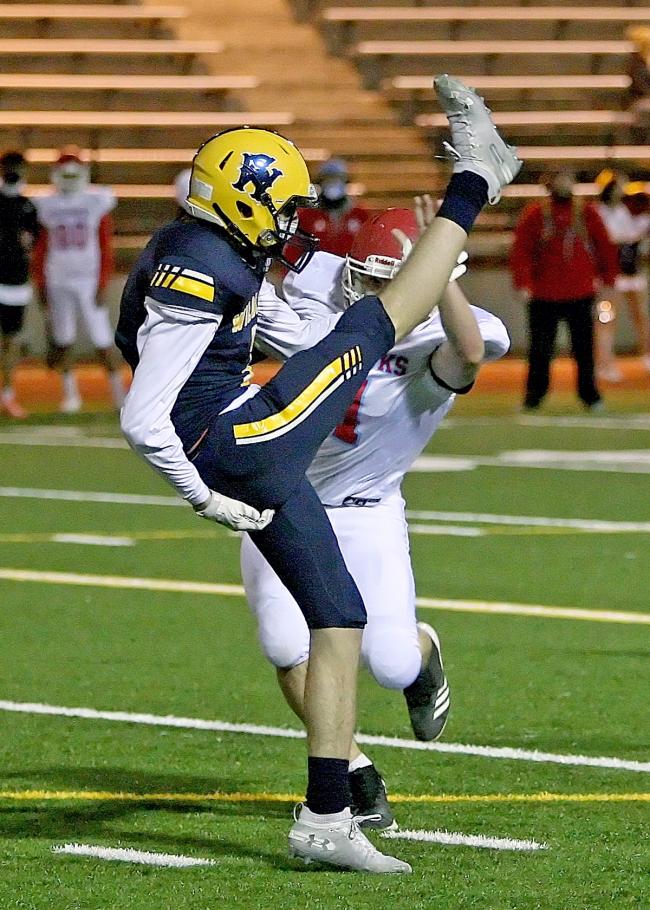 Kurt Howard
Mon, 03/15/2021
By Tim Clinton
SPORTS EDITOR
There's more than one way to watch a football game live, even in a pandemic with the stands closed to all but a few people wielding computers, cameras, stat sheets and clipboards.
Parents and fans of the Chief Sealth and West Seattle football players found a way to watch Friday's Huling Bowl between the two teams.
They sat inside and stood around cars lining the side of the road on Thistle Street, looking down a steep embankment at the action at the Southwest Athletic Complex.
What they saw was the Chief Sealth Seahawks jumping out to a 13-0 lead and cruising on to a 40-17 victory to claim the community trophy for another year.
West Seattle finally got on the scoreboard with 2:34 to play in the first quarter in an unusual way.
JP Dufour slipped a 34-yard field goal through the uprights while sliding onto his back.
The Wildcats spent much of the rest of the evening watching the back of Seahawks running back Zack Cunningham after he burst and sliced his way through their line.
He went up the middle for a 5-yard touchdown with 4:49 remaining in the second quarter and Daniel Cortes kicked the extra point to make it 20-3.
Cunningham struck again at 1:48 to go in the half on an 11-yard run with a pass for two points failing to leave the score at 26-3.
Cunningham ran in from 10 yards out at 8:37 to go in the third quarter with Cortes making it 33-3.
West Seattle scored at 7:31 as Finley Pound caught a 17-yard pass.  Dufour made it 33-10.
Ethan Heathershaw of Sealth scored the next touchdown with 2:46 to play in the game, picking up the fumble on a play 47 yards out and running it in.  Cortes put the score at 40-10.
West Seattle scored the final TD at 1:33 to go on a 7-yard catch by Jimmy Fomby.  Dufour brought the final score to 40-17.
Both teams carry a 1-1 record into their next game.
West Seattle hosts Lincoln for a 7 p.m. game at the SWAC on Friday as Sealth travels to Ingraham.
Parents should at least be able to get in now as new rules that come into play the day before will allow for onlookers to occupy 25 percent of a stadium's seating capacity.
For the rest there is always the hill at the SWAC.