SDOT: Traffic returns to the West Seattle Bridge; monitoring and inspections to continue
SDOT: Traffic returns to the West Seattle Bridge; monitoring and inspections to continue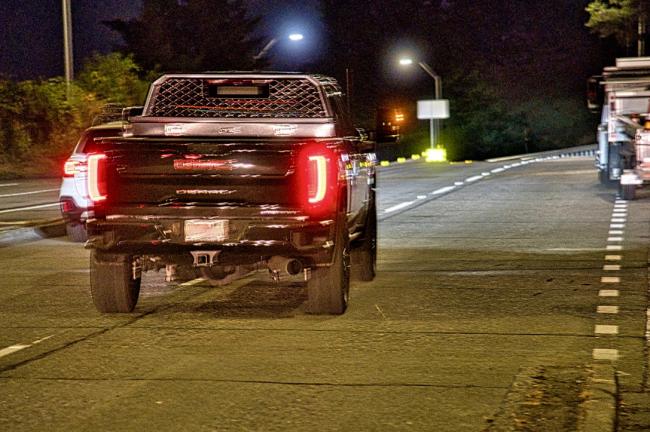 Fri, 09/23/2022
Information from Seattle Department of Transportation
Less traffic on detour routes 
Over the past week, we removed detour route signs and began directing people onto the newly repaired bridge. Thousands of people have enjoyed significantly shorter travel times to and from West Seattle, while neighborhoods and streets along the detour route are seeing far less traffic.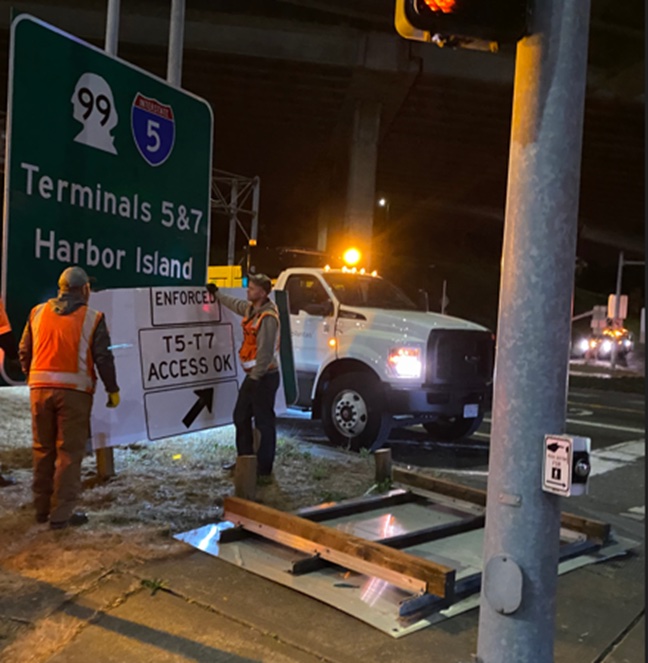 Late Saturday night, September 17, we removed detour signs as we welcomed traffic back to the West Seattle Bridge
Bridge is performing as expected 
From the outside, the West Seattle Bridge looks nearly identical to how it looked before the closure. Inside the bridge, a new post-tensioning system is keeping the structure's concrete compressed, allowing it to easily handle the return of daily traffic.
We also installed a 24/7 monitoring system inside the bridge, which has hundreds of sensors that constantly send data to our bridge inspection team. Since reopening the bridge, the data from this monitoring system has continued to show that the bridge is strong and stable, as expected.
Monitoring the bridge for safety
In the coming weeks, we will conduct visual inspections of the bridge's interior and exterior. People driving on the bridge at night over the next few weeks can expect some limited lane closures as we continue installing lighting inside the bridge for permanent inspection platforms. The platforms allow inspectors to get a close look at the bridge's interior concrete as they monitor the bridge in the months and years to come.
Seattle Public Utilities work: Road Closure at Sylvan Way SW between Home Depot's Eastern Access and SW Orchard St 
Starting as soon as Monday, September 26, Seattle Public Utilities will begin installing drainage improvements on Sylvan Way SW between SW Orchard St and Delridge Way SW as part of the Longfellow Natural Drainage System (NDS)project.
To perform this work safely and effectively, Sylvan Way SW between Home Depot's eastern access and SW Orchard St will be temporarily closed to traffic. This closure is expected to last approximately two weeks. The road will be closed to traffic 24 hours/day, with local access allowed to driveways east of the closure on Sylvan Way SW. Signage and flaggers will be on-site to direct traffic.
Performing this work is dependent on weather, permitting, and other factors. Therefore, this work may be delayed or cancelled.
Construction in West Seattle this weekend 
This weekend, we're completing paving work as part of the Reconnect West Seattle program.
We're paving a section of Sylvan Way SW between SW Orchard St and SW Sylvan Heights Dr on Saturday and Sunday from about 7 AM to 4 PM.
On Saturday, we're replacing concrete panels at the intersection of 34th Ave SW and SW Barton St.  We expect to start this work around 7 AM and conclude by 3 PM. On Sunday, we'll have traffic control in place, so people do not drive on the new concrete panels while the concretes cures.
We're also paving on California Ave SW between Admiral Way SW and SW Walker St. We'll complete this work on Saturday and Sunday with work starting around 7 AM and ending by 4 PM each day.
As always with construction, please expect minor delays, drive safely in work zones, and follow directions from signs and flaggers. Traffic will be maintained in all directions as we complete the work.
Question of the Week: What's traffic like since the West Seattle Bridge reopened?
Since the bridge reopened, we are starting to see West Seattle Bridge traffic volumes return to what they were before the closure. On Monday and Tuesday, traffic volumes were roughly two-thirds of what they were before the closure.
We are also seeing lower traffic volumes on detour routes, with some locations dropping 20 percent from last week to this week after the bridge reopened. The Spokane St Swing Bridge (low bridge) traffic volumes have dropped by half since reopening the high bridge.
Travel times on detour routes are down 30 to 50 percent and trips from the North Admiral neighborhood to downtown are 50 percent faster during the peak hours.
While the West Seattle Bridge is open, we encourage you to continue to find ways to Flip Your Trip. Our online travel options guide will continue to be regularly updated with ways to travel to, from, and around the West Seattle peninsula.
Other news to know: Reconnect West Seattle survey and the Seattle Transportation Plan
Reconnect West Seattle survey: In 2020, we asked people who live or work in West Seattle to identify transportation challenges in the wake of the West Seattle Bridge closure. Community input informed the improvements we made and now we're following up to learn how these investments helped you get around. Please take our survey by September 30.
Seattle Transportation Plan: The second phase of engagement has begun. During our first phase of engagement, which ran from May to August 2022, we asked about your vision for the future of transportation in Seattle. Now we need your help to turn those ideas into actions. Visit the Seattle Transportation Plan Online Engagement Hub to get involved. You can also send an email to stp@seattle.gov or call 206-257-2114 with questions, concerns, or comments about the Seattle Transportation Plan.