Rotary Club fundraiser is April 22
Rotary Club fundraiser is April 22
Do good while playing Rainbow Bingo!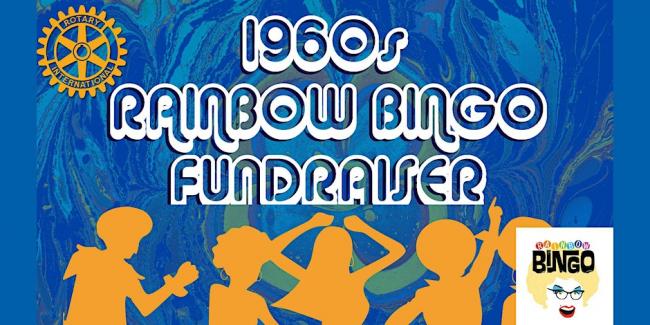 Fri, 04/14/2023
information from West Seattle Rotary Club
West Seattle Rotary Service Foundation invites you to its 1960s-themed Rainbow Bingo and Silent Auction Fundraiser on Saturday, April 22! Emceed by Sylvia O'Stayformore, it is guaranteed to be a fun and groovy night at the West Seattle Golf Course.
Each year, the West Seattle Rotary Service Foundation provides new clothing and school supplies to elementary students throughout West Seattle, awards thousands in scholarships to local high schoolers, runs park, street, and yard cleanups throughout the community, and assists with global humanitarian and development efforts. 
But it can't do all of that work without you! Funds raised from this event will go directly to the all-volunteer Foundation's 2023-24 service projects.
Silent auction starts at 5:30 and includes a three-night Leavenworth Getaway package; a catered dinner for 6 with wine pairing; gift certificates to breweries and local eateries; and much more! Bingo starts at 7:00 pm. 
Register soon because space is limited. 21+ only. Individual tickets: $40. Tables $300. Tickets at https://bit.ly/3F7ujiD
A special thank you to our Gold Event Sponsors for hosting this event! NUCOR Seattle, Waid Law Office, PLLC, and West Seattle Dental Center.
This is separate from the Senior Center of West Seattle's Rainbow Bingo event on Friday, April 21 which is another great event...go support them too!