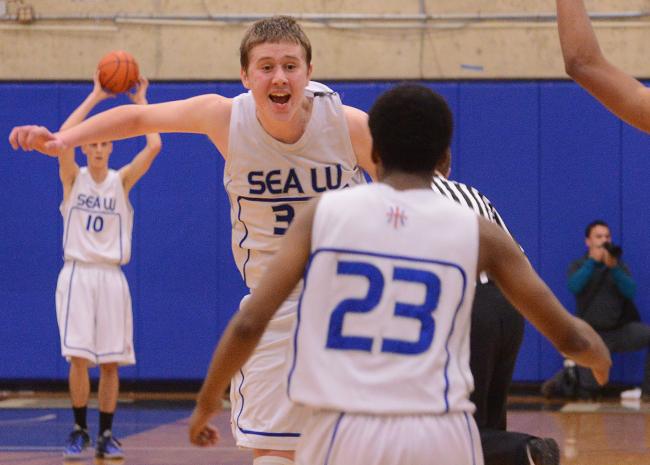 By Anastasia Stepankowsky
The chant echoed through the Bellevue College gym Saturday afternoon.
"I believe that we will win. I believe that we will win …."
The outcome often seemed in doubt, but the faith of the Seattle Lutheran student section proved well founded, as the Saints pulled off a narrow 52-49 win over the Yakama Nation Tribal School Eagles Saturday to move on to the state 1B basketball tournament.
"It was a battle. We had to play our hearts out and not get down on ourselves," said Saints Xavier Turner, who netted 11 points.
Though it turned into a nail-biter, the game began slowly. Both teams' scores only added to six in the first four minutes. But the Eagles pulled away when Justin Strom and Joseph Sanchey, who ended with 19 points, swished several three pointers. Midway through the second quarter, Yakama opened its biggest lead of the game, 21-13. But the Saints found some momentum and trailed only 25-21 at intermission.
The second half proved decisive for the Saints, who made some defensive adjustments and forced several turnovers. The lead kept changing until Seattle Lutheran took the lead for good with a minute on the clock.