Protest at UW draws city-wide participation
Protest at UW draws city-wide participation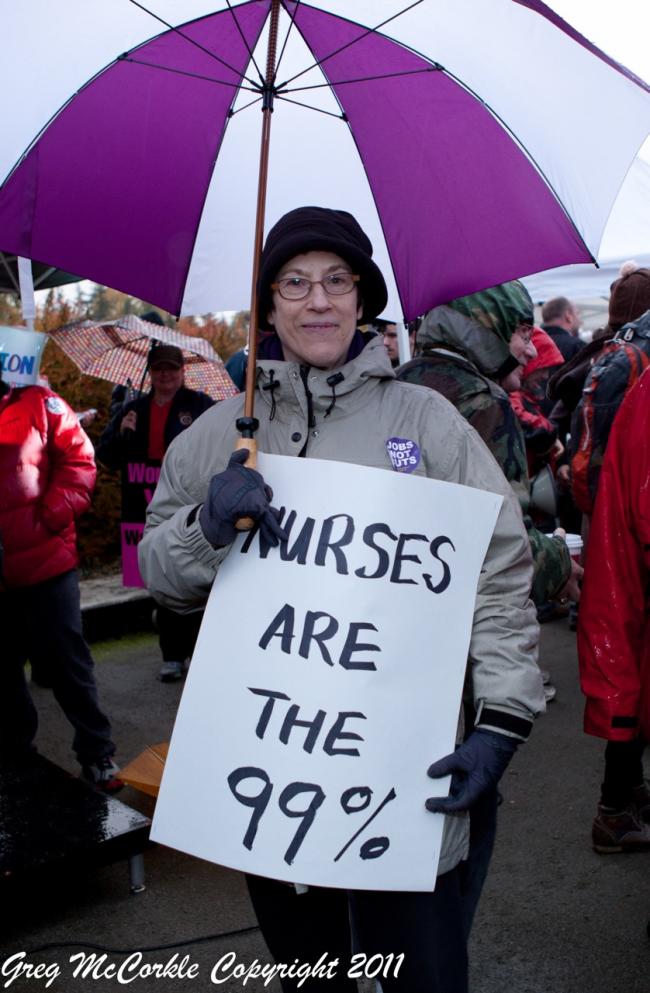 Photos by Greg McCorkle and Will Tyler
Fri, 11/18/2011
By Greg McCorkle
As part of a national day of protest, hundreds of protesters headed to Triangle Park across from the Husky Stadium yesterday to voice their anger over the lack of living wage jobs.
Many unions were represented as well as nonunion workers, folks who are unemployed, and college students fearful of the future they are facing with large college debts hanging over their heads.
One Ballardite present at the march was Diane Sosne.
Interviewer: How long have you been here this afternoon?
Diane: Got here about twenty minutes ago.
I: Just in time for the rain
D: It's not dampening out spirits.
I: Of course not, we're Seattleites. What is the purpose of this rally?
D: This rally is for the 99% of us, nurses, I'm a nurse, health care workers, young, old, getting together to say it is not okay about the inequality in our country and in our community, here in Seattle. We need jobs, we need to put the underemployed and unemployed to work, we need the Super Committee in D.C. not to cut Medicare or Medicaid and Congress not to cut Medicaid or Medicare. That will hurt the people we take care of as nurses so that's why we're out here today.
I: How many of you are out here today?
D: Our Union, SCIU, Health Care 1199 NW have 100 people today. Nurses and hospital workers and mental health, workers social workers, service workers from throughout the state of Washington.
I: If President Obama was standing here right now, what would you like to say to him?
D: I would say to Pres. Obama, we support you on your jobs bill and we want to see that succeed, and we want you to support us on the No Cuts to MediCare/MediCaid.
The march culminated on the University Bridge, a symbol for the need of improvements to our nation's infrastructure.
The marchers were allowed to stay on the University Bridge and disrupt traffic for almost an hour and a half by police. By that time the marchers said what they had to say and exited the bridge peacefully.