In case of emergency, know your neighborhood hub
In case of emergency, know your neighborhood hub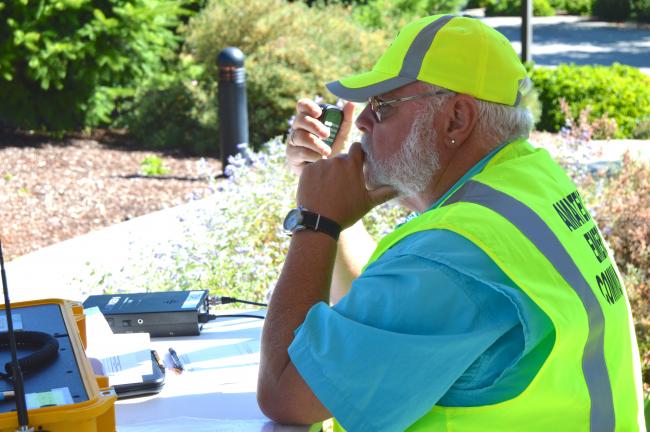 Lindsay Peyton
Mon, 07/31/2017
By Lindsay Peyton
What would you do – and where would you go – in the aftermath of a major disaster?
That's the question that Seattle Auxiliary Communications Service and the Seattle Emergency Communication Hubs are trying to get all residents of the city to ask themselves. 
The organizations joined on Saturday, July 29 to conduct a citywide communications exercise called "Hubs and Spokes."
A Seattle Community Emergency Hub is a pre-determined location where neighbors and community members will gather to exchange information and resources. A number of the hubs have been established throughout the city. 
During Saturday's drill, each participating hub offered practice exercises for the community to simulate procedures during an emergency. 
Jonathan Mendoza, the hub manager at the High Point Neighborhood House, explained the drill, "It's day six after an earthquake disaster," he said. "We're organizing our community so we can bring our resources together and help each other."
He said one of the goals of the day was to use the practice scenario to train volunteers. 
Another objective was to practice reliable and efficient message management. Participants use data communications through radio – communicating with a number of other teams. 
Alan Dieringer and Ron Zuber with West Seattle Amateur Radio Club received messages on ham radio as part of the exercise.
"Your cell phones aren't going to work, and this is a way to have communications still," Dieringer said. 
Participants also practiced talking to residents about what their needs are – and matching their requests with available resources. 
Robert Landis and Nilesh Acharya volunteered to lead the effort – taping requests to the walls of the Neighborhood House. 
"We're trying to find ways to communicate when there are no telephones," Landis said. "I think about the earthquake all the time. Not only do I want to know what to do myself, but I also want to contribute something during an emergency. I want to go into action mode – not panic mode."
Acharya learned about the event through his HOA and wanted to get involved. "Everyone says another earthquake is imminent," he said. "We're making sure we're prepared for it and know what to do. It's a priority."
Volunteers also demonstrated how to build an emergency kit – and keep a two-week supply of food and water in their homes. 
The Seattle Auxiliary Communications Service and the Seattle Emergency Communication Hubs will now analyze how the drill went – and determine what actions can be made to improve communications in a real disaster. 
For more information about the Seattle Auxiliary Communications Service, a volunteer organization operating under the auspices of the Seattle Office of Emergency Management, visit https://seattleacs.org.
To learn more about the Seattle Emergency Communication Hubs, a grass-roots, neighborhood network of community members, visit  http://seattleemergencyhubs.org.
For more information about the West Seattle Amateur Radio Club, visit www.westseattlearc.org.