Mike McGinn wants you back -- Former Seattle mayor readies for another round
Mike McGinn wants you back -- Former Seattle mayor readies for another round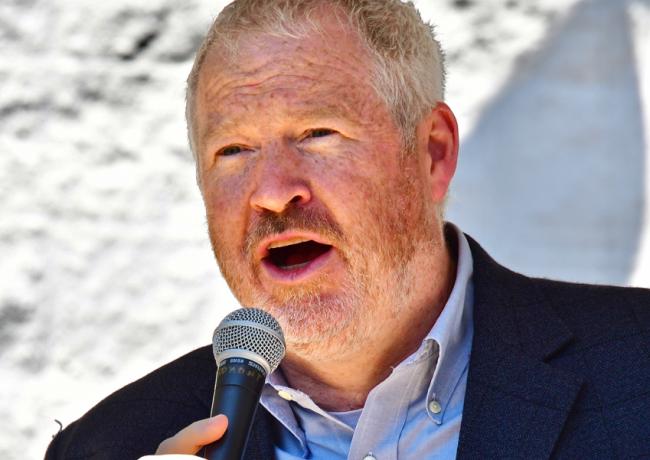 file photo by Patrick Robinson
Mon, 07/31/2017
By Lindsay Peyton
Answering tough questions is nothing new for former Mayor Mike McGinn– even when the matter at hand is why he would want to take the helm the city once again. 
"I ask myself that question every day," he said. 
But stepping back into the shoes he once wore is more like a calling – rather than a decision -- for McGinn. 
"I still care about the things that I always cared about," he said. "I still care about the city and the issues."
And he still has a following. 
"Where the city is right now, being able to have someone come in, who has the experience and the confidence, is really important," White Center resident Michele Scoleri, a former advisor to McGinn, said. 
She believes McGinn has what it takes to tackle Seattle's growing pains. 
"So many artists and people who make our cultural life great, and people who keep the city running, are being pushed out," she said. "That's something Mike is really concerned about, and it's something I'm concerned about. It's a pivotal time, and Mike cares about the people who are being impacted."
After McGinn lost to current Mayor Ed Murray in the 2013 election, his mind was still consumed with ways to serve Seattle.
"It was all about how do I use whatever influence I still have in a productive way," he said.  "I decided to work on things I believed in, with people I liked to work with, and see where it would lead me. That was my strategic plan."
While no longer chief of the city, he still had maintained considerable connections and influence. He went to work – mainly focused on public safety, stopping youth violence and encouraging divestment from fossil fuels. 
McGinn also started a podcast called "You, Me, Us, Now" about "people who try to change things."
"I wanted to use my modest status as former mayor to elevate the voices of other people," he said. 
In his spare time, McGinn toyed with the idea of writing a book. "It was a way to reflect on what I had done," he said. " If my experience could be helpful to encourage someone to get engaged, that's the most important thing."
After a while, the idea of running for mayor again began brewing. He announced his candidacy in April. 
"I obviously felt there was unfinished business," McGinn said. 
He said a lot has changed since his stint as mayor. In 2010, when he took office, Seattle was facing an economic recession, rising unemployment and decreasing tax revenues. 
"Now we see tax revenues are high -- but not well managed," he said. "It's a different set of challenges. I don't know if I've ever seen the city more divided than it is now."
Walking into the post this time around would also mean handling the effects of cuts in federal and state funding. 
"I feel like I have a lot to contribute with my experience with budgets," he said. "It's not just numbers and figures."
He explained that scrubbing the city's budget would help shed light on which city departments have budgets that could trimmed. 
"I'm bringing experience to the job, which means I can make a difference," he said. "I wouldn't be in the race, if I didn't think I could do the job."   
But he has his fair share of doubters. Running for mayor opens candidates up for tough scrutiny, he said. 
"It's very immediate and very public," he said. "But I'm a little more humble – being a mayor will do that to you."
Having that experience under his belt has equipped him with a clear understanding of the depth and complexity of issues, he added. `
"You always have the duty to do what you can with the tools you have," McGinn said. "You have to accept that the mayor's powers are not limitless. You have to do the best you can. You are going to get criticized; it comes with the territory."
McGinn is confident that his know-how gives him an advantage over the other candidates.
"I have a level of respect for al of them," he said. "But they've never done the job. They're going to have to learn how to do the job – and we need action now. I feel like I'm well-positioned to make a difference -- fast."