Herbold the hero – Councilmember goes to bat for constituents
Herbold the hero – Councilmember goes to bat for constituents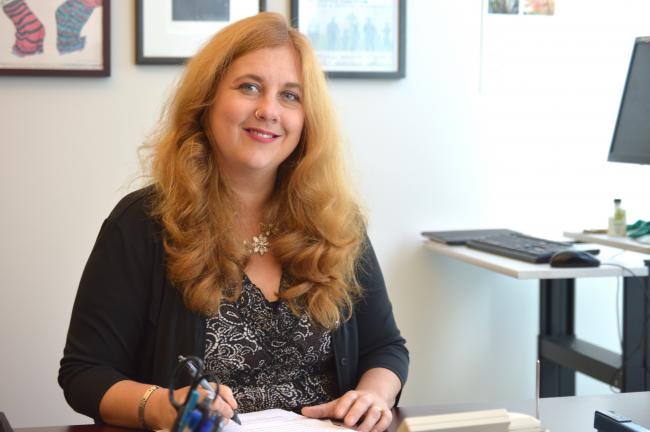 Mon, 08/07/2017
By Lindsay Peyton
In her offices at City Hall, District 1 Councilmember Lisa Herbold keeps a piece of paper taped in a hidden spot. On it, three words are written that represent her core philosophy– fairness, persistence and love.
"Justice is a lofty and big topic, but fairness is simple," Herbold said. "People get fairness. It's a value that was instilled in me from a young age."
Herbold has been a long-time advocate for the little guy – working on issues of shared quality-of-life for everyone, regardless of socio-economic status.
Her commitment has only grown since she was elected to represent District 1 on Seattle's City Council in 2015.
Recently, she made headlines for co-sponsoring an income-tax proposal.
"We have the most regressive taxation system in the country," Herbold said. "The poorest pay the most."
If the income tax plan moves forward, Herbold said her next task will be helping determine how to use the revenues to offset rising property taxes and sales tax in the city. "The ultimate goal is to make our tax structure more fair," she said. 
A few of her other noted accomplishments in office include crafting and supporting public policy that provides paid sick leave for 190,000 Seattle workers who previously did not have it and a rental housing inspection program, as well as a criminal justice diversion program. 
She also pushed Mayor Ed Murray to not award performance pay bonus to Seattle City Light CEO Larry Weis – and was successful in the effort, which saved taxpayers money.
Last year, she moved forward a $29 million housing bond – and now she is monitoring the funds, as they become available.
"It's important for council members to not just pass something – but also to follow the legislation and make sure it's done," she said. 
These days, she is focused on creating developer impact fee programs – to ensure that developers are contributing back to the communities in which they are building. 
She is also concerned about 35th Ave SW. "The roads are in such a condition that you can patch it, but the patches won't last long," she said. "It really needs to be repaved."
She's advocating for improvements to happen faster – and has been communicating with the Seattle Department of Transportation to expedited repaving schedules from 2023 to 2019. 
Another main transportation issue on Herbold's list is the Fauntleroy Boulevard Project. She wants to ensure that efforts to make the area more pedestrian friendly do not clash with Sound Transit plans for building a light rail in the same area. 
In addition, Herbold is working on tweaks to the Mandatory Housing Affordability/ Residential Program (MHA), which requires residential developers to either provide affordable housing in their plans or to pay into an affordable housing fund.
The final proposal is expected to be complete around the end of the year – and then the city council will deliberate over it.
"If we're able to get through it next year, it will be the strongest MHA in the country," she said. 
Herbold serves as chair of the Civil Rights, Utilities, Economic Development and Arts committee as well as on the Affordable Housing, Neighborhoods and Finance and Planning, Land Use and Zoning committees. She is also an alternate member of the Sustainability and Transportation committee. 
Herbold studied journalism and political science at Syracuse University – and then went on to work for Syracuse United Neighbors, a grassroots organization in New York dedicated to equal access to public services for all neighborhoods. 
Some of her earliest jobs involved knocking on doors and talking to people about their aspirations for the future. 
"When you're trying to create change, it's important to talk about change in a way that people understand – and in a way that makes them want to get involved," she said. "The object was to sit down in someone's living room and get them to envision fairer attention from City Hall." 
Herbold moved to Seattle to open an office for the Association of Community Organizations for Reform Now and also served as an organizer for the Tenants Union.
In addition, she was a board member for the Neighborhood House, Homestead Community Land Trust, the Tenants Union, and the Young Adult Independent Living Project. 
In 1997, she coordinated the campaign for Councilmember Nick Licata – and then stayed on as his legislative aide.
"He comes from a very similar background," Herbold said. "He used to say that it is the obligation of government to tend to the greatest needs of those with the least – and that should be the highest calling."
She said staying in constant contact with her constituents is the best way to make sure she's on the right track – especially now as the city faces changes from the federal administration and in the city's leadership with the upcoming election. 
"In times like this, you have to go towards your constituents, seeking as many opportunities to connect with people as possible," she said. "That keeps me grounded in a time of uncertainty."
Highland Park resident Gunner Scott said Herbold's accessibility is something that sets her apart. 
Scott served on the Seattle LGBQT Commission and approached Herbold to help the city craft policies in support of their transgender employees.
"She championed that and has consistently championed LGBQT rights," Scott said. "She is a great ally. She listens, and she asks great questions."
Scott said Herbold went out of her way to include him in the conversation as policies were drafted. 
"Policy changes like that aren't glamorous – but that's how real change happens," Scott said. "She is willing to get her hands in there – and that's really important. Her commitment to her constituents really shows."
Scott co-chairs the Highland Park Action Committee with Michele Witzki, who also credits Herbold for supporting the group's work. 
"Prior to Lisa, it's been really frustrating," Witzki said. "If you did get a reply, it was a blow-off. With Lisa, it's been a complete 180."
When the group was dealing with the aftermath of the landslide in West Seattle, Herbold not only helped with mitigation but also proactively addressed other sites at risk for similar problems. 
"She exceeded our expectations – getting what we asked for but also solving other problems," Witzki said. "Sometimes the little things can make a huge difference. Before Lisa, we never got anyone to crack open a door for us."
Improving the lives of Seattle residents is a promise that Herbold intends to keep. 
"I want people to know that we're still plugging along – regardless of everything else," she said. 
For more information about Herbold, visit www.seattle.gov/council/herbold.