It's hard to beat pickled beets
It's hard to beat pickled beets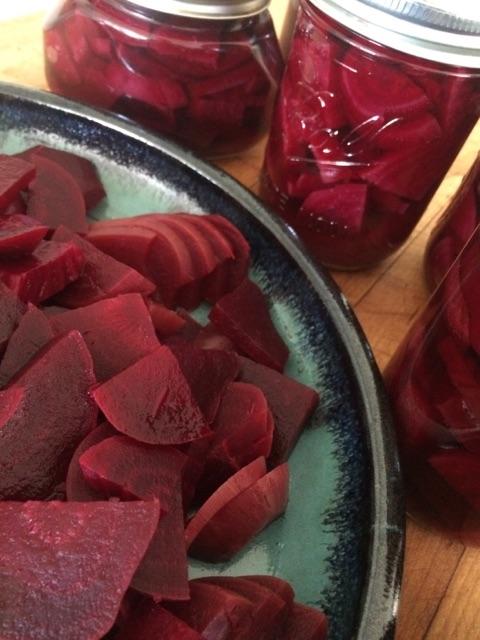 Katy G. Wilkens
Mon, 08/14/2017
By Katy G. Wilkens, MS, RD
I can get a little carried away when I plant my garden. So now I have 40 beets, eight heads of cauliflower and lots of green beans. Veggies are great, but have you ever tried to eat 40 beets? My strategy is one used by gardeners for centuries: make pickles! 
Pickling preserves vegetables. So in the dark of winter, when nothing is growing, I can enjoy one of my favorite salads – pickled beets and blue cheese with pecans. Pickled cauliflower is great with hummus, and pickled green beans are fun to serve on an antipasti platter when summer is long gone. 
If you don't have the natural abundance of a garden, head to your local farmers market to find reasonably priced veggies you can pickle. You don't need huge quantities; a few jars of pickled beets, cauliflower, carrots or other veggies will last all winter. 
Ruby Red Pickled Beets
8-10 large beets
2 cups sugar
2 sticks cinnamon
1 tablespoon whole allspice
Zest from one orange
1 quart cider or champagne vinegar
1 cup water
Warning: Beets stain. Wear old clothes, and maybe gloves. Don't use wooden spoons or wooden chopping blocks you care about. 
Heat oven to 350 degrees. If beets are big, cut them in half. Place on a shallow baking sheet covered with aluminum foil. Roast beets for about 45 minutes, until fork tender. Remove and cool about 20 minutes. Mix remaining ingredients in a large pot and bring to a boil. When the beets have cooled, slip off the skins. 
Slice or cube the beets and pack in jars. Remove cinnamon sticks and pour hot vinegar spice mixture over beets in jars, leaving about a quarter-inch of headspace. Tighten lids finger tight and process for 30 minutes in a hot water bath canner (per the famous Ball Blue Guide to Preserving, my go-to source for all canning recipes, including this one). The beets will keep for a year. 
Nutritional information (per ½ cup serving):
Calories: 71, Carbohydrates: 18 grams, Protein: 1 gram, Sodium: 0 milligrams
Ruby Red Pickled Beet Salad
1 jar homemade pickled beets
¼ cup or so olive oil
1 tablespoon vinegar
2-3 tablespoons fresh basil or parsley, finely cut
½ cup pecans
¼ cup sugar
½ cup blue cheese or goat cheese
½ teaspoon cinnamon or 1/8 teaspoon cayenne
Toss beets with oil and vinegar to taste. Refrigerate for at least an hour. Meanwhile, add nuts, sugar and water to a skillet and stir until sugar dissolves. Continue stirring over high heat until mixture forms a thick syrup that is slightly caramel-colored. Remove from heat, spread on parchment paper or aluminum foil to cool and then separate the nuts. Sprinkle nuts lightly with cinnamon or cayenne, not both. Serve salad in individual bowls. Sprinkle with basil or parsley, glazed nuts and cheese just before serving. If you mix the ingredients too far ahead, the cheese will turn pink and the nuts will get soggy. 
Nutritional information (per 1 cup serving): 
Calories: 334, Carbohydrates: 13 grams, Protein: 7 grams, Sodium: 261 milligrams
The information in this column is meant for people who want to keep their kidneys healthy and blood pressure down by following a low-sodium diet. In most cases, except for dialysis patients, a diet high in potassium is thought to help lower high blood pressure. These recipes are not intended for people on dialysis without the supervision of a registered dietitian. 
[Katy G. Wilkens is a registered dietitian and department head at Northwest Kidney Centers. A recipient of the Susan Knapp Excellence in Education Award from the National Kidney Foundation Council on Renal Nutrition, she has a Master of Science degree in nutritional sciences from the University of Washington. See more of her recipes at www.nwkidney.org.]