Ballard Community Calendar Week of 10-9-17
Ballard Community Calendar Week of 10-9-17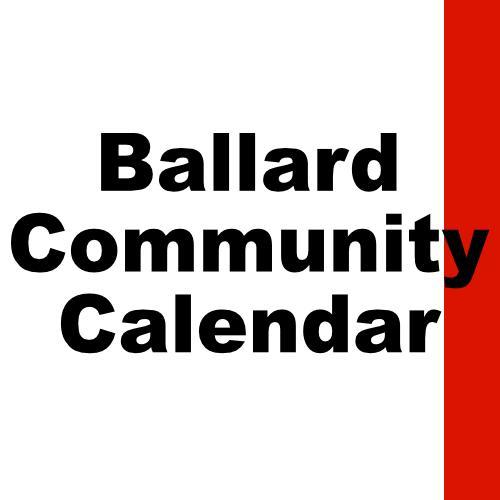 Mon, 10/09/2017
The Whimsical World of Bjørn Wiinblad 
Nordic Heritage Museum
3014 N.W. 67th St.
July 28–Nov. 5 Bjørn Wiinblad (1918-2006) made his appearance in 1945 on the art and design scene at a time when straight lines and simple design dominated the modern ideal. With his characteristic curving lines and his colorful pictorial universe, Bjørn Wiinblad occupied his own quite unique position in Danish cultural life from the outset. Wiinblad is remembered for injecting fantasy and an almost cartoon-ish flair that created a perfect accent to all of the clean-lined furniture and modernist spaces of his time.This retrospective highlights the artist's substantial body of work and includes graphic art, ceramics, theater sets and costumes, ceramics, tapestries, jigsaw puzzles, tiles and textiles gathered from the Museum of Danish America, The Blue House in Denmark and private collectors. These 78 artifacts offer a thorough sense of Wiinblad's diverse interests and mastery of various art forms, from one-of-a-kind commissions to mass-produced pop culture. Museum hours: Tues.-Sat., 10 a.m.–4 p.m.; Sun., Noon–4 p.m.; closed Mon. Admission: $8 general; $7 seniors and college students; $6 children 5 and older; FREE for children under 5 and Museum members; free on first Thurs. 10 a.m.–4 p.m.
Albert Einstein in National New Play Network Rolling World Premiere
Taproot Theatre Company'
204 N. 85th St.
Sept. 20–Oct. 21, Wed. and Thur., 7:30 p.m.; Fri and Sat, 8 p.m.; Sat. 2 p.m. Taproot Theatre Company is proud to produce the culminating production of the National New Play Network Rolling World Premiere of Mark St. Germain's period drama, Relativity. In 1902 Albert and Mileva Einstein had a daughter. After 1904 she was never seen or spoken of again. Fast forward to 1948—as an insistent reporter searches for answers to Einstein's secrets, she discovers that not everything adds up. Single tickets are available online at taproottheatre.org, by phone at 206.781.9707. $5 senior/student discount off of regularly priced tickets (excludes previews or specially priced performances). Discounts are available for groups of 8 or more by visiting taproottheatre.org/group-sales/ or by calling 206.781.9708. 
Ballard High School 
Playmakers: Metamorphoses
Ballard High School, 
Earl Kelly Center for Performing Arts
1418 N.W. 65th St. 
Oct. 12, 13, 14, 19 & 20, 7:30 p.m. The Ballard High School Playmakers kick off the Ballard High School 2017-2018 Performing Arts season with the sensational theatrical experience of Mary Zimmerman's Tony-award-winning play Metamorphoses—a 10-act play based on Ovid's 15-volume work of Greek transformation myths. Positioned in and around a large pool of water on the stage, 12 characters will enact adaptations of Ovid's talks. (Patrons in the first few rows are advised to be prepared to get a little wet!) Tickets are $15 for adults and $10 for students/seniors. Advance tickets at showtix4u.com (search for "Metamorphoses.") Orders must be placed by noon on performance day.
Growing Up: All About Puberty
Swedish Medical Center – Ballard Campus
5300 Tallman Ave. N.W.
Sat., Oct. 14, 10 a.m.-12:30 p.m. This class provides a perfect opportunity to build a bridge with your 9- to 12-year-old to demystify the challenges of puberty. The focus of this fun, interactive class is to open and enhance communication between parents and preteens and explain the physical and emotional changes ahead. Taught in partnership with Planned Parenthood of the Great Northwest. Fee: $35 per family (includes one child and up to two adults; $5 for each additional child). For more information or to register, please visit www.swedish.org/classes or call 1-800-SWEDISH (893-3474).
Viking dinner
Leif Erikson Hall
2245 N.W. 57th St.
Sun., Oct. 15, 5 p.m. Celebrating our Viking heritage and Leif Erikson Day with a Viking Dinner. Eat and drink like a Viking who ate very healthy and delicious treats, fresh meat and vegetables, cheeses, bread, fruit, mead and more! No potatoes yet and no forks which hadn't been invented yet! Bring your carved horn spoon if you want to make one for the event.Viking items will be offered at a silent auction, so remember to bring your gold, silver, or check! Viking dress is encouraged, but please leave the horned helmets at home if possible as the Vikings didn't use horns except to make spoons, drinking cups, and other decorative items! Who knows maybe there will be a prize for best Viking! Tickets are discounted at $25 until October 9 (Leif Erikson Day) when the tickets go up to  $30. Kids 13 and under are $10 until October 9 then they go up to $15. Kids under 5 are free! Bring the family! Tickets available at the office in Leif Erikson Hall on Mon., Wed., Fri. from 10 a.m.–3 p.m.or through www.brownpapertickets.com/user/manageevent/3071404.
TANNAHILL WEAVERS,
FEIRE WARNING 
Ballard Homestead
6541 Jones Ave. N.W.
Fri., Oct. 20, 7:30 p.m. Seattle's Ballard Homestead presents in concert the renowned Scottish traditional band the Tannahilll Weavers. The Tannahills are Scottish Trad Music Hall of Fame inductees for promoting Scottish culture through music, and past members included famous piper Gordon Duncan, and Dougie MacLean of "Caledonia" fame. Their present piper has produced music for the BBC, the Red Hot Chili Pipers, and film soundtracks such as "Brave" and "How To Train Your Dragon 2." The band is known for putting on an energetic concert of skilled musicianship on the all-Scottish repertoire. Tickets and more info are at www.abbeyarts.me.
Gently Used Kids Gear Sale 
Phinney Neighborhood Center, 
Community Hall, Lower Brick Building
6532 Phinney Ave N.
Sat., Oct. 21, 9 a.m.–1 p.m. Ballard Preschool Co-op is hosting its popular, Gently Used Kids Gear Sale. The sale offers fantastic deals on quality, gently used clothes (newborn-size 8), shoes, toys and gear - including pack and plays, cribs, car seats, strollers, maternity wear and more! The entry line typically starts forming before 9 A.M.  It is recommended to bring your own shopping bags to haul your great finds. Strollers must be parked at the door. A portion of the proceeds from the sale supports the Ballard Preschool Co-op. For more info: or to sign up to sell, email bpcgentlyusedsale@gmail.com or visit www.facebook.com/BPCGUS/.
Millefiori 1,000 Flowers - Pilchuck Glass School 
Auction & Gala
Fremont Studios
155 N 35th St.
Sat., Oct. 21, 6 p.m. Join us for Pilchuck's 39th Annual Auction Gala & Celebration of Glass at Fremont Studios! Enjoy an evening full of art and celebration: live and silent auctions, dinner, and entertainment. Our Auction Tour is happening from October 19–21, and it is an intimate tour of artist studios and private collector homes. Purchase tickets at pilchuck.ejoinme.org/Auction2017. To learn more visit www.pilchuck.com/auction/annual_auction_gala/. For Auction and Auction Tour questions, please contact Lauren Mercurio at lmercurio@pilchuck.com or 206.254.1962.
Heartsaver First Aid, CPR & AED
Swedish Medical Center – Ballard Campus
5300 Tallman Ave. N.W.
Sun., Nov. 12, 9 a.m.-2:30 p.m. Learn how to save a life using proper first aid, automated external defibrillator (AED) and CPR techniques for adults, children and infants. Participant certifications are valid for two years. *This class does not provide Healthcare Provider BLS Certification for doctors, nurses, CNAs, or other Licensed Healthcare Providers. Fee: $70/person. For more information or to register, visit www.swedish.org/classes or call 1-800-SWEDISH. 
Seattle Public Theater Announces 2017-18 Season
WHO:  Seattle Public Theater
WHAT:  2017-18 Mainstage Season
WHERE:  7312 West Green Lake Dr N, Seattle, WA 98103
INFORMATION: www.seattlepublictheater.org
Gregory Award-winning Seattle Public Theater announced the lineup for its 2017-18 season yesterday. The six plays, including a newly-commissioned world premiere by local playwright Maggie Lee and the runaway broadway sensation Hand to God by Robert Askins, were chosen specifically by newly appointed co-producing Artistic Directors Kelly Kitchens and Annie Lareau as part of the organization's mission to produce compelling and socially relevant theater that sparks conversation, broadens consciousness, and inspires compassion.
October 13 - November 5, 2017
The World of Extreme Happiness by Frances Ya-chu Cowhig
Directed by Desdemona Chiang 
Presented in Collaboration with SIS Productions
When Sunny is born in rural China, her parents leave her in a slop bucket to die because she's a girl. She survives, and at 14 leaves for the city, where she works a low-paying factory job and attends self-help classes to improve her chances at securing a coveted office position. When Sunny's attempts to pull herself out of poverty lead to dire consequences for a fellow worker, she is forced to question the system she's spent her life trying to master – and stand up against the powers that be.
December 1 - December 24, 2017
The Flight Before Xmas by Maggie Lee
Directed by Amy Poisson 
With all the stress of the holidays, spending Christmas Eve stranded in an airport with a bunch of strangers is the last thing anyone needs! With endless delays, kids shuttling between stepfamilies, a rogue cat on the loose, an important business deal at stake, and missing your grandson's first Christmas morning, the holiday spirit can disappear quicker than your lost luggage. But sometimes, all you need is to be a little late in order to truly appreciate what you're rushing toward. A heartwarming new holiday show about finding your way home and the family we discover for ourselves.
December 8 - December 24, 2017
Christmastown: A Holiday Noir by Wayne Rawley
Directed by Kelly Kitchens
In this film noir-inspired holiday thriller by Seattle playwright Wayne Rawley, hard-boiled detective Nick Holiday investigates some un-holiday-like shenanigans taking place in Christmastown that sends him on a search for the truth about Big Red. Add a glamorous elf, a used-Christmas-tree salesman, a muckraking reporter, and a quick-thinking cab driver, and you've got what the Seattle Times calls "best new holiday romp of the year!"
February 2 - February 25, 2017
Vanishing Point by Rob Hartmann & Liv Cummins
Music by Rob Hartmann
Original Concept & Additional Lyrics by Scott Keys
Directed by Annie Lareau 
Aviatrix Amelia Earhart, evangelist Aimee Semple McPherson and author Agatha Christie each vanished mysteriously: Agatha disappeared for eleven days; Aimee disappeared for three weeks; and of course Amelia vanished completely. Vanishing Point, a musical comedy-fantasy, brings these three women together as they solve the mystery of their disappearances from their own lives.
March 23 - April 15, 2018
Ironbound by Martyna Majok
Directed by Kelly Kitchens
An immigrant woman waits for her late night bus in the shadows of a run-down Jersey factory. A man appears. A man always appears. And he's got something she needs. Spanning over 20 years, three relationships, and three presidents, what will two working class people trade and how dirtily will they fight for the cheapest safety in a world that does not value all kinds of people?
May 11 - June 3, 2018
Hand to God by Robert Askins
Directed by Kelly Kitchens
After the death of his father, meek Jason finds an outlet for his anxiety at the Christian Puppet Ministry, in the devoutly religious, relatively quiet small town of Cypress, Texas. Jason's complicated relationships with the town pastor, the school bully, the girl next door, and—most especially—his mother are thrown into upheaval when Jason's puppet, Tyrone, takes on a shocking and dangerously irreverent personality all its own. Hand to God explores the startlingly fragile nature of faith, morality, and the ties that bind us.

For more information or to arrange interviews, please contact Julia Nardin at (206) 482-5491 or julia@seattlepublictheater.org. 
ONGOING
Alzheimer's Association Caregiver Support Group
Swedish Medical Center, Ballard
5300 Tallman Ave. N.W.
Third Sat. of month, 10:30 a.m.–Noon. Free. Alzheimer's Association family caregiver support groups provide a consistent and caring place for people to learn, share and gain emotional support from others who are also on a unique journey of providing care to a person with memory loss. Info: Linda Whiteside, 206.529.3875.
The Market Street Singers
Ballard Senior Center
5429 32nd Ave. N.W.
Every Tues., 7 p.m. The Market Street Singers is a non-audition community choir. We're always open to new members, particularly tenors and basses. For more information isit marketstreetsingers.org.
Alzheimer's Cafe 
Monthly Meeting
Stage Door Cafe, Taproot Theatre
208 N. 85th St.
Second Tues. of month, 3:30–5 p.m. The Alzheimer's Cafe provides an opportunity to get out and socialize in a safe environment. No judgement or expectations—just support. There is no cost other than the food that is ordered. Parking available in the lot behind the Taproot. This is a program of the Phinney Neighborhood Association's Greenwood Senior Center. For info: Carin Mack at 206.230.0166.
Exercise Class at Leif Erikson Lodge
2245 N.W. 57th St.
206.783.1274
Every Wed., 10–10:45 a.m., 45-minute light workout that includes aerobics, strength training, coordination, balance and brainpower. $3 fee per class attended, walk-ins welcome and open to the public.
Free Nia Fitness Class
Amazing Grace Spiritual Center
2007 N.W. 61st St.
Every Fri., 10–11 a.m. Suitable for all ages and all fitness levels, the first class is free. Nia is a barefoot fitness fusion blending martial arts, dance arts, and healing arts, along with world music sounds into an hour fitness fusion that is geared for "everybody." Practiced globally, Nia is designed to work with everybody and every fitness level. Contact Deborah at ddzippie3@gmail.com.
Sustainable Ballard Knitters for the Homeless  
On the Park, 2233 NW 58th Street
(contact Jody for entrance directions) 
Tues., Oct. 17, 7–9 p.m. (monthly on third Tues.) Knitting instruction and yarn provided. Donated yarn welcome. Info: Jody at 206.718.1529 or jodytgrage@gmail.com.