Ballard Performing Arts presents Haydn's Te Deum
Ballard Performing Arts presents Haydn's Te Deum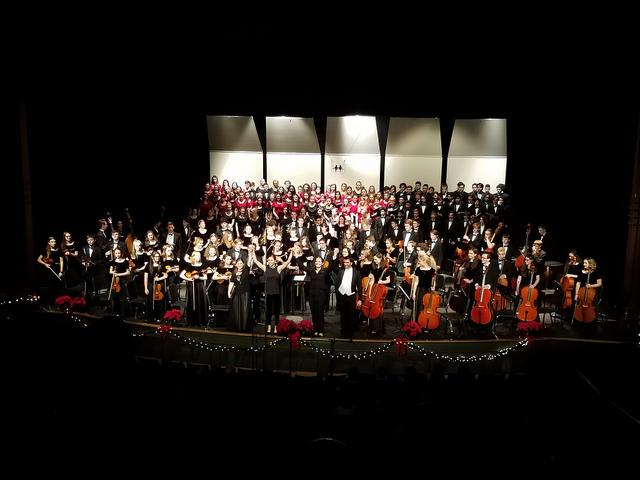 Fri, 11/24/2017
The Ballard High School music program is warming up for their Winter Concert Series December 6, 7 and 11. The Orchestra, Band, and Choir programs will each present a selection of works that represent their programs (details below). Each night's concerts will culminate in a show-stopper: a masterwork performance that features a full symphonic orchestra and chorus to perform Haydn's Te Deum, a magnificent choral drama in three parts, composed in 1799.  All performances begin at 7:30 p.m.
Orchestra Concert, Wednesday, December 6   
The Chamber Orchestra, together with the Concert Choir, will perform What Sweeter Music, composed by  John Rutter, one of the best-known choral composers in Britain. What Sweeter Music sets to music a text by the seventeenth century poet Robert Herrick.
Director Brittany Newell will also lead the orchestras in presentations of Corelli's Christmas Concerto; Rhosymedre, a hymn tune written by the 19th-century Welsh Anglican priest John David Edwards; the final movements of Grieg's Holberg Suite; and, to ring in the holiday season, themes from The Nutcracker. The fiddlers will also perform a set of three Irish tunes.

Band Concert Thursday, December 7  
Director Michael James will lead the Wind Ensemble in performances of Apollo Unleashed by Frank Ticheli and A Solemn Place by Wayne Oquin. Both of these pieces will be presented at the 2018 Washington State Music Teachers Conference in Yakima. The band will also perform Sleigh Ride, a seasonal favorite. The evening will also include featured performances from the Symphonic Band, Jazz 2, and the award-winning Jazz 1.

Choir Concert, Wednesday, December 11   
Director Courtney Rowley will lead the choirs in presentations of Bach's Wir eilen mit schwachen, Elgar's The Snow, and seasonal favorites such as Silver Bells, The Twelve Days of Christmas, and a Pentatonix arrangement of White Winter Hymnal. The Concert Choir, together with the Ballard High School Chamber Orchestra, will also perform What Sweeter Music, by British composer John Rutter, which sets to music a text by the seventeenth century poet Robert Herrick.

About the Masterwork piece performed at each concert: Each evening of the concert series will culminate in a performance of Haydn's Masterwork, Te Deum, a magnificent choral drama in three parts, composed in 1799. The Wind Ensemble, Concert Choir and Chamber Orchestra will combine  for this finale performance, featuring 210  students on stage.
Performance Details
All performances will be at the Earl Kelly Center for Performing Arts at Ballard High School,
1418 NW 65th Street, Seattle, Washington, 98117
Concerts begin at 7:30 P.M.
Tickets
Admission is free. If you would like to make a donation to Ballard Performing Arts, you can reserve seats in these crowded concerts. Tickets for reserved seating may be purchased online at https://showtix4u.com; look at upcoming events and search for "Ballard Choir Fall Concert", etc.
About Ballard Performing Arts
The award-winning Ballard High School Performing Arts Program has gained regional, national, and international acclaim for their dynamic and inspired performances. The Music Department includes two concert bands, three concert choirs, two concert orchestras, percussion ensemble, two jazz bands, one jazz choir, multiple chamber ensembles and a marching band of nearly 200 musicians. The Theatre Department offers classes in Technical Theatre and Theatre I and II, while the Ballard Playmakers produce two plays and one musical theatre production each year.  More than  450 students – approximately one fourth of the school – participate in these music and theatre opportunities. Ballard Performing Arts sets a high standard of excellence for all students, ensembles, and productions while developing individual artistry through the study of high quality repertoire and exceptional performance opportunities. For more information: ballardperformingarts.org