Ballard Beaver season shaping up to be a good one; Live radio broadcast for home games is new this year
Ballard Beaver season shaping up to be a good one; Live radio broadcast for home games is new this year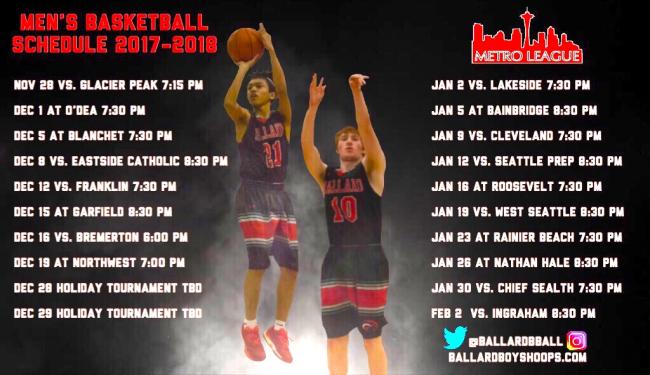 Sun, 12/03/2017
The Ballard High boys basketball program (Varsity, JV and JVC/"Freshman" teams) kick off their season this week with a set of home games vs. Glacier Peak HS from Snohomish. Coming off a thrilling playoff run last year, the Beavers are rebuilding after all 5 starters left that inspiring team from last season - however a young crop of hungry players have been working year round for the season upon us. A good time to be a Beaver fan!
New this year to the program will be a live radio broadcast for home games, kicking off with tomorrow's home game vs. Glacier Peak. Hosted by former Ballard head coach Billy Rodgers and former Assistant Coach Jon Adams, play-by-play radio w/ the "Coaches2x" broadcast team will be available at 7:15pm on local (Ballard, Fremont, Greenwood) 107.3FM & streaming at http://fulcrumcc.org/listen. Should be a fun addition to the season!
Again this year, head coach and math teacher Mike Broom will lead the Varsity, 2012 Ballard alum Brad Baker comes back to lead the JV team and local Ballardite and BHS alum Ron Coacher leads the JVCs. The entire program is dedicated into providing a positive experience for these young student-athletes on and off the court, requiring dedication in the classroom and on the court, weight room and community in order to participate. We expect great things from these young men.