Anthony's executive chef Pat Donahue remains dedicated to fresh seafood
Anthony's executive chef Pat Donahue remains dedicated to fresh seafood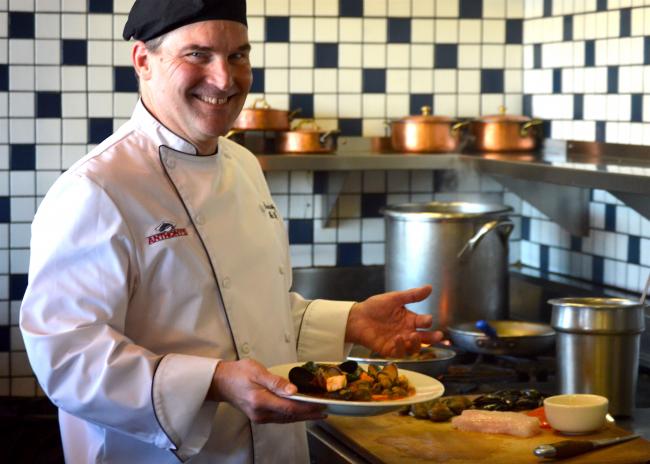 Lindsay Peyton
Mon, 12/25/2017
By Lindsay Peyton 
Chinook's at Salmon Bay is a favorite for diners in search of a meal with a view. 
Located in the heart of Fisherman's Terminal, at 1900 W Nickerson St, the restaurant serves up chowders, cioppino, fish n' chips, barbecued prawns, fish tacos, oysters on the half shell, Dungeness crab, seafood marinara and rotating specials of fresh catches.
Through the windows, guests can watch as the North Pacific fishing fleet goes about its daily operations – with more than 700 commercial vessels calling the area home. 
The man behind the scenes at Chinook's is Pat Donahue, who serves as executive chef of Anthony's Restaurants, the family of restaurants that includes Chinook's. 
Donahue's path to a career to the kitchen was unusually direct. "My journey started as early as I could work," he said. 
His childhood friend Mark Hafer had a job at a diner called the Great American Disaster in their hometown of Bellevue and insisted that Donahue join him there. 
"I started out as a dishwasher -- and worked on a three-legged machine, so you really had to learn to improvise," he said with a laugh. "Besides washing dishes, I learned prepping burgers and why not to mix bleach and ammonia together. We thought it would be a very good cleaner."
A few months later, Donahue and Hafer went teamed up to open the Des Moines location. While there, Donahue enrolled in a culinary program and went to school when not busy at work.
Donahue eventually became assistant kitchen manager at the location. When the Everett location opened in the mid1980s, he moved north and became chef for that new location. He had also just married and had became a father. "It was the most stressful time in my life, but I made it through," he said. 
As Anthony's continued to expand, the company promoted Donahue to regional chef, and he managed operations at Anthony's Homeport and Anthony's Woodfire Grill in Everett, as well as the Kirkland location.
"The region started growing," Donahue said. "They built another restaurant in Edmonds, and I came to help with the opening. Then there was an opening in Olympia."
When he went to help with the Olympia location, Donahue became regional chef for all southern locations, including Chinook's at Salmon Bay, which opened in 1988.
Donahue took over as executive chef for Anthony's 10 years ago.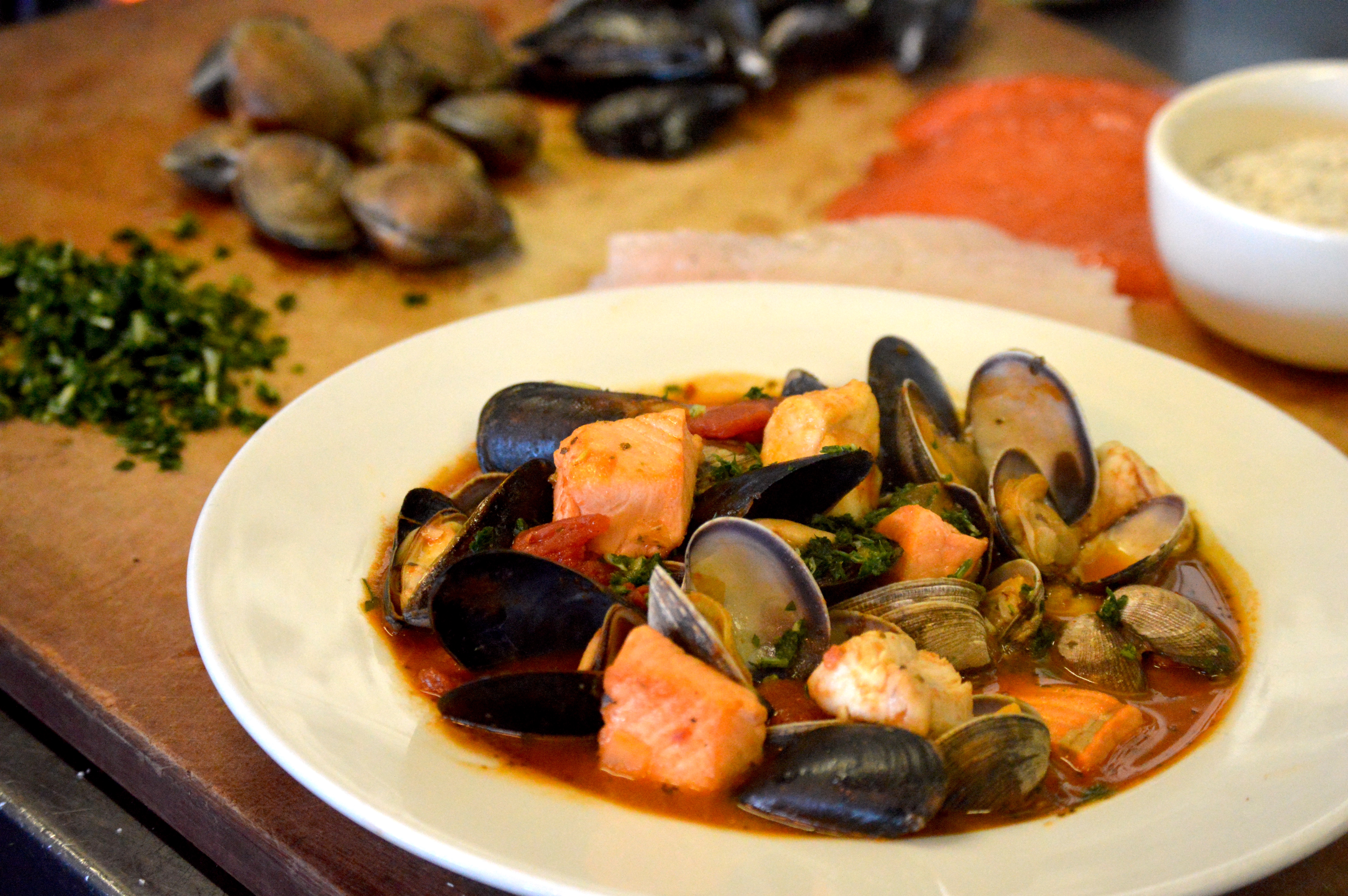 The company now has 27 locations – and stretches into eastern Washington, Idaho and Oregon.
Along the way, Donahue has acquired many mentors, among them food consultant Sharon Kramis. "Her husband Larry became our official snack master; he was the official taster," Donahue said. Together, they developed their own menu-planning committee and focused on creating top-notch recipes. 
When chef Sally McArthur joined Anthony's, she became another source of inspiration. 
"She came in and was just bubbly and on fire," he said. "She had a lot of passion and a lot of knowledge. I ended up learning so much from her."
Donahue and McArthur would go on to create many memorable, over-the-top seafood culinary events. 
"That was kind of our playground," Donahue said. "We'd serve 250 people a sit-down dinner. Every time, it was different, and every event was fine-tuned."
When McArthur moved on to other positions, Donahue wanted to keep her can-do spirit alive. 
"I carried the torch," he said. Donahue said the camaraderie at Anthony's is part of what he enjoys most about his job. 
The company has more than 250 team members who have been with Anthony's more than 10 years.  There are also 15 multi-generational families serving as employees.
"It's really and truly a family," he said. "The people you get to work with, the rapport, the challenges with our lives in general – the restaurant, the kitchen really becomes a tight community."
He enjoys the challenges provided in a culinary career, as well; there's always something new to learn or a different hurdle to jump. He likes pushing himself to improve.
"It's like a church," he said. "You have your community gathering and eating. It's fellowship. I have the opportunity to be the cook, working with friends. It's just a sense of joy and pride that I get to serve and make people happy."
A man of great faith, Donahue said that he draws from the Bible verse, "Whatever you do, work at it with all your heart" in all endeavors – but especially in the kitchen. 
"You don't worry about the rest of the stuff around you, you do the best that you can do," he said. "It's integrity. Continue to do your best and keep going."