Ballard depth charges Seahawks, Wildcats in meet at SWAC
Ballard depth charges Seahawks, Wildcats in meet at SWAC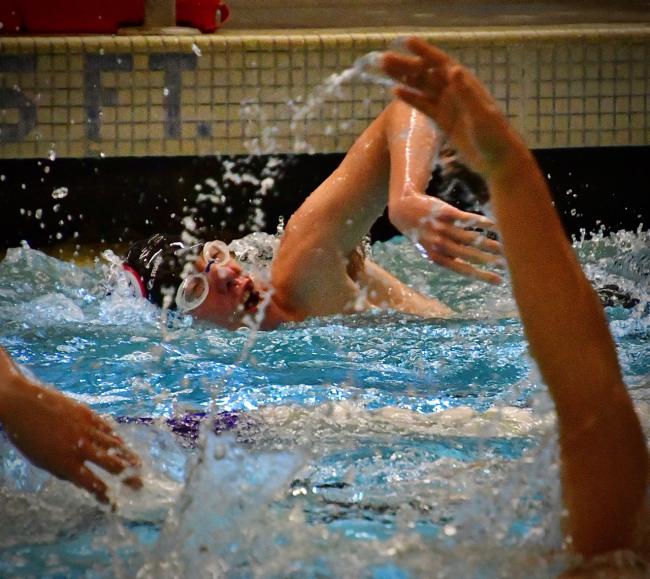 Fri, 01/12/2018
By Tim Clinton
SPORTS EDITOR
Ballard's Beavers vastly outnumbered both Chief Sealth and West Seattle and that paved the way to a 111-60 Metro League boys swimming victory at the Southwest Athletic Center pool Friday.
Sealth's Seahawks scored six individual victories, however, compared to three each by the Beavers and Wildcats.
"I'm real proud of the Sealth swimmers," said Chief Sealth head coach Kareen Hickinbotham, who also leads the Seahawk girls team in the fall. "These guys come in before school every day from 6:30 until 8:00."
"It's enough to push me, but not impossible," said Sealth freshman Aaron Burnham, who gets up at 5:00 a.m. for the workouts.
Diving opened Friday's meet, even though it is always officially scored as the fifth event.
Jhonny Reynoso of Chief Sealth captured first place in that event with a total score of 116.70 points.
Chief Sealth opened the swimming portion of the meet by winning the 200-yard medley relay in a time of 1 minute, 57.79 seconds and Jackson Espeut of West Seattle followed by winning the 200 freestyle race in 2:10.70.
Tate Ingraham of the Wildcats made it two wins in a row for his team by taking the 200 individual medley in 2:14.81.
Josh Tittel of the Seahawks won the 50 freestyle in 23.48.
After an intermission where diving is usually held, Matthew Reddoch of Ballard won the 100 butterfly with a 59.62 clocking.
Tittel took the 100 free in 55.14 before Ivan Rosanov outlasted the field in the 500 free to win for the Beavers in 6:02.34.
Ballard won the 200 free relay next in 1:42.80.
Brandon Tran of Chief Sealth took the 100 backstroke in 1:08.17 and West Seattle's Tate Ingraham won the 100 breaststroke in 1:12.66.
Chief Sealth capped off the meet by winning the 400 free relay in 3:52.20.
Hickhinbotham hopes for greater numbers of swimmers out in the future, as well as more outside financial help.
"Even though we're right across the street from the school, it does not get the attention that other sports get," she said. "In my opinion it's one of the best lifetime sports. Can't you see these guys still out swimming at 80?"