Special Olympics gets a plunge from first responders and more at Golden Gardens; Event raises $110,000
Special Olympics gets a plunge from first responders and more at Golden Gardens; Event raises $110,000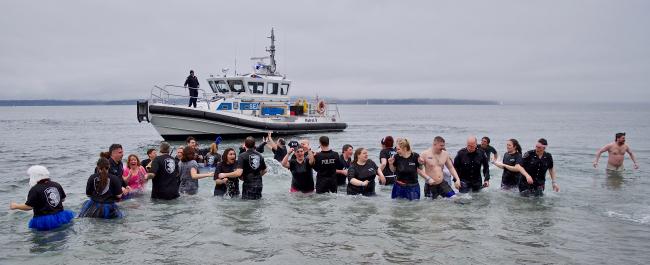 Sat, 02/03/2018
Special Olympics of Washington got a big boost from a plunge on Saturday when first responders and many more braved the chilly waters of Puget Sound at Golden Gardens for their annual Polar Plunge. The goal this year is $140,000 and the plunge got them to $110,000. There were multiple waves of plungers each going in as teams including first responders from around Washington State and other local organizations. The event is one of many conducted throughout the year to enable people with disabilities to participate in sports. 
Leading the fundraising was the Seattle Police Dept with $18,000, next was a coalition of local law enforcement agencies and first responders with $16,000 and third was the group Nearly Nekkid Norwegians who raised  $12,000.
The organization says "Through programming in sports, health, education and community building, Special Olympics is changing the lives of people with intellectual disabilities. Special Olympics is able to remove barriers and stigmas that people with intellectual disabilities face, and to share with the community the gifts and talents they possess."
Nearly 25 Seattle Seawolves Rugby players and coaches were part of the plunge and made a special announcement of their official partnership of the Special Olympics Washington Home Team athletes who have been selected to compete in the 2018 USA Games in July. Seattle Seawolves' newly signed player and 2016 US Olympian, Garrett Bender was on-site to make the announcement and led a "pre-plunge" warm-up with his teammates, and coaching staff with Polar Plunge participants.
Over 100 Law Enforcement officers will be taking the Plunge for Special Olympics Washington Saturday. Special Olympics is the chosen charity of Law Enforcement worldwide. In Washington, Law Enforcement raises nearly $500,000 for Special Olympics Washington each year.
This year's Polar Plunge efforts will also help fund Team Washington's Home Team – athletes and coaches who have been selected to compete in the 2018 USA Games this summer. Team Washington's Home Team will consist of a delegation of 250 athletes and coaches from across the state who are preparing to compete in 14 different sports including golf, swimming, bocce, athletics, powerlifting, tennis, softball, soccer, stand-up paddle boarding, basketball, bowling, gymnastics, flag football and volleyball at the 2018 USA Games July 1-6 in Seattle.
VIDEO
2018 Polar Plunge for Special Olympics
Video by Patrick Robinson
The Mobile Food Rodeo  was there partnering with Special Olympics Washington this year too.
Food trucks participating in the event included:
Charlie's Buns 'N Stuff
Ezell's Express
People Of The Chubbs
Big Dog's
The Cheese Pit
Thai U Up
The Road Chef
Nibbles Seattle