Ballard Community Calendar Week of 4-16-18
Ballard Community Calendar Week of 4-16-18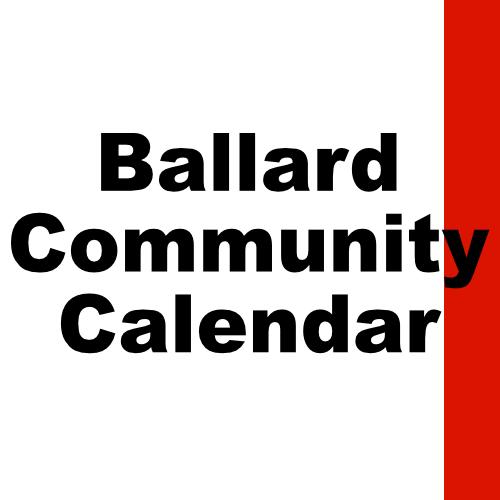 Mon, 04/16/2018
MARKET STREET SINGERS  
ANNUAL RUMMAGE SALE 
St. Luke's Church 
5710 22nd Ave. N.W. 
Sat., April 28, 9 a.m.–4 p.m. The Market Street Singers invites you to our Annual Rummage Sale! You want it? We'll probably have it! Not only lots of bargains in Ballard, but good fun and a great way to meet us. For more about The Market Street Singers please visit www.marketstreetsingers.org. 
STAYING CONNECTED: EARLY STAGE MEMORY LOSS GROUP 
Ballard Northwest Senior Center 
5429 32nd Ave. N.W. 
Thursday afternoons, 4/19, 4/26, 5/3. "Staying Connected" is a free health promotion and social support program developed for individuals experiencing memory loss and a companion/support person. The series is facilitated by the Alzheimer's Association Washington State Chapter and consists of four weekly 90-minute discussion sessions in which participants learn methods for coping with memory loss, communication, and staying engaged in social and pleasant activities. Pre-registration is REQUIRED. Contact Madison at 206.529.3870 or mamoore@alz.org to register or for more information. 
SKANDIA DANCE EVENTS  
Phinney Neighborhood Center 
6532 Phinney Ave. N. 
SKANDIA BASICS 
Every Wed., March 28–May 2, 7:30-9 p.m. Barbara Budd and Larry Reinert will teach a 6-week series from February 14 to March 21. The class will cover schottis, hambo, waltz, hambo with waltz, Rørospols, and snoa, plus some fun mixers. Nancy Neuerburg and Lisa Brooks will teach a 6-week series from March 28 to May 2. The class will continue with the same dances. New dancers will still be welcome. Beginners will learn these lovely dances, while continuing dancers will learn more styling and variants. Dancers at all levels—new, intermediate, and advanced—are welcome, and do show up. Singles and couples are welcome; we change partners frequently. Wear smooth-soled shoes (not running shoes) with a flat heel for easy turning. $45 for the 6-week series for Skandia members (or $10 per class); $55 for the series for nonmembers (or $12 per class).  
for more info, email publicity@skandia- folkdance. org, visit www.skandia-folk dance.org, or call 425.954.5262. 
ONGOING 
Alzheimer's Association Caregiver Support Group 
Swedish Medical Center, Ballard 
5300 Tallman Ave. N.W. 
Third Sat. of month, 10:30 a.m.–Noon. Free. Alzheimer's Association family caregiver support groups provide a consistent and caring place for people to learn, share and gain emotional support from others who are also on a unique journey of providing care to a person with memory loss. Info: Linda Whiteside, 206.529.3875. 
The Market Street Singers 
Ballard Senior Center 
5429 32nd Ave. N.W. 
Every Tues., 7 p.m. The Market Street Singers is a non-audition community choir. We're always open to new members, particularly tenors and basses. For more information isit marketstreetsingers.org. 
Alzheimer's Cafe  
Monthly Meeting 
Stage Door Cafe, Taproot Theatre 
208 N. 85th St. 
Second Tues. of month, 3:30–5 p.m. The Alzheimer's Cafe provides an opportunity to get out and socialize in a safe environment. No judgement or expectations—just support. There is no cost other than the food that is ordered. Parking available in the lot behind the Taproot. This is a program of the Phinney Neighborhood Association's Greenwood Senior Center. For info: Carin Mack at 206.230.0166. 
Exercise Class at Leif Erikson Lodge 
2245 N.W. 57th St. 
206.783.1274 
Every Wed., 10–10:45 a.m., 45-minute light workout that includes aerobics, strength training, coordination, balance and brainpower. $3 fee per class attended, walk-ins welcome and open to the public. 
Free Nia Fitness Class 
Amazing Grace Spiritual Center 
2007 N.W. 61st St. 
Every Fri., 10–11 a.m. Suitable for all ages and all fitness levels, the first class is free. Nia is a barefoot fitness fusion blending martial arts, dance arts, and healing arts, along with world music sounds into an hour fitness fusion that is geared for "everybody." Practiced globally, Nia is designed to work with everybody and every fitness level. Contact Deborah at ddzippie3@gmail.com. 
SUSTAINABLE BALLARD KNITTERS FOR THE HOMELESS   
On the Park, 2233 NW 58th Street 
(contact Jody for entrance directions)  
Tues., March 20, 7–9 p.m. (monthly on third Tues.) Knitting instruction and yarn provided. Donated yarn welcome. Info: Jody at 206.718.1529 or jodytgrage@gmail.com.