New Seasons Market opens in Ballard
New Seasons Market opens in Ballard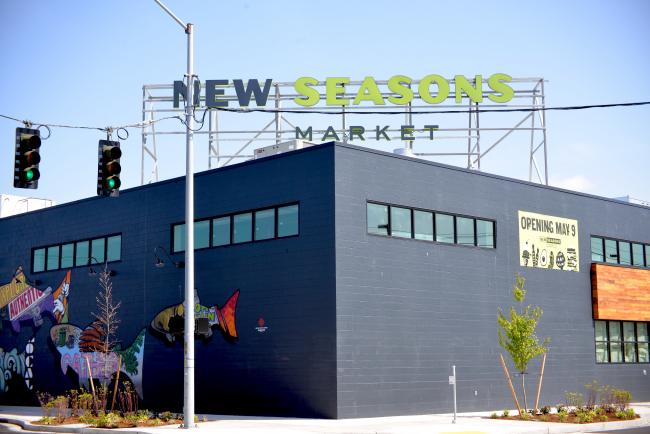 Photo by Lindsay Peyton
Fri, 05/04/2018
There's a new grocery store in town—and New Seasons Market hopes to become the best in Ballard.
"Our mission is to be the ultimate grocery store in the neighborhood,"Kerri Hunsley, Ballard store manager, said. "And we're going to do it."
The Portland-based company will open its second Seattle location on Wednesday, May 9 at 951 NW Ballard Way. The first location in the city, on Mercer Island, has been in business since November 2016.
Hunsley said the weeks before opening were full of staff training, perfecting recipes and stocking the shelves with products.
Shanti Evans, operations group leader, said that another high priority is community outreach and getting to know the neighborhood.
New Seasons Market has partnered with local nonprofits and has been hiring area residents for open positions. The store also hosted a local vendor fair to bring together area food artisans, and a number of their products will be available at the store.
The 25,000-square-foot Ballard neighborhood location will feature full-service meat and seafood departments, as well as a deli complete with grab-and-go sandwiches, wok and ramen station, burrito bar and fresh sushi.
"It's a one-stop shop," Hunsley said. "Our meals to go are these amazing, really great recipes."
The grocery carries organic, sustainably sourced and local items, as well as selections for special dietary needs, including gluten-free, Paleo, vegan and kosher foods.
Evans is particularly proud of the location's wide variety of local beer, wine and spirits, including draught and by-the-bottle brews.
"We're going to have some brews even made for the store," she said.
Evans also is excited about the exterior décor at New Seasons in Ballard. There's a mural on the west wall commissioned Jonathan Wakuda Fisher. The painting depicts a run of salmon, with silhouettes featuring local, Pacific Northwest imagery and text.
Hunsley recognizes that the store is located in an area full of competition, including a number of markets only a couple blocks away.
"People here have all these other opportunities to shop, but this is where they're going to want to come, because of the service we're providing and the products we're carrying," she said.
For more information, visit www.newseasonsmarket.com.