Romanesco — cauliflower from Mars?
Romanesco — cauliflower from Mars?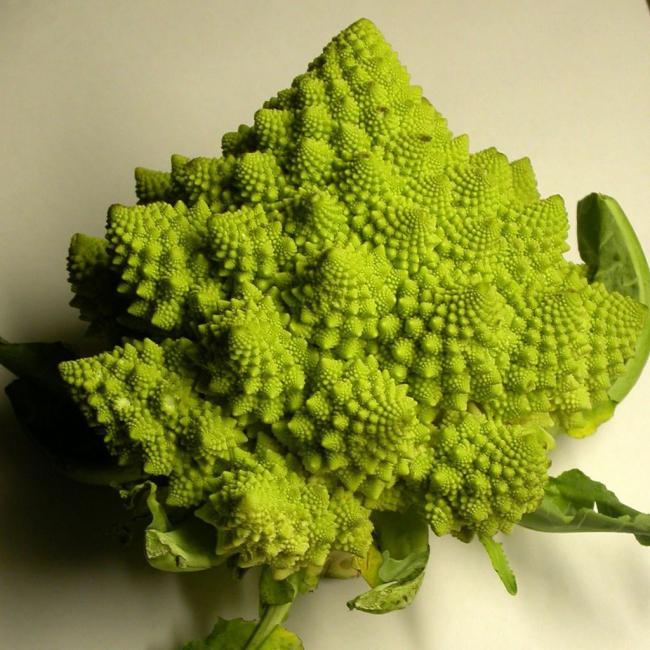 Mon, 08/20/2018
By Katy Wilkens, MS, RD
I planted my first Romanesco plants accidentally a few years ago. The tag at the nursery said they were cauliflower. So I brought them home, planted them and waited.
Imagine my surprise when these chartreuse, pointy sort of cauliflower-crossed-with-broccoli emerged. I thought they were cauliflower from Mars!
Since then I have come to love Romanesco. It's easy to grow in our region and it ripens earlier than cauliflower or broccoli. Better still, the leaves, like those of most plants of the Brassica family, are edible. So I get a rich green, kale-like veggie along with the heads, which are like cauliflower or broccoli. It's like having two veggies growing in the space of one.
Romanesco is a part of the cruciferous vegetable family and loaded with vitamins A, B, C, and K. It contains glucosinolates, which naturally cleanse your kidneys. Rich in iron and folate, it also boosts overall immune function, strengthens the cardiovascular and respiratory systems, and benefits bone and muscle health.
The recipe with leaves and cornmeal originally called for kale, but it tastes great using Romanesco leaves. The nutty flavor of the greens complements the cornmeal. If you don't have your own Romanesco, cauliflower or broccoli leaves, buy collard greens or kale at your local farmers market or grocery store.  
You can use Romanesco in any cauliflower or broccoli recipe; however, it stands up particularly well to roasting. That's how I like it. It's also fun to serve on a vegetable tray—the color, the texture and the fractal shapes will intrigue everyone.
Roasted Romanesco
1 head Romanesco, cut into florets
¼ cup extra virgin olive oil, or enough to coat
½-1 teaspoon paprika
½ lemon, juiced
Pepper to taste
Preheat oven to 400 degrees. Toss Romanesco to coat it with olive oil, paprika, pepper and lemon juice. Place in shallow roasting pan and roast until florets start to brown and knife can easily pierce them, about 20 to 25 minutes. Stir once during cooking to ensure that florets are coated with oil. Serve warm. Makes 4 servings.
Nutritional Information (per serving):
Calories: 161, Carbohydrates: 8 grams, Protein: 4 grams, Sodium: 30 milligrams
Romanesco Leaves with Cornmeal
Recipe by Jane Clements, Bastyr University, 2018
6 cups Romanesco leaves (or cauliflower leaves, broccoli leaves, collards or kale leaves), washed and de-stemmed
3 tablespoons olive oil, reserve 1 tablespoon
½ cup medium-grain yellow cornmeal
¼ - ½ teaspoon red pepper flakes
2 cloves garlic, minced small
Juice of ½ lemon
Remove stems. Cut leaves into ¼-inch ribbons. Place leaves into large mixing bowl and drizzle with 2 tablespoons of olive oil. Mix well. Combine cornmeal with leaves, distributing evenly. Add pepper flakes and mix well. In a large frying pan on medium heat, add 1 tablespoon of olive oil and garlic. Brown lightly for 30 to 60 seconds. Add greens mixture and sauté while stirring for 7 to 9 minutes or until cornmeal is browned. Add lemon juice and stir for 1 minute over heat. Serve as a hearty side dish. Makes 2 one-cup servings.
Nutritional Information (per serving):
Calories: 353, Carbohydrates: 47 grams, Protein: 10 grams, Sodium: 66 milligrams
The information in this column is meant for people who want to keep their kidneys healthy and blood pressure down by following a low-sodium diet. In most cases, except for dialysis patients, a diet high in potassium is thought to help lower high blood pressure. These recipes are not intended for people on dialysis without the supervision of a registered dietitian.
[Katy G. Wilkens is a registered dietitian and department head at Northwest Kidney Centers. A recipient of the Susan Knapp Excellence in Education Award from the National Kidney Foundation Council on Renal Nutrition, she has a Master of Science degree in nutritional sciences from the University of Washington. See more recipes at www.nwkidney.org.]