Katie Webster named the 22nd Jimmy Lyons Scholar to Berklee
Katie Webster named the 22nd Jimmy Lyons Scholar to Berklee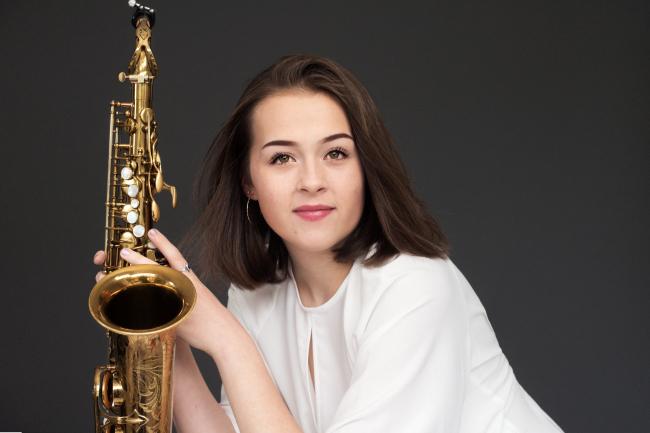 Mon, 08/27/2018
Katie Webster, an 18-year-old saxophonist from Seattle, has been named the twenty-second recipient of the Jimmy Lyons Scholarship to Berklee College of Music, a four-year, full tuition award presented in conjunction with the Monterey Jazz Festival. Recognized for her thoughtful and mature sound on the alto saxophone, she is the very first female recipient of the Lyons Award. She will begin her studies in Boston this September.
Previous recipients of the Jimmy Lyons Scholarship include:  Billy Buss (Billy Hart), Rushad Eggleston (Crooked Still), Milton Fletcher (Christian Scott), Jonathan Pinson (Wayne Shorter), Dayna Stephens (Kenny Barron), and James Williams (Gary Burton).
"Katie received Outstanding Soloist at this year's Next Generation Jazz Festival, and the choice was an easy one for the judges," said Paul Contos, Director of Education for the Monterey Jazz Festival.  "Her tone and approach to the alto saxophone are both highly advanced, and show great respect for the legacy of the jazz tradition. It's an absolute delight hearing her play, so I was very excited to learn she'd won the Jimmy Lyons Scholarship.  We expect she'll do great things at Berklee."
Webster began playing the clarinet at age 10. She transitioned to the alto saxophone in the 7th grade after hearing the colorful, bluesy, expressive sound of saxophone master, Cannonball Adderley. When she was 12 years old, she heard Berklee alumna saxophonist Grace Kelly in concert, and was inspired to pursue jazz.  Following middle school, Webster served as lead alto at Ballard High School for two years, as well as playing in combos with students around the city.
Recently, Webster was awarded Outstanding Alto Saxophone by Wynton Marsalis and a panel of judges at Essentially Ellington 2018. At the 2018 Monterey Next Generation Jazz Festival, Webster was named Outstanding Soloist, and also awarded a scholarship to the Berklee Five-Week Summer Performance Program. Other soloist awards include the Reno Jazz Festival (2016) and the University of Washington Jazz Festival (2018).
"I've been very impressed with Katie's ear, and her facility on the horn," said Berklee Woodwind Instructor Edmar Colón (Terri Lyne Carrington, Webster's private saxophone instructor and ensemble teacher in the 2018 Berklee Summer Performance Program.  "But more than this, I see that she has an exceptional drive to learn and improve.  Nobody becomes great without that, and she has it."
There will be multiple opportunities to hear Katie perform at the Monterey Jazz Festival this year.  She will sit in with Berklee's Anastassiya Petrova Organ Quartet, playing at 9:30 pm on Friday the 21st, on the Garden Stage.  On Saturday the 22nd, she'll be seen again with the Petrova group, in the festival's Pacific Jazz Café, at 6:15 pm.
Berklee is the preeminent institute of contemporary music and the performing arts, offering undergraduate and graduate degree programs at its campuses in Boston, Massachusetts and Valencia, Spain, and through its award-winning distance learning program, Berklee Online. Dedicated to nurturing the creative and career potential of the world's most inspired artists, Berklee's commitment to arts education is reflected in the work of its students, faculty, and alumni—hundreds of whom have been recognized with Grammy, Tony, Oscar, and Emmy Awards.
 
At Berklee College of Music and Boston Conservatory at Berklee, students explore interdisciplinary approaches to music, dance, theater, film, business, healthcare, education, technology, and more. Our pioneering youth programs reach underserved classrooms throughout the U.S. and beyond. With students and alumni from more than 100 nations and educational partners across the world, we are forging new connections among art forms, musical traditions, and technologies to build a dynamic, diverse, and collaborative global arts community. Learn more at berklee.edu.
Comments
Yes to all of that...and she's pretty too.
"Our pioneering youth programs reach underserved classrooms throughout the U.S. and beyond."
What the hell is 'underserved' classrooms? I suspect that means reaching out to poverty areas in Appalachia.