Pilgrimage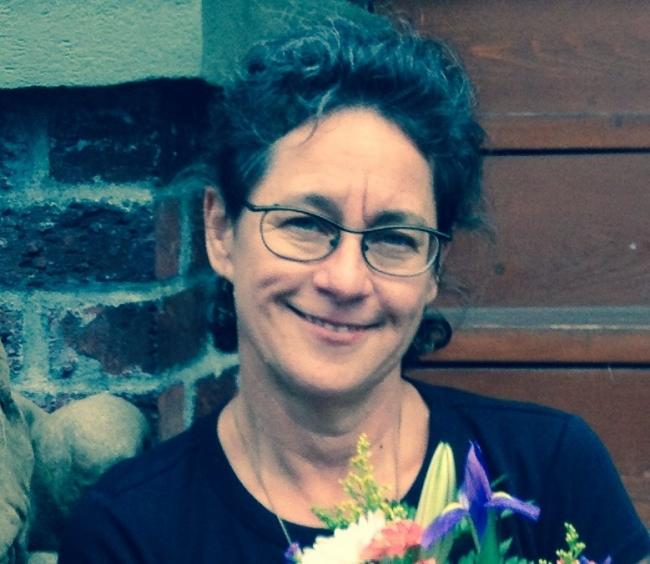 Mon, 12/03/2018
By Peggy Sturdivant
I don't usually venture out on the Friday after Thanksgiving. But this year I wanted to be out of the house. I wanted to walk with a friend. I wanted to be in downtown Ballard. I wanted to stop being sad.
We'd returned home late on Thanksgiving night from a meal with friends on Bainbridge. Once again I'd toted a cherry pie in a perfectly sized basket, along with the dough for yeast rolls rising in a bag outfitted with a heating pad. After plugging in the bag to a power outlet on the ferry from Edmonds there was only one crewmember truly alarmed; another knelt with me to sniff as I unzipped a corner. "If Thanksgiving could have a smell I would want it to be that one," she said.
Thanksgiving morning we'd watched the Turkey Trot pass below our front porch. It began with one motorcycle cop and one runner. Then came the varied waves: the real runners, the runners in turkey outfits, the running strollers, the walkers, the families with dogs and strollers, and throughout the turkey hats, the slice-of-pumpkin-pie hats with their dollop of cream. Each blue shirt and pinned-on number pinged in me like a cash register. Ka-ching. Ka-ching for the Ballard Food Bank. What could be better on Thanksgiving Day than every stride filling the Food Bank's coffers?
Almost exactly 24 hours earlier we had also been on the front porch, the street empty of all but one or two parked cars. A vet had come to our house from Issaquah as part of a personal calling to provide home euthanasia for small animals. She was there for our cat. Bella was the first that belonged to us a couple, adopted on a whim in front of Tutta Bella on Westlake during a heat wave in August 2009. The quiet street was a blessing I carried Bella out to the vet's waiting car afterward, her body nestled in my arms.
We would not be human if we didn't grieve. Yet I know not all grieving is the same, nor are the reasons comparable. Even as I waited in the hard last hours for this unknown vet to arrive I learned that friends nearby had lost a father; their inimitable patriarch Phil E. Niemeyer, 59-year husband to equally amazing Zita Niemeyer.
I also knew that the countdown until the last day at Walter's Café on 32nd NW was another type of loss altogether, a loss of place, shared community, shared history.
So I gave myself permission to be sad. To mourn a nine year-old cat who had no symptoms on a Tuesday, but had suffered too long by the following Wednesday. Each thread of a loss connects to another, pulling throughout the memory banks, switching between loved ones, human and otherwise.
In the final days of the cat I followed her night and day on her ventures outside; aware that she was looking for a place to disappear and die. We haunted the backyards of neighbors. I learned of hidey-holes I hadn't known existed, but then I had never followed my cat into the night before. Bella never once tried to return to home, but she didn't fight me when I would carry her back.
On the Friday they now call "Black" I set out on the prescribed path to meet my friend and walk to downtown Ballard, to be out of the house. The cat's first symptom was lethargy. Now that she is gone it seems that lethargy transferred to me. Sadness weighted with the entire year's losses and challenges was making my bones heavy.
Five hours later I finally turned toward home, after hours with my dear friend, and comforted by "Ballard Gives Back." I decided I should go to Walter's Café, to be there for their final business hours after 28 years.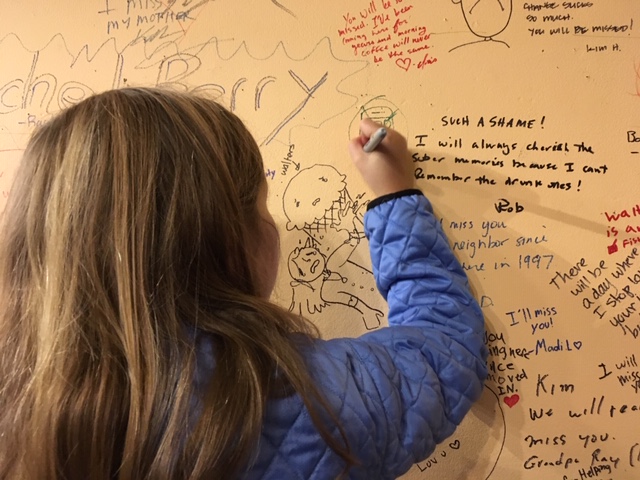 The north wall was so covered with messages by then that small children were crawling on their bellies to find an open space for their farewell. As it had been for days there was a constant flow of customers making their pilgrimage, finding a need for ice cream despite November's chill. It was so warm there, in so many ways. That's what I will hold with me after this year of change, after my day at large in Ballard. The people, places, even pets we have lost, need to know…they were loved.