Tim's View: Football memories from the good old days
Tim's View: Football memories from the good old days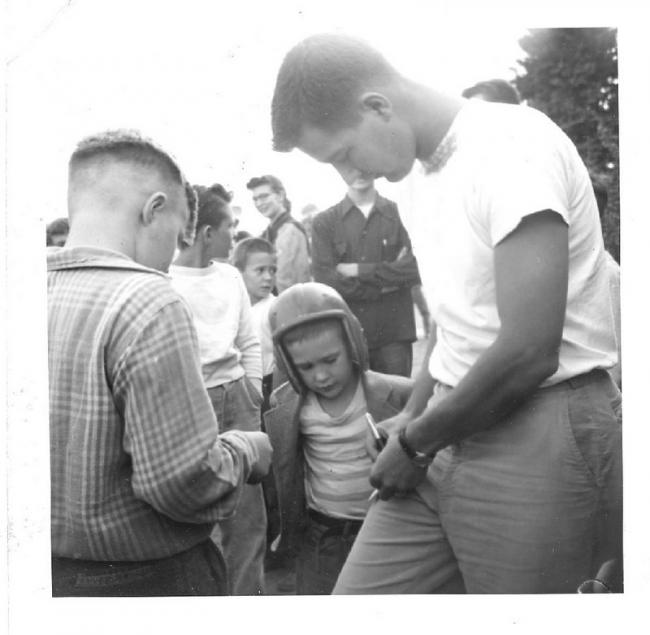 Mon, 12/24/2018
By Tim Robinson
Associate Publisher
Watching football on TV shot me back to 6th grade at Hazel Valley Elementary.  
At recess, we always had flag football games in the fall. Teams like Lions or Bears, or Cougars or Giants; even made up team names like the Rogues or Racers. I was very excited every recess to get to the field.
The games lasted about 35 minutes as that was the lunch period. We basically played until the school warning bell said we had two minutes to get back into class. 
I wore penny loafers with real pennies slipped into the little slot on top of the shoe. I never could get good footing due to the leather soles so I would kick them off at the start of the game and just play on that dirt and pebble field in my stocking feet. I was one of the fastest kids in school then. The agility I gained from stocking feet running was just a plus. My mom was not so happy when I came home with mud-caked, shredded socks.
In one game in particular, the opposing team punted the ball into the end zone. I had moved back knowing it was a punt. I caught the ball, running out of the end zone. I veered left, juked a few opposing players and sprinted down the sideline. Bruce Ferguson made a desperate attempt to grab my flag but I swatted his grubby little mitt away at the last moment. Swatting was only allowed in touch football, not flag football. I raced  into the other end zone to score a touchdown. The ref that day was Mr. Rasmussen, the school's  flag football coach. I was so proud of him seeing me do that I figured he would instantly make me the team running back in tryout the next month. Instead he put me in the offensive line. What was he thinking? I was fast, tricky and could catch or throw a ball. He had me blocking. I pouted, not putting much effort into charging forward while Rex Johnson attempted to play QB. Rex was big and tall but could not run fast or toss the pigskin. We became a running team. I only figured out years later that Mr. Rasmussen knew jack squat about football. I should have been the coach. After all, Don Heinrich showed me how to hold a ball to make a throw and Hurry'n Hugh McElhenny was my all-time hero. Don and Hugh were teammates at the UW in the early 50's.
After about a week of practice, Rasmussen moved me to split end from the middle of the line. I guess he was tired of Rex getting "sacked" because I was not blocking that fat red head kid across from me. 
Fat lot of good going to the end position did. Remember, I said we were a running team. We had ONE pass play. The 14 option. Option meaning Buddy Alexander could decide to throw or run depending on whether I was open. Buddy was fast too but I always outran him on the play field.
We played Boulevard Park Elementary in one of the four games we played that year. Rex called the "14 option". My ears lit up. I must have given away the play I was so excited. However, I sprinted down and across the field (so wide open I could have sat down and Buddy would have seen me). Buddy took the handoff and rolled right. He SAW me! He threw the ball six feet over my head. Apparently Buddy could not throw either as the only other time Rex called the 14 option, Buddy tossed it into the dirt. 
So much for my career as a receiver. We did not win a game that year. I always wondered why Larry Stavert and his brother never turned out for football. The were twin towers at our school and could have easily been good receivers instead of little 4 ft 5" Timmy R. Maybe they knew that Rex could not throw. They WERE pretty smart kids. 
To this day I think the reason I was overlooked to be QB was that I swatted Bruce's hand away from pulling my flag and the football gods were just getting even with me.